Latest Reserve Bank Financial Stability Report says if economic conditions deteriorate by more than projected the lending stress could be more severe
[updated]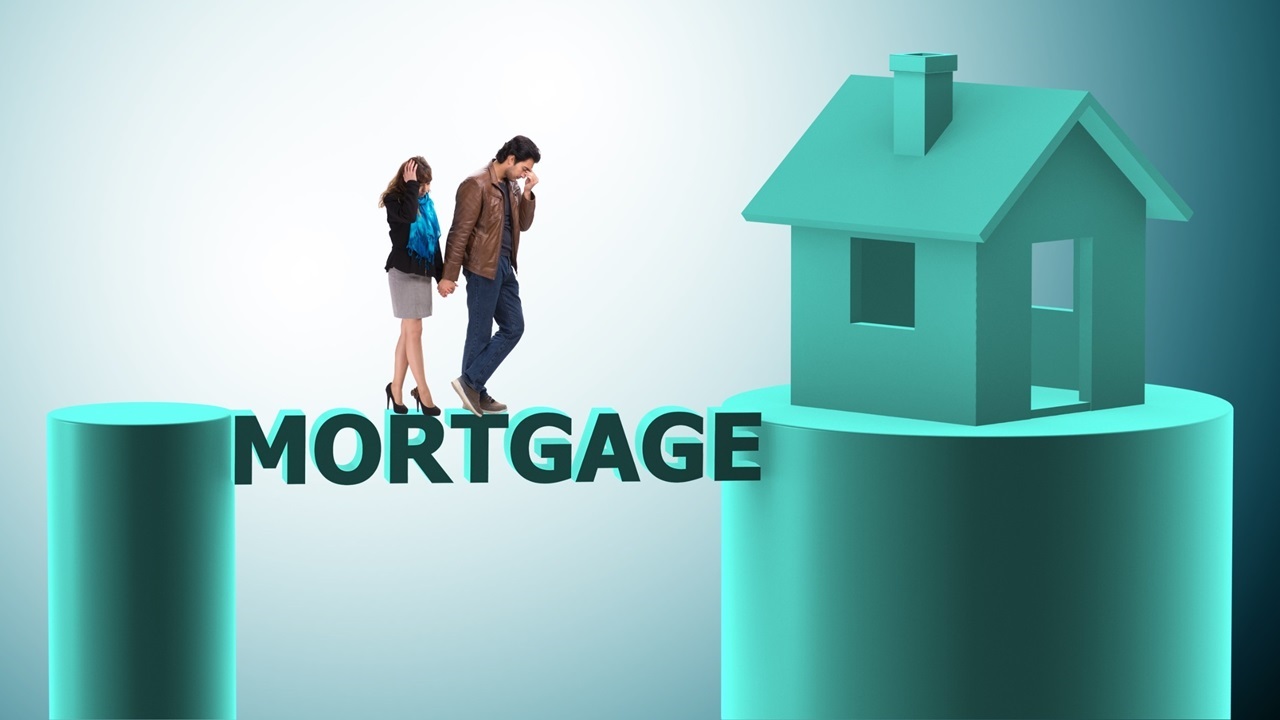 The country's big five banks are projecting that non-performing loans as a share of their lending could more than double from current levels over the next year, according to the Reserve Bank (RBNZ).
In its latest six-monthly Financial Stability Report the RBNZ says the big banks are saying the non-performing loans (NPLs) as a share of lending could rise to around 1% by early 2025, which is more than double their current levels. It is, however, still well below the sorts of levels seen after the Global Financial Crisis. 
"Our analysis of loan performance also suggests a similarly negative outlook, based on the economic outlook from the [RBNZ] August Monetary Policy Statement, with unemployment rising to 5.3%," the RBNZ says.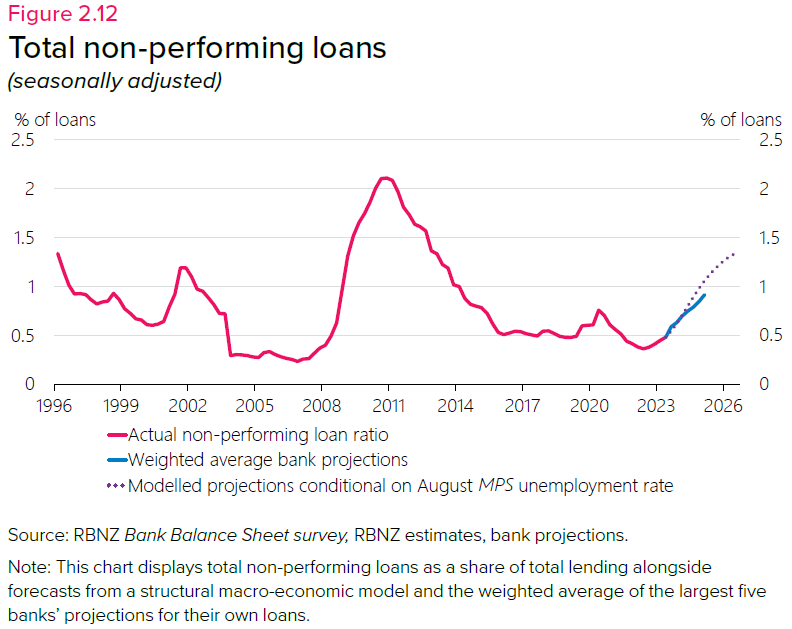 "It is important to note that if economic conditions deteriorate by more than projected, then lending stress could be more severe."
In terms of just housing lending, there was a fairly sharp rise in non-performing housing loans in the early part of this year, but it has levelled off more recently, to leave the percentage of non-performing loans making up around 0.4% of the banks' books - much less than the circa 1.2% levels seen after the Global Financial Crisis.
However, the big five banks are projecting that their levels of non-performing housing loans will keep moving up from here - to 0.7% of their mortgage books (weighted average calculated by the RBNZ) by the first quarter of 2025.
The RBNZ says overall, financial distress amongst households or businesses is rising from a low level as budget pressures increase for many borrowers.
"Households have been able to adapt by reducing discretionary spending and working with their banks to manage the increased debt servicing burden. Even so, financial stress is expected to rise, based on our projections and those of banks."
The RBNZ said more borrowers are likely to fall into arrears over the coming year, given there can be long lags between an increase in debt servicing costs and borrowers falling behind on their obligations.
"In addition, if unemployment continues to increase and domestic economic activity continues to slow, some indebted households will have fewer options to avoid missing their debt repayments."
The report says that around two-thirds of the mortgage debt that was fixed at very low interest rates during the early stage of the pandemic has now rolled over to higher interest rates, "with this process expected to continue over the next year".
"The effective mortgage rate, which is an average rate paid across the stock of all mortgage lending, is expected to reach 6.4% by mid-2024, from its low point of 2.9% in late 2021.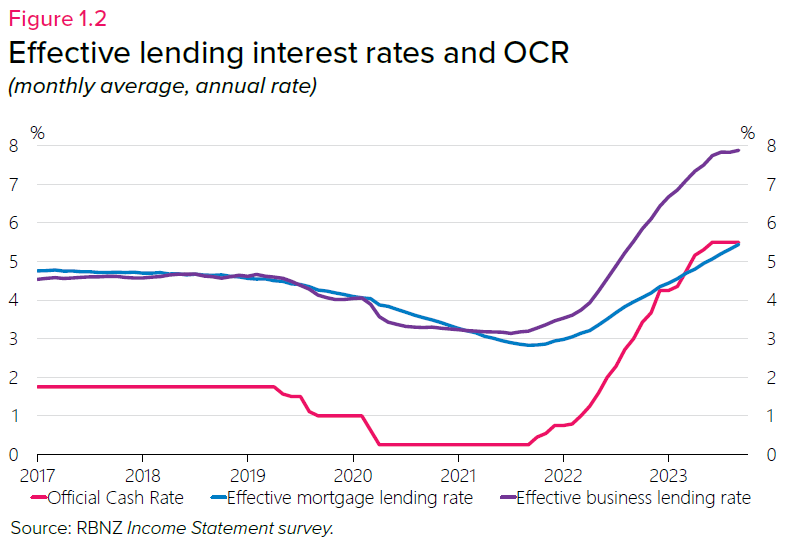 "Higher interest rates are placing an increased strain on indebted households' budgets. The average share of their disposable income going to interest payments is expected to rise from a low of 9% in 2021 to around 18% by the middle of 2024.
"While this would still be well below previous periods of financial stress, such as in the late 2000s, the adjustment to higher interest rates is likely to be felt more strongly by certain cohorts of borrowers. An example is those who borrowed to purchase houses at high debtto- income ratios in 2020 and 2021, when the housing market was at its peak and interest rates were below 3%."
The RBNZ expects an increasing share of borrowers will face significant debt servicing stress.
It says that evidence from previous financial cycles has shown households with multiple forms of debt generally prioritise mortgage and utility bill payments ahead of other expenses when faced with debt servicing stress.
"Recently, borrowers with a mortgage and other forms of debt are missing repayments on non-mortgage debts to a greater extent than non-mortgaged borrowers. This suggests debt servicing strains faced by mortgaged households may be greater than shown simply by mortgage arrears.
"For many households that borrowed in 2020 and 2021, current interest rates exceed the test rates used by banks to assess affordability, and some may be particularly vulnerable to debt servicing stresses.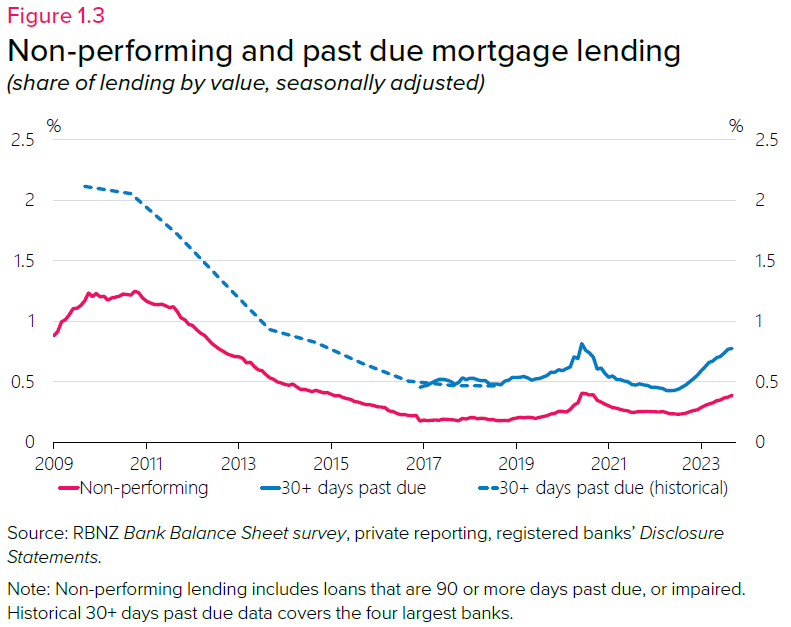 "Households that borrowed at high debt-to-income (DTI) ratios over this period are at risk, with estimated debt servicing ratios (DSRs) for borrowers from these two years expected to rise to around 50% by late 2023.
"While household incomes have grown strongly in recent years, further increases in interest rates may result in a larger rise in loan defaults. Banks report that the arrears which have occurred to date have largely been associated with unexpected individual events, such as illness or job loss, rather than hardship due to higher interest rates alone. However, there is a portion of lending still to reprice to higher interest rates and this will create more financial difficulties for some borrowers."
The RBNZ notes that house prices have stabilised "in spite of ongoing tight lending conditions" and housing market activity has picked up in recent months.
"On a seasonally-adjusted basis, house prices fell an average of 15% between their peak in November 2021 and trough in March 2023, and have since risen around 3%." Recent gains have been modest, "and prices remain within the range of sustainable levels suggested by the indicators we monitor".
The RBNZ says the recovery in prices and sales activity has been "broad-based across regions", and inventories of properties for sale have been gradually declining.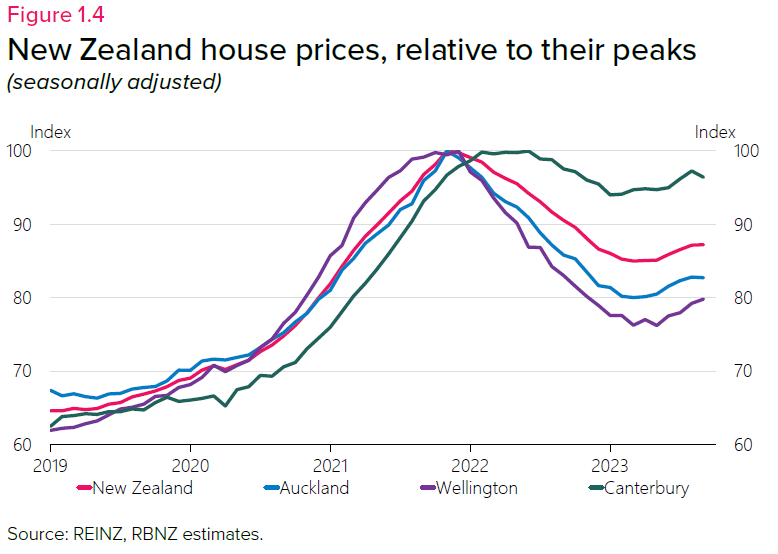 "Several factors explain the recent rise in house prices, partly reflecting the large net immigration New Zealand is currently experiencing.
"While shorter-term mortgage interest rates have continued to climb, longer-term rates have generally stabilised over the past six months. The test interest rates at which lenders assess prospective borrowers' ability to make repayments have increased only slightly further to around 8.75% to 9%, largely maintaining buyers' borrowing capacity.
"Moreover, high inflation is also being reflected in asset prices, including housing, and household incomes. Compared to the median household disposable income, median house prices have fallen from a ratio of 11 times to around 9 times. House prices relative to incomes have fallen more strongly in Auckland, with this ratio now back at levels last seen in 2013."
The RBNZ says that work continues on developing a framework for imposing restrictions on high debt-to-income (DTI) mortgage lending, which would complement the current loan to value ratio (LVR) policy by focusing on "a different dimension of risk".
"Banks are developing reporting and management systems so that DTI restrictions could practically be implemented by April 2024. We are currently assessing how a DTI tool could be calibrated alongside LVRs and intend to consult publicly on potential DTI settings in early 2024."
The RBNZ says the full impact of previous interest rate increases globally is still to be seen.
"The full impact of previous monetary policy tightening is yet to be seen and there is a risk further tightening will be needed to bring inflation back within central banks' targets. Pockets of stress are likely to emerge globally as debt servicing costs continue to increase."
This is the statement the RBNZ released with the report:
New Zealand's financial system remains strong as it adjusts to a higher interest rate environment, Deputy Governor Christian Hawkesby says in releasing the November 2023 Financial Stability Report.

The full impact of previous interest rate increases globally is still to be seen. A weakening in global demand, particularly in China, has contributed to lower key commodity prices for New Zealand, and we are monitoring developments in the Middle East closely, Mr Hawkesby says.

"New Zealand households continue to face higher mortgage repayments. So far, the vast majority of borrowers have been able to manage these increases, but we know some people are struggling and falling behind."  

Businesses continue to service debt, although the dairy and commercial property sectors are facing challenges, partly due to higher debt servicing costs and other factors.

Our assessment is that New Zealand's financial sector is strong and well placed to handle both the current adjustment to higher interest rates and more severe economic scenarios.

Importantly, this means our financial institutions are well positioned to take a long-term perspective and support their customers through current and future challenges.