The NZ Initiative calls for shareholders and policyholders, not taxpayers, to be made to take the hit if an insurer goes belly-up; Industry experts have their hesitations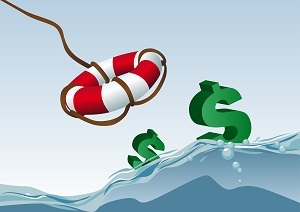 Consider this scenario: Wellington is hit by a major earthquake that cripples one of the insurance companies operating in New Zealand.
It can either:
1. Find another company to buy it.
However if the insurer was large, one of the other major insurers already in the New Zealand market probably wouldn't be able to make a successful bid for it.
Preventing Vero from buying Tower last year, the Commerce Commission has shown it won't allow the general insurance market to become more concentrated.
2. Lobby the government to bail it out.
Taxpayers have footed a bill of nearly $1.5 billion to have Southern Response formed to settle AMI's Canterbury quake-related claims after the insurer crumbled with the 2010/11 disasters. The rest of AMI's business was sold to IAG.
3. Liquidate the company and leave policyholders with outstanding claims in the lurch; the government possibly stepping in to assist them.  
Life and health insurance policyholders might not be able to get replacement cover on similar terms, depending on their situations.
Right-wing economic think tank, The New Zealand Initiative, is calling for the Government to put a fourth option on table.
It wants to see a liability 'bail-in' regime imposed on insurers, similar to the Reserve Bank's (RBNZ) Open Bank Resolution (OBR) for insolvent banks.
This would see a distressed insurer kept open for business, placing the costs of its failure primarily on its shareholders and creditors, rather than on the taxpayer.  
Mirroring the regime for banks, the insurer would come under statutory management. Some of its assets would be frozen to help resolve its issues, leaving policyholders to access a portion of its non-frozen assets.
Losses would be absorbed by shareholders first, then policyholders and other creditors, with the insurer potentially being recapitalised by a proportion of creditor/policyholder liabilities being converted to equity.
The NZ Initiative hasn't gone into detail around exactly how it sees this working, but it would likely mean policyholders are forced to receive reduced pay outs on their claims.
They take a hit, rather than the taxpayer.
The NZ Initiative in a new report, Recipe for Disaster: Building policy on shaky ground, says an OBR-type scheme for insurers would encourage people shopping for insurance to put more weight on an insurer's credit rating.
It also argues insurers might settle claims faster, as the government wouldn't be legally liable for the shortfall between their assets and damages.
Does the OBR need to be fixed before a similar scheme is applied to the insurance sector?
Geof Mortlock, a consultant who has worked for domestic and foreign regulators, insurers, banks, financial service providers, and international organisations, supports the introduction of an OBR-type regime for insurers, but only if accompanied by other measures.
Fundamentally he maintains some gaping holes in the system would need to be filled before the regime is adopted by the insurance sector.
He believes an OBR-type regime for large insurers would have to be accompanied by a requirement for these insurers to have a tranche of subordinated debt that can be converted to shares, or written down, if their capital ratio fell below a certain level and they couldn't raise further equity through their shareholders.
He wants banks to be required to do the same, noting this is what's done in other countries with OBR-type regimes. 
And in the same way Mortlock wants the Government to take the International Monetary Fund's advice and introduce deposit insurance for banks, he believes an OBR-type regime for insurers would need to be accompanied by a policyholder compensation scheme.
If a bank was to run into trouble and come under statutory management under the OBR regime, there is a high risk that without depositors knowing their money is safe, they'd flock to withdraw it.
While this would only exacerbate the troubled bank's problems, it could also encourage nervous depositors to withdraw their money from other banks. After all, if one bank was in trouble, the perception at least would be that the others would be too.
Mortlock believes that without deposit insurance, New Zealand's OBR regime poses a major risk to financial stability. 
A similar situation would pose less of a risk if an insurer went under. But likewise, knowing policyholders would be compensated for their claims may prevent them cancelling their policies on finding out their insurer would keep operating under statutory management.
Mortlock says that if well designed, policyholder compensation would enable long-term insurance policies to be transferred to another insurer, or continued in the failing insurer, and would provide protection for general insurance policyholders by guaranteeing prompt pay out on their insurance claims.
It would also provide continued policy cover to give policyholders time to get replacement cover.
This would reduce disruption to the economy - IE prevent people with mortgages getting into sticky situations with their banks when they say the properties their mortgages are held over aren't insured. 
Can policyholders stomach paying for a policyholder compensation scheme?
While there are different ways of administering a policyholder compensation scheme, the idea is that insurance companies - thus their customers - fund it.
Mortlock in 2016 told interest.co.nz that depending on their design, schemes in other parts of the world don't necessarily have a major bearing on premiums.
Yet cost is what makes Insurance Council of New Zealand CEO, Tim Grafton, nervous.
While he would have to consult with his members to form a firm view on introducing an OBR-type scheme for insurers, he fears slapping another levy on top of insurance premiums to fund a policyholder compensation scheme could deter people from taking out insurance.
Policyholders have from 2017 already had to pay higher EQC and Fire and Emergency New Zealand levies.
However insurers have also been bumping up home and car insurance premiums, supposedly to compensate for the fact higher building and car repair costs are bumping up their claims expenses.
Are the other measures the RBNZ's considering to strengthen the insurance sector robust enough?
Further to releasing an issues paper as a part of a review of the Insurance (Prudential Supervision) Act 2010 (IPSA), the RBNZ's head of prudential supervision, Toby Fiennes, last year told interest.co.nz a policyholder compensation scheme wasn't appropriate for New Zealand.
His view is that the insurance market and the risks it is exposed to are too concentrated.
So if there was an earthquake bad enough to see one insurer go under, it's likely others would follow.
Fiennes maintains it would take too long to build up a fund to cope with so much exposure.
Mortlock disagrees. 
He says governments in other countries often top up funds in the event of a shortfall, only to later be reimbursed by industry levies.
Overall, he argues the RBNZ's supervision of insurers is weak compared to that in other advanced countries, so it needs to up its game.
As a part of its IPSA review, the RBNZ is considering whether or not to require overseas insurers to hold a certain amount of assets in New Zealand or be locally incorporated.
While insurers are now required to hold more capital than before the Canterbury earthquakes, the RBNZ is also looking into applying a more graduated approach to overseeing insurers' solvency levels.