Lack of enthusiasm from major parties for New Zealand First's government-run KiwiSaver provider pitch with Labour non-committal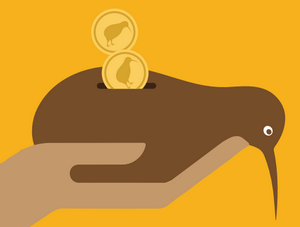 It seems unlikely New Zealand First's goal of having a government-run KiwiSaver scheme will become a reality.
New Zealand First MP Fletcher Tabuteau's member's bill, establishing an independent working group aimed at setting up a government-owned and operated KiwiSaver provider - KiwiFund - was last week drawn from the ballot.
Yet Labour won't commit to supporting it, while National says it's "highly unlikely" the Bill will get its backing.
New Zealand already has a government-owned KiwiSaver provider - Kiwi Wealth. Like Kiwibank, it is a wholly owned subsidiary of Kiwi Group Holdings, which is owned by New Zealand Post, Guardians of the New Zealand Superannuation Fund and the Accident Compensation Corporation.
However Tabuteau's KiwiFund Bill says the working group would advise on setting up a scheme based on principles such as:
lower and transparent fees;
preferential treatment for New Zealand-based investments;
social and ethical investment;
the support of a government guarantee;
keeping profits in New Zealand.
Tabuteau can't say a whole lot more about how exactly he envisages the scheme working, saying it would be up to the working group to nut out the details.
Major players non-committal
Commerce and Consumer Affairs Minister Kris Faafoi says: "The Bill and the Select Committee process will be a useful opportunity to discuss this and test if the market is providing value for money.
"Getting New Zealanders value for money from their KiwiSaver funds is an important goal."
However Faafoi won't comment on whether he believes there's need for a government-owned scheme, given we already have one, and the push for greater fees transparency with providers soon being made to disclose fees in dollar terms in their annual statements.  
Faafoi won't say whether the Government would be willing to throw taxpayers' money towards setting up the scheme and funding it until it gains scale to sustain itself.
Treasury estimates a scheme would cost about $1 million to set up if it was managed by the Guardians of the Super Fund, and its front-end services were provided by either the Inland Revenue or Kiwibank.  
And if it's anything to go by, the newest and most cost-efficient KiwiSaver provider in the market, Simplicity, needs more than $300 million of funds under management to break-even.
Asked about whether he has any concerns about KiwiFund's focus on local investment and low fees (most likely enabled through passive rather than active management) being an impediment to maximising returns, Faafoi doesn't have any comment.  
National's Finance Spokesperson Steven Joyce wouldn't go into these details either, but says: "We haven't discussed the bill at Caucus yet but we would be highly unlikely to support setting up a further government-run KiwiSaver scheme.
"The KiwiSaver market on the whole works well, with a range of competitive providers offering products across the range of fee levels and risk appetites. 
"If the Government is concerned about fee levels etc, they should make regulatory changes rather than set up another provider."
When asked about his view on capping KiwiSaver fees last month, Faafoi said: "At this early stage, capping a whole lot of things is not necessarily the wisest thing to do. I've certainly heard concerns around KiwiSaver fees and I've asked officials to look into it."
Treasury's analysis
Documents released by the State Services Commission show the Green Party asked Treasury to do some analysis on a having a government-run KiwiSaver scheme during coalition talks in October.
Treasury found that if a public KiwiSaver scheme had a passive investment mandate, made average annual returns of 6.2%, and charged an annual fee of 0.30% of funds under management, a person who had consistently worked from age 18 to 65, received the average wage and hadn't made any withdrawals, would accumulate 5.5% more in savings than someone who'd invested in a standard existing default fund.
If fees were 0.05% lower, they would receive 6.7% more.
It says default providers' fees currently range from 0.42% plus $23.40 to a flat fee of 0.91% per annum.
Treasury admits there are a number of assumptions in its model, and it hasn't assessed whether the rate of return it has used is a reasonable long-term average.
It also acknowledges Simplicity's annual fee of 0.30% of funds under management, plus $30, is a reasonable benchmark when considering what a government-run scheme would charge.
*This article was first published in our email for paying subscribers early on Friday morning. See here for more details and how to subscribe.