Just as KiwiSaver fund balances start to rise to substantial levels, investors may need to focus on the changing economic landscape, possibly adjusting their portfolio allocations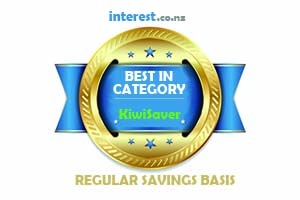 By David Chaston
It's time to review KiwiSaver fund performance again.
You can find your fund analysed using our regular savings method, and disclosing its after-all-fee, after-all-taxes performance here. (Or use the search box above.)
Our analysis covers 171 funds, so your one is sure to be included. Quite a few new ones have been added recently.
This article covers the overall results, identifying the funds with the best long-term track record. (We have done separate, more detailed reviews of the Default, Conservative, and Aggressive risk categories in the past week at these links).
As we have noted many times previously, track record is only one thing. What you really need to assess, and something we don't do, is whether you are in the best fund for the future. Track record is backwards looking.
And the future will almost certainly be different to the past.
In our March 2018 review, we expressed the view that markets are turning and that the long bull run may be coming to an end. If that is correct, it may affect how you position - or at least, think about - your KiwiSaver investments.
The chart below that plots risk related returns, shows a clear sag in results over the past three years compared to those since-inception. That is pointing out the tailing-off that we alluded to previously.
Yields are now very low by the standards of history. Falling yields pump up asset values, something that bolsters investor returns.
But if yields are turning up, the effect will reverse.
We may not see yields rise much locally, but that is not the point for investors. What is the point is that the major markets of the US, the EU, Japan and China all seem to be facing a higher yield environment. That means asset values for a number of key asset classes will come under pressure. Bonds and property will be affected the most, the asset classes that are strictly traded as a multiple to income streams.
The re-valuation of these assets classes will be automatic for investments in passive management structures. The manager will be unable to do anything about that.
Active managers, however, will have an opportunity to tune their asset allocations - even within bonds and property classes - to minimise the toughest adjustments.
But both investors and managers who have the opportunity to tweak their category asset risks should be doing the work now. We have said before that the imperative to do this is not immediate, but getting prepared is probably urgent. There will be no benefits for lagging the crowd.
This is not to suggest you succumb to the doom & gloom merchants (typically promoted by doomsday Americans, often with online 'offers'). But a shift in emphasis could be very valuable.
Remember, your objective in this part of the investment cycle is to tweak your portfolio of risk, constructing an investment set that is more resilient to asset price falls. More reliable income streams from equities might be on the menu, even looking at some 'alternative asset' classes perhaps.
In my case, it is de-emphasising some commercial property exposure, de-emphasising some bond exposures. But it is not getting out of good investments in these classes. Investments in companies that are fundamentally sound is always a good idea - even when you have bond, or property aspects.
As you can tell, this involves work. It reminds us that investment is work, sometimes hard work, involving sound research. You can either do it at the gritty 'company' level, or more likely you can do it in selecting fund management expertise. Your job is to choose your risk tolerance, and then a manager who can execute professionally.
Perhaps, now is a time to consider whether a shift from passive to active would be a savvy move. Or, if you have already chosen 'active' which portfolio structure you want.
Of course, I could be quite wrong - maybe the great bull run will go on and on forever, yields keep on falling, even below zero, debt continuing to juice the system higher without limit. But I doubt it.
You are now a KiwiSaver and increasingly it is becoming serious money, worth serious consideration.
Based on interest.co.nz's benchmark saver who has been in KiwiSaver since April 2008, one fund now has balances exceeding $60,000. In the way we assess these 171 separate funds, there are now eight more funds with balances over $50,000 and a further 49 with balances over $40,000. If you ignore how your fund is positioned, you will hardly be justified complaining about underperformance.
So, rather than looking at track record when making a KiwiSaver choice, now might be a good time to dive a little deeper and think about how your fund is invested and whether in the future that will weather any downturn better than some other strategy. You probably have a bit of time - maybe a year or two, but unlikely more, and possibly not that long.
You can see the way returns are starting to sag from these category charts. The first one is a view of all KiwiSaver returns, since inception in blue, over the past three years in gold, up to June, 2018.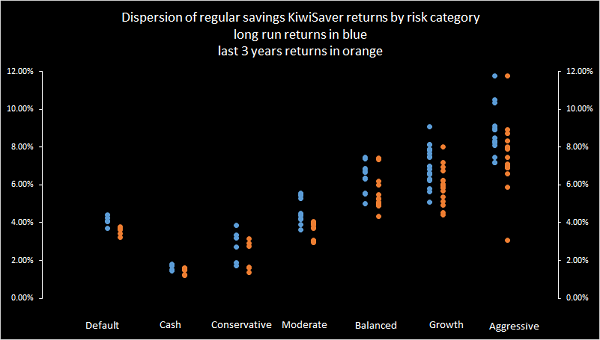 There has been quite a shift lower in just three months. Our expectation is that this market will shift to lower growth as 2018 rolls on. There will still be some great outlier performers, but generally the sagging will extend.
Time to prepare.
Our June 2018 reviews of the Default, Conservative and Aggressive funds can be found here, here and here.
Top of the list
We award our special 'star'

when the fund returns in the past three years top their long term returns. It is a tough standard but now two funds qualify for that laurel. (In the March review, none did).
This is the list of the top funds at June 30, 2018, based on our regular savings return model. For comparative purposes, we have only used those managers who have been in existence for the entire analysis period of April 2008 to June 2018. In the future, additional funds will be included after ten years history.
1. The Conservative Fund data in the table includes cash funds.
2. There are now nine default funds, however, only five have been in existence for the full period of our analysis.
3. Insufficient number of funds to provide data.
In the Aggressive category at least, the winners have been single risk funds targeting yield gains. Such narrow, specialist targeting may not be the best in the future and you can see how quickly these sorts of fund returns have been turning lately, even if they still top our reviews. The past is no guarantee for the future.
For explanations about how we calculate our 'regular savings returns' and how we classify funds, see here and here.
The right fund type for you will depend on your tolerance for risk and importantly on your life stage. You should move only after receiving appropriate advice and for a substantive reason.