Simon Bridges isn't planning to follow in John Key's footsteps by hiking GST and cutting the corporate tax rate, but remains open-minded as circumstances change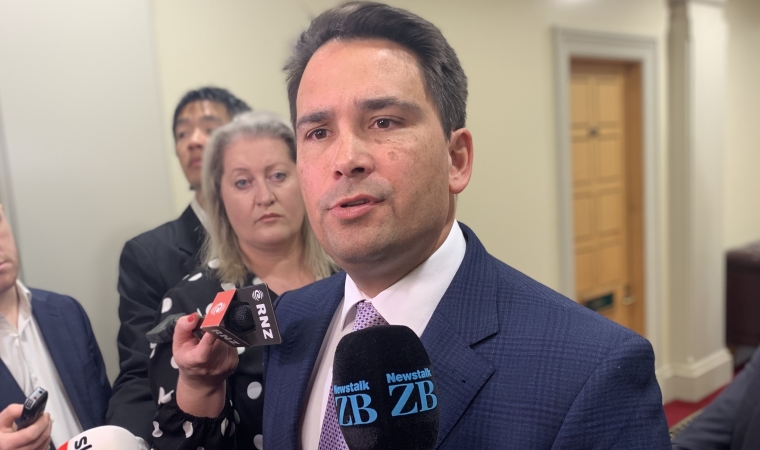 National leader Simon Bridges isn't planning to increase goods and services tax (GST), should he be elected into government. But he isn't ruling this out.
Asked by AM Show presenter, Duncan Garner, whether he'd rule out an increase, he said, "Yes on the whole."
Pressed on why he said "on the whole", Bridges responded: "When the circumstances change, just as I've said with minimum wage, actually you have to be open to a range of things.
"That's not part of my plan for New Zealand right now."
National, in the wake of the Global Financial Crisis in 2010, went against what it campaigned on ahead of the 2008 election, and increased GST from 12.5% to 15%.
It offset this by cutting personal income tax rates across all bands, reducing company tax from 30% to 28% and lowering the top PIE rate from 30% to 28%, among making other changes.
Asked whether he would hike GST as a part of a similar "tax cuts" package, Bridges said: "It's not on the table, as much as it's not part of our plan…
"I think the basic issue is that household budgets and kiwi businesses need a bit more money in their pocket to deal with what's coming at them."
Following a final push at the end of the interview, Bridges reiterated: "It's not part of the plan."
Asked again, he said: "I've given you a lot more clarity in policy… than you're getting from the Government right now."
Bridges also said: "Broad company tax cuts are not part of our plan at the current time."
But once again, he said: "When the circumstances change, we need to retain an openness."
National has promised income tax cuts that would benefit the "average" income earner. It's yet to provide detail around this policy.
It on Tuesday urged the Government to defer the April 1 minimum wage rise (from $17.70 to $18.90) by six months, due to the strain COVID-19 is putting on businesses.
ANZ chief economist Sharon Zollner on Monday said this would be a "no-brainer", while ACT made the call last week.
"Minimum wage has increased 12% since 2017, and the 1 April 2020 increase would take it to a 20% increase in three years," Bridges said.
"Everyone wants to see higher incomes, but governments need to be responsive to the realities on the ground. Many businesses are struggling to keep employing workers right now which should be the priority."
Finance Minister Grant Robertson and Prime Minister Jacinda Ardern were quick to rule out a minimum wage hike freeze on Monday, saying it was important for workers to have money in their pockets to help stimulate the economy.
ACT leader David Seymour said Labour was "blinded by ideology" on the matter.
"In February, the Ministry of Business, Innovation and Employment predicted 6,500 fewer people in employment as a result of this year's minimum wage increase," he said.
"That was in much better economic times.
"As ANZ and MBIE have pointed out, in the case of 'a worsening economic context, a lower increase…would need to be considered to mitigate against disemployment'."