BNZ economists expect the economy to contract in the first two quarters of the year; ANZ economists call for a minimum wage freeze and for the Government to increase its debt limit by $60 billion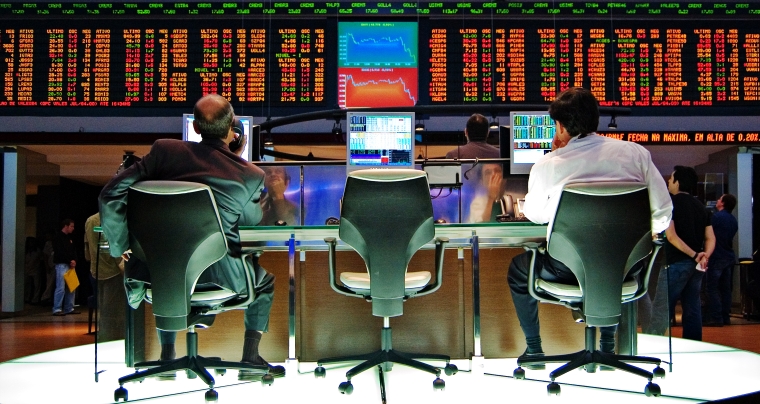 BNZ economists are warning the risk of recession in New Zealand has moved from "plausible" to "probable".
They are forecasting -0.1% declines in gross domestic product (GDP) in both the first and second quarters of 2020.
Other bank economists are at this stage only forecasting a contraction in the March quarter, even though their outlooks are darkening by the day.
Finance Minister Grant Robertson on Monday afternoon said Treasury wasn't forecasting a recession. 
"This is not a cyclical downturn so the economy won't react to "standard" cyclical monetary and fiscal policy responses," BNZ economists said.
"This downturn is fundamentally a supply shock which, in turn, is creating a demand shock. Its root cause is Covid-19 so how the behaviour of individuals, globally, to this shock evolves will ultimately determine the economic path from here on in.
"Policymakers can only hope to smooth the process.
"While all the focus is, naturally, on the future of the New Zealand economy, one shouldn't ignore the fact that New Zealand's growth rate was already in decline.
"By the September quarter of 2019, annual GDP growth had fallen to 2.3% from 3.0% a year earlier. As things stand, we are forecasting only 0.3% for Q4 GDP, due for release March 19. That takes annual growth down to just 1.5%."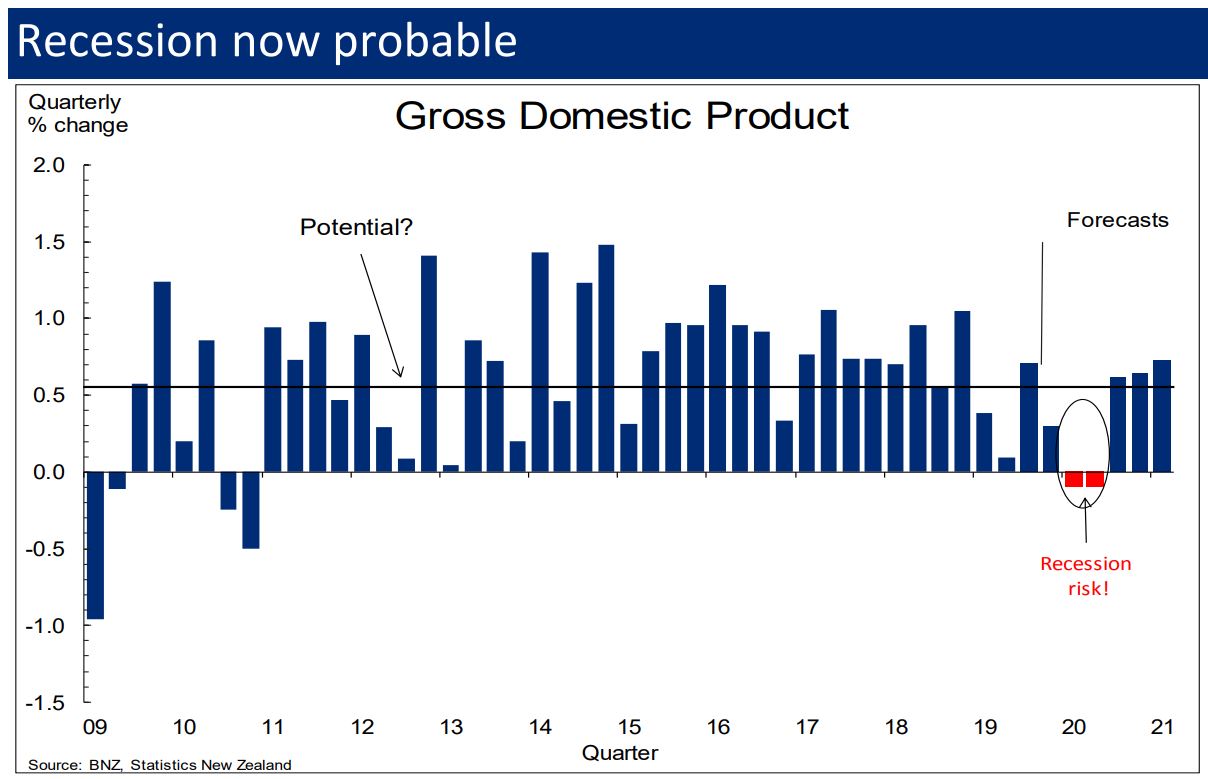 Call for freeze on minimum wage increase
ANZ economists are upping the ante, calling for more fiscal stimulus, sooner.
They said scrapping this year's minimum wage increase should be a "no-brainer" for the Government, which needs to get comfortable borrowing up to $60 billion more than it is.
They're calling for April 1's minimum wage rise to $18.90, from $17.70 to be frozen, saying the cost to businesses could lead to staff cuts, if not more businesses failing.
"In this environment, a lift in the minimum wage is more likely to result in higher unemployment than lead to better social outcomes," they said.
Both Robertson and Prime Minister Jacinda Ardern on Monday afternoon ruled this out. Ardern said it was important for people to keep spending and stimulating the economy.
Govt should be open to borrowing an extra $60b
ANZ economists also said the Government should be willing to borrow the equivalent of 40% of GDP - an increase from the 19.5% of GDP net core Crown debt is currently at.
In dollar terms, increasing the debt limit to 40% would give the Government an extra $60 billion to play with.
ANZ economists said 30% should be the long-term target, as opposed to Robertson's 15% to 25% range.  
They reiterated their call for fiscal policy to step up, particularly as the Reserve Bank (RBNZ) doesn't have much room to cut the Official Cash Rate (OCR), which is at 1%.
They said the Government's approach to targeting specific industries will become increasingly difficult to implement rapidly as the economic slowdown becomes more "synchronised".
"The Government needs to consider a broader (macro) policy response, while ensuring it is timely, temporary, and targeted," they said.
"It might not be feasible to bring existing planned projects forward, but making sure delays don't slow things down when activity is lifting once again could go a long way.
"Lengthening the infrastructure pipeline could also shore up confidence in the medium-term outlook and thereby encourage hiring and investment."
ANZ economists also noted that even without major business support packages, etc, debt to GDP will increase as the Crown's tax revenue falls and benefit payments rise, as the automatic stabilisers being relied on at the moment kick in.
RBNZ unlikely to make an emergency OCR cut on Tuesday
Kiwibank economists have joined ANZ economists in forecasting a whopper 50-basis point OCR cut at the RBNZ's next scheduled review on March 25.
Other bank economists forecast a 25-point cut in March and then another 25-point cut in May.
ANZ economists haven't ruled out the possibility to the RBNZ making an emergency cut before the scheduled review.
The RBNZ has strongly signalled it won't make a move on Tuesday when it releases "high level principles for unconventional monetary policy" - a piece of work it's being working on since before coronavirus.
It said in its invite to an event related to the release of the report: "Please note, the principles and speech will not discuss current economic conditions or the Reserve Bank's outlook for the Official Cash Rate (OCR). The Reserve Bank's next OCR decision is scheduled for March 25.
"A small group of stakeholders have been invited to the speech. You are welcome to record and report from the speech, but due to space constraints, we will not have desks, power or audio connections available..."
Govt focussed on cashflow and keeping people employed 
Cabinet on Monday afternoon agreed for work to be done on a "business continuity package" - the details of which are yet to be revealed. 
The package will be targeted and include a wage subsidy. Ardern didn't say when the package would be introduced. 
Current govt support
This is what the Government is already doing to support businesses:
Continuing to work closely with banks to ensure they are being proactive with their clients
Improving cashflow for small businesses by signalling action on prompt payment terms and times
Inland Revenue is entering into instalment arrangements and waiving penalties on a case by case basis where individuals and businesses have had their income and cashflow affected
An extra $4 million invested in the Regional Business Partner Programme to allow for extra advisors and give them more time on the ground supporting businesses
Working with Xero to get real-time information about the impacts on business, particularly SMEs.