RBNZ 'prepared to ensure well-functioning financial system including access to credit, cash & liquidity in the banking system.' BNZ's Toplis says Fed cut 'unjustified', RBNZ could be 'voice of reason in panic-driven world'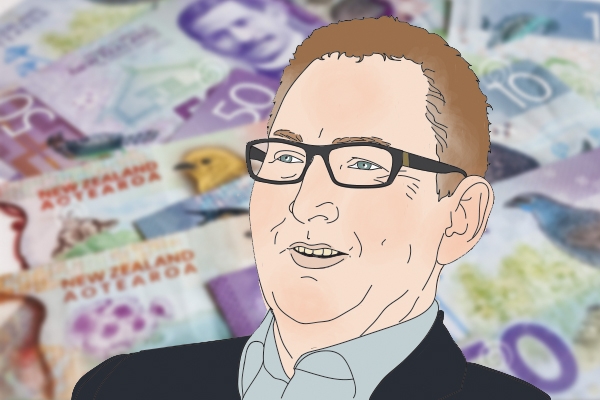 The Reserve Bank of New Zealand (RBNZ) appears to be hosing down speculation of an Official Cash Rate (OCR) cut coming before its next scheduled review on March 25.
This comes in a statement from the central bank on Wednesday, and is despite rate cuts from the Reserve Bank of Australia and US Federal Reserve this week in response to the mounting negative economic impact of the coronavirus crisis.
The statement says Governor Adrian Orr will make a short speech, to be released on March 10, on high level principles around how the RBNZ would assess and use unconventional monetary policy tools if it felt they were ever needed.
"The principles and speech will not discuss current economic conditions or the Reserve Bank's outlook for the Official Cash Rate (OCR). The Reserve Bank's next OCR decision is scheduled for March 25," the Reserve Bank said in bold in its statement, linking to the OCR page on its website.

"The Bank remains prepared in its business continuity role to ensure a well-functioning financial system, including ongoing consumer and business access to credit and cash, liquidity to the banking system and a stable payments and settlements system," the Reserve Bank says.
On Tuesday the Reserve Bank of Australia (RBA) cut its cash rate by 25 basis points to just 0.50% to "support the economy as it responds to the global coronavirus outbreak." And overnight the Federal Reserve cut its benchmark rate, the federal funds rate, by 50 basis points to between 1% and 1.25% in an emergency, out of cycle move.
The OCR currently sits at 1%, where it was left when most recently reviewed by the RBNZ on February 12.
New Zealand bank economists are aligning in predicting OCR cuts, with Kiwibank's economists on Wednesday joining the chorus, suggesting a 50 basis points cut this month, adding financial markets are now pricing in the move, and a 0.25% OCR end point.
However, Kiwibank's economists note monetary policy is a blunt tool.
"Cutting the cash rate is like a surgeon taking a broadsword, when a scalpel is required. [Government] fiscal policy is the most effective, targeted, response. The Government is targeting the industries most at risk, and will be judged on the size and effectiveness of the response. It's essential to backstop business when faced with recession. And no Government will be criticised for supporting industries devastated by seizures in trade," Kiwibank's economists say.
The last time the RBNZ made an emergency out of cycle OCR cut was on September 19, 2001, when the OCR was reduced by 50 basis points to 5.25%.
The RBNZ detailing its thinking on unconventional monetary policy will fulfil a long standing commitment from the central bank. In 2018 the RBNZ detailed five options available to it should future economic conditions require the OCR be reduced to zero. They are moving the OCR into negative territory, buying domestic and foreign government bonds, purchasing interest rate swaps, and providing long-term lending facilities for banks.
US Fed's rate cut 'unjustified'
Meanwhile BNZ head of research Stephen Toplis has labelled the Fed's rate cut "unjustified."
"There are only two reasons why one should deliver an 'emergency' cut: when the financial system is in immediate threat and needs rescuing from failure; and when there is a one-off shock that requires a central bank to deliver some form of confidence boost. A pandemic is neither. At this stage there is no indication that the financial system is in imminent danger. And Covid-19 is not one off in nature nor can its impact on confidence be offset by lowering interest rates," Toplis said.
"The only other rationale for lowering rates is for cyclical reasons. What we are witnessing now is not a standard cyclical event. And, with the possible exception of instantaneous confidence impacts, monetary policy tends to operate with a 12 to 18 month lag. That will most likely be the very time that economies will be recovering from this shock anyway."
 "If anything the Fed's response will simply add to the panic that is brewing around the world. Moreover, it brings the Fed that much closer to a state where it has no options long before the virus has taken hold in the US. The Bank of Japan and European Central Bank already find themselves in this position with the Bank of England not far behind," Toplis said.
 The role for central banks at a time like this is to respond if the banking sector freezes and, if it is to provide stimulus, do it when that stimulus has a chance of being effective such as when the peak in the virus' impact is reached and the economy requires help to nudge it in the right direction, Toplis suggests.
 "Emergency intervention by central banks should have the same basic premise as currency intervention - only do it if there is a very real chance that it will succeed."
 "Much of the rational for the Fed's move seems to have been to support the equity market and avoid the implicit tightening that a fall in equity prices is alleged to have. But the equity market has been exceptionally strong for a protracted period of time and had only corrected to the still elevated levels of a year earlier anyway. More importantly, future equity prices should be determined by an earnings outlook that is clearly deteriorating. No amount of rate cutting will change that earnings outlook in the current environment. The only thing that the rate cuts might achieve is to encourage people to take heightened risks investing in assets that are, arguably, already being unsustainably propped up by record low interest rates," Toplis said.
 In contrast to the Fed, Toplis said the RBA acted at its normal scheduled meeting time, cut rates by only 25 basis points, and offered further stimulus if needed but didn't seem in any hurry to do so.
"Most importantly, there was probably adequate economic rationale for the RBA to cut anyway given inflation vulnerabilities to target and that Australia's unemployment rate had ticked up to 5.3% and looked to persist in the wrong direction," he said.
The RBNZ's options
In terms of the RBNZ, Toplis said it has four options. They are:
·Cut rates immediately
·Wait until March 25 and cut 25 basis points
·Wait and cut 50 basis points
·Wait and do nothing.
"We think the RBNZ's starting point needs to be considered here. The unemployment rate is at 4.0%. Even a relatively sharp shock to the economy could leave the rate within the 4.1% to 4.7% band that the RBNZ considers to be its possible NAIRU [non-accelerating inflation rate of unemployment] range. Inflation is near its target."
 "Additionally, the NZ dollar is already acting as an automatic stabiliser in these uncertain times. Were the RBNZ to take a different stance to the Fed and RBA, it could probably cope with a modest appreciation in the NZ dollar from current levels," said Toplis.
He added that RBNZ Deputy Governor, Christian Hawkesby, last week said cutting interest rates was the wrong response to coronavirus.
"It was for these reasons that we had the view the RBNZ would not cut rates at its next meeting. But clearly things have changed - at least in the world of global central banking. Given market pricing, and the frenzied activity elsewhere, it is going to be very difficult for the RBNZ to sit on its hands, so we are formally shifting to the view of the Bank cutting its cash rate to 0.75% on March 25 with the possibility of a further cut in May," Toplis said.
 "The other options should not, however, be ruled out in such emotionally heated times. We do, nonetheless, believe the rationale for a more aggressive stance than our assumption is not warranted. To start with, there is no need to panic and do something now. It won't make a blind bit of difference if the RBNZ reacts in three weeks' time rather than today. A knee-jerk reaction now risks generating more angst than it would fix."
Could the RBNZ be a 'voice of reason in an increasingly panic-driven world?'
 Given the RBNZ has expressed reluctance to cut rates then a 50 point move would be a major over-reaction, Toplis added, noting the RBA only cut 25 basis points with greater justification for going further. He went on to say the RBNZ could be the voice of reason in a panic-driven world.
"There is a very real opportunity here for the RBNZ to be the voice of reason in an increasingly panic-driven world. How the Bank behaves through this crisis will define it in history. We are only forecasting a rate cut because we feel the RBNZ will think it has no choice. Perhaps we are underestimating the combined gravitas of the new RBNZ committee and they might just surprise us all by buying the central bank here more time. Were they to do this, we would be the first to commend their actions despite it messing up our revised interest rate expectation," said Toplis.
"We want to be clear, here, that we are not underestimating the impact that Covid-19 will have on the economy. Very early on in the piece we stated that a technical recession was a distinct possibility. The probability of such is increasing by the day. But, more importantly, it is becoming even more apparent that the Gross Domestic Product growth path will not, as we had warned, follow a V-shape but rather a protracted and deep U. The RBNZ will know this too. Its Monetary Policy Statement forecasts were being put together when the Coronavirus impacts were very contained and its V-shaped forecast could never be anything more than a quick and nasty assumption."
"So, when the RBNZ does publish its next set of forecasts it is inevitable that its growth profile will be weaker and its unemployment profile higher. Both of which would argue for lower interest rates, in a standard modelling sense. But, how would lower interest rates help? In this environment: people won't go out and spend more; and heightened business uncertainty will mean that investment activity will not respond positively either," Toplis said.
"This begs the question as to what central banks and governments should do in this sort of scenario. The truth is there is very little that they can do except be the proverbial ambulance at the bottom of the cliff."
"The RBNZ can provide liquidity if need be and closely work with the banking sector to ensure that systemic risks do not develop. One option in this environment might be to slow down the speed at which the banking sector needs to meet its new capital requirements. In particular, perhaps, delay the starting time for banks to move closer to standard models. This might reduce the possibility that the banking sector feels pressured to reduce lending," Toplis said.
What the Government should do
 In terms of the Government, Toplis suggested it needs to:
·Educate the public about the impending risks
·Focus aggressively on bolstering resources going to the health sector
·Provide short term assistance to businesses with cash flow difficulties by such means as ensuring government payments to suppliers are timely and offering selective tax holidays
·Ensure that folk who lose their jobs, or who can't attend work for an extended period of time, have access to benefits they are entitled to in a timely fashion
·Ensure that the infrastructure of government is maintained.
"We are not epidemiologists or medical professionals so we can offer no insight as to the likely spread of Covid-19 in New Zealand. We can, however, say with certainty that its global impact will get much worse before it gets better and that there is a realistic chance of a significant domestic outbreak that will cause serious economic and social dislocation," said Toplis.
"That said, we cannot stress enough that whatever the impact it will pass. Covid-19 is unlikely to still be the world's biggest fear in 2021. Consequently, it is imperative that everyone is prepared to deal with the stresses that this pestilence brings, accept what can be achieved but also be resigned to what can't. All the while ensuring that knee-jerk actions will not prove detrimental when all of this is eventually behind us."