Former RBNZ Chairman Arthur Grimes warns of 'real danger' of the RBNZ destablising asset prices, as its employment target sees it go too far lowering interest rates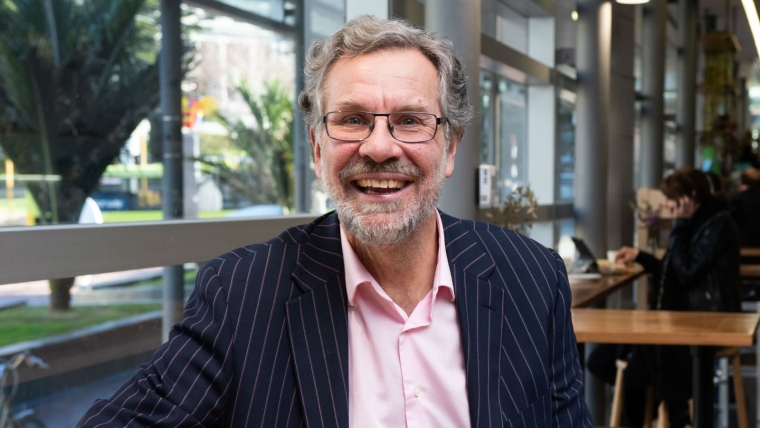 A former Reserve Bank (RBNZ) Chairman, Chief Economist and architect of inflation-targeting, Arthur Grimes, is scathing of how far the country's central bank is going in its easing of monetary policy.
The RBNZ has been slashing already-low interest rates to try to boost inflation and employment in line with its mandate.
Nonetheless, consumer inflation remains stubbornly low, while asset price inflation is taking off. People are using cheap debt to pile into the property market, chasing yield there, as well as in the share market.
"It's a real danger that the Reserve Bank is just destabilising asset prices, which is going to come home and really hurt the economy down the track," Grimes - a Senior Fellow at Motu Research and Professor in the Chair of Wellbeing and Public Policy at Victoria University, told interest.co.nz.
Employment target to blame
He maintained the issue stemmed from a 2018 law change requiring the RBNZ's Monetary Policy Committee to target "maximum sustainable employment" as well as inflation.
Grimes, who vocalised his opposition to the change at the time, said we're now seeing the consequences of that "huge mistake".
Had the RBNZ not been compelled to try to keep people employed, Grimes believed it might not have gone all out, slashing the Official Cash Rate (OCR) to 0.25%, and launching a $100 billion quantitative easing (QE) programme.
Nonetheless, he said the bank, which has taken a "least regrets" approach, should've been "much more circumspect".
He couldn't pinpoint when it shouldn't have cut the OCR or how much smaller it could've made its QE programme while still providing enough liquidity in the bond market.
But looking ahead, Grimes said: "There's absolutely no case for going to negative interest rates. It will make things worse. Because the thing that does impact on the real economy is uncertainty [which negative rates would create]."
He urged the RBNZ: "Just don't do any further harm."
Fiscal policy the solution
Grimes said it was "standard knowledge" in economics that you use fiscal policy (government) to address employment and monetary policy (central bank) to provide price stability.  
He maintained the RBNZ should "absolutely" continue targeting inflation, despite its efforts to boost inflation over the past decade largely seeing it remain below the 2% target mid-point. He said inflation was still within the target range and a higher level could be achieved over a longer term.
But Grimes said using monetary policy to prop up employment had "virtually no effect".
In other words, even lower interest rates aren't going to encourage businesses to borrow more to invest and employ more people when they're nervous about the state of the economy.
The RBNZ has been of the view higher house prices make people feel wealthier, prompting them to spend more and stimulate the economy, at which point businesses are better placed to borrow, invest and hire people.
The RBNZ has also been clear it's focussed on the immediate issue of increasing employment.
It only has to worry about house price growth if this affects financial stability. In other words, if banks become too reckless with their lending to the extent this puts their balance sheets on shaky ground.
Tax not LVRs
The RBNZ has warned banks it could reimpose high loan-to-value ratio (LVR) restrictions on lending against residential property, should they get carried away.
Grimes said the RBNZ wouldn't have to consider this had it not loosened monetary policy so much to begin with.
"Two wrongs don't make a right," he said, pointing out that LVRs on lending to owner-occupiers at least would make it harder for people to put a deposit together, further increasing inequality.
"I'd really like to see the Government do something on tax," Grimes said.
"They can do that now if they wanted to use their political capital. Let's see if they've got any guts on that one."
Grimes didn't comment on which kinds of tax changes he wanted to see. He said it wasn't just about introducing a new tax, but about looking at the system more broadly; something he maintained the Tax Working Group's narrow remit (which said it couldn't touch the family home) prevented it from doing.
Question mark over how to get asset price inflation on the agenda
Grimes said the RBNZ had to pay "far more" attention to how lower interest rates were "destabilising asset prices" in a "potentially unstable way".
Yet he wasn't sure exactly how it should be made to do so by law.
The Reserve Bank Act stipulates one of the Monetary Policy Committee's objectives is "achieving and maintaining stability in the general level of prices over the medium term".
It's then the Committee's remit, issued by the Finance Minister under the Act, that specifies the objective is to keep annual inflation between 1% and 3% over the medium term, with Statistics New Zealand's Consumer Price Index (CPI) being the designated measure.
When Grimes helped draft the Act (which has since been updated) in 1989, he said the phrase "general level of prices" was deliberately used to include asset price inflation as well as consumer price inflation, should this be necessary.
Grimes said a line could be added to the Monetary Policy Committee's remit, requiring it to target CPI without causing too much asset price instability.
Keeping a lid on asset price inflation could also be written into the RBNZ's financial stability mandate.
Asked whether assets should be added to the basket of goods used to calculate CPI, Grimes noted asset prices were typically more volatile than consumer prices, so they'd need to be given a relatively small weighting.  
While CPI - a consumption index - doesn't include the likes of land, shares and bonds, where value is stored, it does include the price of new housing. Statistics New Zealand, in its recently completed three-yearly review of the items in the CPI, increased the weighting of new house purchases from 5.50% to 8.65%.
Zero will from Labour
Grimes concluded: "When you have a government worried about inequality and you've got the Reserve Bank just pushing greater inequality, it's really sad."
However the Labour Party is disinterested in looking at how the RBNZ's mandate and actions have contributed to house price inflation.
When interest.co.nz raised the matter with Finance Minister Grant Robertson in June, he said the impacts of quantitative easing on asset prices were "still to be told".
"I'm not yet seeing anything that indicates to me that that's a major concern, but obviously we keep our eye on it," he said.
Put to him that it was too soon to see these impacts come through, Robertson said: "We're very much aware of the potential for it and obviously after other crises in the global economy we've seen those kinds of effects…
"For now, the financial system's stable. Banks are lending in line with their policies and in line with the expectations the RBNZ has on them."
Robertson has largely stuck to this last line since June, campaigning on providing stability and continuity. 
ACT Leader David Seymour suggested asset price inflation should be added to the Monetary Policy Committee's remit. Yet Seymour only made the suggestion when prompted by interest.co.nz a day before the election.  
The Opportunities Party was well-aware of the side-effects of QE. It campaigned on the RBNZ injecting its printed money straight into the economy via cash payments, rather than through the banking system.
*This article was first published in our email for paying subscribers. See here for more details and how to subscribe.