TOP Leader Geoff Simmons on why the RBNZ should pay us $250/week for six months so those with debt can repay it and those without debt can splash cash
The Opportunities Party (TOP) is calling for the Government to enable the Reserve Bank (RBNZ) to give people cash to either repay their debt or use as they please if they're debt-free.
The idea is for this cash payment/debt jubilee duo to be used temporarily to stimulate the economy and keep inflation buoyed in line with the RBNZ's mandate.
Speaking to interest.co.nz, TOP Leader Geoff Simmons suggested the RBNZ could pay everyone $250 a week for six months - tweaking the value and duration of the policy as need-be.
Why? Simmons noted even RBNZ Governor Adrian Orr recognised the model of monetary policy being used by the central bank is benefiting asset owners the most.
The RBNZ has committed to buying up to $100 billion of mostly New Zealand Government Bonds from the secondary market via its quantitative easing (QE) programme. It's also preparing to cut the Official Cash Rate into negative territory and lend more to banks at cheap rates through a new facility.
The RBNZ's aim is to push interest rates even lower to encourage businesses and households to borrow more and invest, as well as support those under pressure servicing their debt.
'QE for the people'
However, Simmons said this legally mandated model relied on a "trickle down" effect, "which has all sorts of distributional impacts".
Instead of the RBNZ attempting to reach its inflation and employment targets via the banking system, Simmons suggested it could "do QE for the people".
A weekly cash payment of $250, given to New Zealand's working age population for six months for example, would cost around $20 billion.
Simmons recognised this was a lot (the wage subsidy is expected to cost $14 billion by way of context), but again noted the $100 billion QE programme is benefiting asset owners the most.
He said this should be "raising a red flag" given New Zealand already has a housing bubble and inequality problem.
The fact property gets favourable tax treatment and banks like lending against it, adds to the argument much of this $100 billion will flow into the housing market.
Household debt an economic handbrake
Simmons said the advantage of requiring recipients of the universal payment to use it to repay debt, excluding student debt, was that it allows a "reset" within the banking system.
Because debt is an engine for growth in our economy, it has accumulated over time. However Simmons maintained we're at the point where the burden of repaying this debt is so great, it acts as a brake on the economy.
In this sense, he believed directing much of that $20 billion towards repaying the $223 billion of consumer and housing loans households have, would free up resources in the economy.
With inflation being stubbornly low for some years now, Simmons didn't see hyper-inflation as a risk.
Asked whether following this "reset", New Zealanders would get right back to taking out debt to buy houses at higher prices, Simmons said he expected household debt levels to bounce back to current levels over time, but not immediately during this period of uncertainty.
"That's why ancient civilisations in the past had regular debt jubilees. They had these sorts of things to constantly allow a reset within the system, because there is always going to be that pressure to build up debt," he said.
Some govt debt should be written off
Simmons' cash payment/debt jubilee policy inherently relies on Treasury and the RBNZ working more closely together.
The RBNZ argues that by buying New Zealand Government Bonds from banks and other bondholders, rather than directly from the Treasury, it's ensuring operational independence.
In other words, Treasury is issuing more bonds to pay for government policies like the wage subsidy. And the RBNZ is buying up to 60% of these bonds from the secondary market to reduce interest rates to meet its inflation and employment targets, and also to ensure the market functions smoothly. Finance Minister Grant Robertson isn't telling the RBNZ it must buy X amount of debt to fund a certain policy.
Nonetheless, Simmons maintained the contested split between monetary and fiscal policy had passed its use by date.
"We have reached the limits of the usefulness of current monetary policy," he said.
"I can't see any reason why we are using banks as an intermediary at the moment for government debt. Why can't the RBNZ just purchase it [bonds] straight off the Treasury and just write it off?"
Simmons recognised this could see New Zealand punished by foreign financial markets. It would also essentially give "people like Winston Peters a blank cheque book".
Therefore, he maintained institutions and frameworks would have to be developed to ensure any writing off of government debt was done in a considered way.
Simmons couldn't say exactly how this could be done safely and with appropriate accountability, but said the time was right to do some "empiric experimentation".
QE 'blindly imported'
"Has QE actually been evaluated from when it's been trialled around the world, or are we just blindly importing this idea from overseas?" Simmons said, pointing out that overseas experience suggests it won't be temporary.
Indeed, RBNZ Assistant Governor Christian Hawkesby in a speech delivered on Thursday said, following the 2008 Global Financial Crisis, central bank balance sheets have remained relatively large for a prolonged period.
"It is not necessarily the case that central bank balance sheets should revert to their former size. It will be a case of what is optimal in the future to enable central banks to fulfil their remits," Hawkesby said.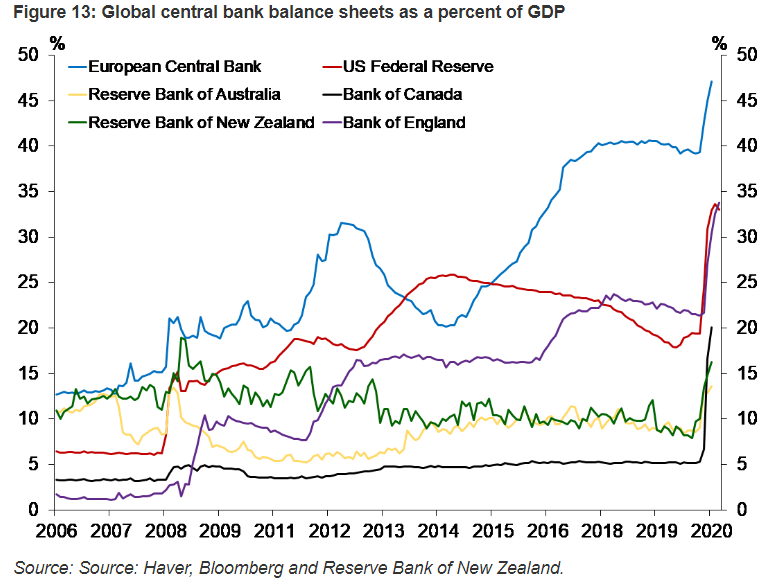 Simmons' ideas unsupported by incumbents
Finance Minister Grant Robertson has indicated an unwillingness (pre-election at least) to making the sorts of fairly significant changes advocated for by Simmons.
He earlier this month told interest.co.nz he wasn't worried about QE causing major asset price inflation.
Robertson said now was a good time to talk about whether monetary policy was fit for purpose, but was "satisfied we've got the environment we need".
In May he said he wouldn't look to the RBNZ to print money for specific government policies.
Orr a couple of weeks ago said the current set-up whereby the RBNZ buys bonds from the secondary market, not directly from Treasury, was working well. Hawkesby also stressed the importance of operational independence.
However Orr back in May expressed some openness towards the RBNZ buying bonds directly from Treasury for monetary policy purposes, saying it could be "achievable" if done transparently, for the right purpose and with the right structures in place.
The Bank of England and Bank of Indonesia have gone down this path, with even a former Credit Suisse Asia-Pacific managing director, Sean Keane, being among those to say the peak period of central bank independence is ending.