Grant Robertson remains committed to reducing government debt long-term, saying Modern Monetary Theory isn't an approach he's looking to adopt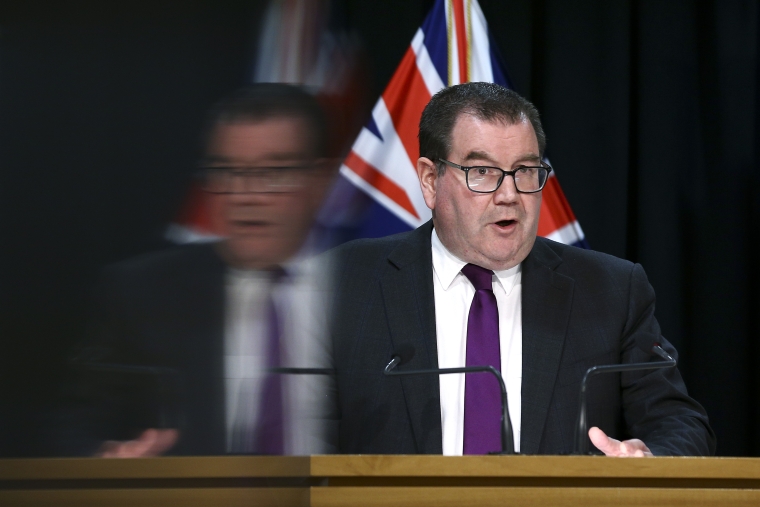 Finance Minister Grant Robertson maintains now is a good time to talk about whether the country's monetary policy model is fit for purpose.
However, Modern Monetary Theory (MMT) is "not something" he's "looking to take up".
Speaking to interest.co.nz, Robertson said he had received a lot of correspondence from people advocating for him to reframe his thinking around debt.  
Yet he was "satisfied we've got the environment we need".
He acknowledged his pre-Covid target of reducing net core Crown debt to 20% of Gross Domestic Product (GDP) was "arbitrary".
However he said, "I do think managing and controlling debt is important."
Asked whether the government's long-term goal should ultimately be keeping debt at a low level, Robertson said: "I think it's good for New Zealand to do that. But we can do that in such a way that continues to support social programmes and continues to support significant infrastructure investment, which we've done."
When Robertson last month said he was putting away $14 billion of the $20 billion allocated in the May Budget towards yet-to-be-determined Covid-related expenditure, he ruled out universal cash payments, or helicopter money, pre-election.
MMT explained
Coming back to MMT, it's a school of thought that argues governments don't need to be constrained by debt in the same way households do.
Countries that issue their own currency and don't have significant foreign debt can technically print money and never become insolvent in their own currency.
The argument in New Zealand's context is that Treasury could effectively take out an overdraft from the Reserve Bank (RBNZ) to get cash to inject directly into the economy via helicopter money for example.
The RBNZ could then write off the debt to avoid burdening future generations with government spending cuts and/or tax hikes.
Inflation is of course a key risk of money creation longer term. The MMT solution is for the government to respond by removing cash from the system once the economy has returned to full employment by increasing taxes.  
However political risk remains. What's to say a government, in cahoots with a central bank, won't go overboard with the money printing, or later find it too politically unpalatable to increase taxes to curb inflation?
Another risk is that the RBNZ writing off debt owed by the Treasury could upset credit rating agencies, devalue the currency, and create uncertainty in financial markets.  
Rather than focus on debt targets, MMT advocates say governments should focus on what spending is necessary and can be absorbed in an economy. IE how much a government could realistically invest in new infrastructure given labour supply, availability of building materials, and other resources.
They point out governments spend before taxing and borrowing, rather than the other way around. For more on MMT, see this article.
Is monetary policy fit for purpose?
With central banks opening their monetary policy taps to the max with quantitative easing, and governments splashing cash to keep their economies afloat in the face of Covid-19, MMT has come under the spotlight.
The RBNZ has committed to buying up to $60 billion of New Zealand Government Bonds from banks, fund managers and other investors. While this creates liquidity in financial markets, it doesn't directly give the government money to fund its deficit. And once the bonds mature, Treasury will have to repay the RBNZ.
"In terms of monetary policy at large, I think this is the time to be talking about; is it fit for purpose for where we are? Which is exactly the conversation happening all around the world. Does that necessarily translate into MMT? No," Robertson said.
He said he still thought targeting inflation was an important part of monetary policy.
Asked whether he was worried about quantitative easing (which lowers interest rates) causing major house and equity price inflation as it did after the 2008 Global Financial Crisis, Robertson said: "I wouldn't say it worries me.
"It is one of the conundrums of the situation that we find ourselves in.
"The housing market has held up significantly more than people forecast it would in these circumstances. We clearly keep an eye on asset prices, and the last thing I want is for New Zealand to go through what is has in the past, which is significant bubbles."
Greens open-minded
Green Party co-leader, James Shaw, is concerned about quantitative easing causing asset price inflation and thus inequality.
He recently argued this underlined the need for the government to respond by rejigging the tax system. The Green Party is campaigning on introducing a wealth tax of 1% applicable to net wealth over $1 million, as well as two new top tax brackets for income over $100,000 per annum.
Shaw has spoken out against austerity, but won't go so far as to support MMT.  
"It is obviously risky when you consider models like that. But I think it's worth investigating with every other option we've got on the table," he said.
"Central banks all over the world are looking at this as an option - and their other options - because the sheer scale of all the liquidity that we're having to pump into the global economy right now is colossal. And so, you do need to consider your options.
"New Zealand has a pretty good tradition of managing itself responsibly and in concert with other countries."
National is campaigning on reducing net core Crown debt to 30% of GDP within the next 10 years or so. Treasury in May forecast New Zealand's net core Crown debt to GDP reaching 54% by 2023 - an increase from 19% in 2019.
Meanwhile ACT is campaigning on returning the Government's books to surplus by 2024. Treasury in May forecast a $4.9 billion in deficit at this point.
*This article was first published in our email for paying subscribers. See here for more details and how to subscribe.