NZ dollar falls as Adrian Orr says the Monetary Policy Committee is 'only focussed' on its inflation and employment targets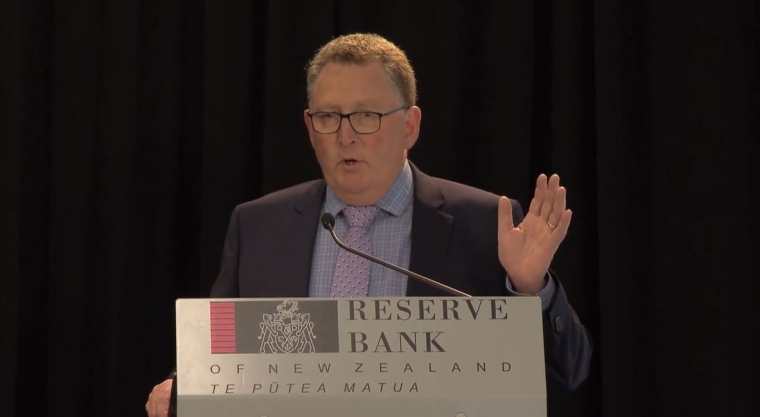 Reserve Bank Governor Adrian Orr has used his first opportunity to publicly comment on the central bank's remit tweak to stress this won't change the way it sets monetary policy.
Speaking to the Canterbury Employers' Chamber of Commerce on Friday, Orr said: "Our Monetary Policy Committee remit targets remain unchanged.
"We remain only focussed on maintaining low and stable consumer price inflation and contributing to maximum sustainable employment, as recently outlined in our Monetary Policy Statement."
Orr's comments saw the New Zealand dollar fall from US73.8 cents to US73.2 cents. It hit a 3.5-year high on Thursday. 
Finance Minister Grant Robertson on Thursday put new clauses in the Monetary Policy Committee's remit.
In pursuing its inflation and employment objectives, the Committee will have to "assess the effect of its monetary policy decisions on the Government's policy".
The remit stipulates the "Government's policy" is to "support more sustainable house prices, including by dampening investor demand for existing housing stock, which would improve affordability for first-home buyers".
Orr said: "The Committee will continue to be very transparent in explaining the impact of all of our monetary policy decisions on the housing market, as we are for many other variables."
"We remain committed to our current stimulatory monetary settings until we are confident that consumer price inflation will be sustained at the 2% per annum target midpoint, and that employment is at or above its maximum sustainable level. Meeting these requirements will necessitate considerable time and patience."
Orr's comments come as the remit change sees financial markets do the opposite of what the RBNZ wants them to do - place greater bets on interest rates rising, tightening monetary conditions.
10-year New Zealand Government Bonds are now trading at 1.98% on the secondary market. That's a hefty jump from where they were at on Wednesday at 1.63%.
RBNZ will consider how restrictions on banking lending affect house prices
Orr accepted a second change Robertson made on Thursday would influence the RBNZ's policymaking.
Robertson issued a direction, under section 68B of the Reserve Bank Act, requiring the Bank to have regard for the Government's housing policy (quoted above) in the work it does to ensure the financial system is stable.
"We will be considering our financial stability policy settings via our prudential tools – like loan-to-value ratios, bank stress testing, and capital requirements against particular types of mortgage lending," Orr said.
"This is done with a view to moderating housing demand, particularly from investors, to best ensure house price sustainability."
Robertson hasn't given the RBNZ any new tools to regulate bank lending against housing. 
Rather, he's asked the RBNZ for advice on whether debt-to-income ratio restrictions and restrictions around interest-only mortgages could be exclusively applied to investors. 
The RBNZ has long advocated for having debt-to-income restrictions added to its toolkit. 
Late last year it also explicitly told the Government it was happy to be made to consider house prices through the way it regulates banks, but not through the way it sets monetary policy.
Here is a snippet from the new Monetary Policy Committee remit. The new bits are in bold at the bottom:
1. Monetary policy objectives

Under section 8 of the Act the Reserve Bank, acting through the MPC, is required to formulate monetary policy with the goals of maintaining a stable general level of prices over the medium term and supporting maximum sustainable employment.

2. Operational objectives

(1) For the purpose of this remit, the MPC's operational objectives shall be to:

(a) keep future annual inflation between 1 and 3 percent over the medium term, with a focus on keeping future inflation near the 2 percent mid-point. This target will be defined in terms of the All Groups Consumers Price Index, as published by Statistics New Zealand; and

(b) support maximum sustainable employment. The MPC should consider a broad range of labour market indicators to form a view of where employment is relative to its maximum sustainable level, taking into account that the level of maximum sustainable employment is largely determined by non-monetary factors that affect the structure and dynamics of the labour market and is not directly measurable.

(2) In pursuing the operational objectives, the MPC shall:

(a) have regard to the efficiency and soundness of the financial system; and

(b) seek to avoid unnecessary instability in output, interest rates, and the exchange rate; and

(c) discount events that have only transitory effects on inflation, setting policy with a medium-term orientation; and

(d) assess the effect of its monetary policy decisions on the Government's policy set out in subclause (3).

(3) The Government's policy is to support more sustainable house prices, including by dampening investor demand for existing housing stock, which would improve affordability for first-home buyers.