ASB & BankDirect taking term deposits of up to NZ$10 mln per customer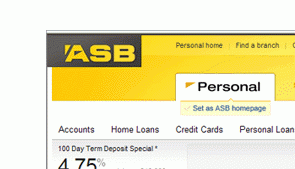 Got a spare NZ$10 million and not sure what to do with it? You could always chuck it in a term deposit at the ASB.
In a real sign of the times, ASB says it'll now accept term deposits worth up to NZ$10 million from a single customer. Both ASB and its subsidiary Bank Direct introduced this policy on July 1. Among the other major banks ANZ, National Bank, and Westpac say they don't have an upper limit on how much they'll accept. However, none are openly promoting term deposits as high as NZ$10 million.
The major banks are all fighting hard for term deposit money because of the introduction of the Reserve Bank's core funding ratio (CFR) on April 1. Under the CFR banks must source at least 65% of their funding from retail deposits and bonds with durations of at least one year. The central bank wants to increase the CFR to 75% by mid-2012 to offset New Zealand banks' reliance on international wholesale, or 'hot' money, markets before the Global Financial Crisis.
An ASB spokeswoman said the bank had introduced a new policy from July 1 whereby there was now a NZ$10 million per customer maximum for both ASB and BankDirect term deposits. Before July the maximum was NZ$250,000 per individual deposit.
ASB's chief executive Charles Pink recently told interest.co.nz the bank was meeting the CFR "with some comfort."
The ASB spokeswoman said the NZ$250,000 maximum had been in place for many years and had been increased due to demand from some term deposit customers. Sone customers had held several term deposits, she added, although it was more common for them to negotiate to invest a higher sum.
"Some customers do want to invest up to NZ$10 million," she said, noting ASB offers term deposits to business, corporate and trust customers as well as retail customers. 
"Many customers also choose to spread their investments across a range of terms, rather than invest one large sum in one term deposit."
ASB says retail deposits rose 5.3% to NZ$31.5 billion in the year to June.
Among the other major banks, a spokesman said Westpac had no limit with customers able to enquire about rates for amounts of NZ$250,000 or more. Although there was no limit, he said the rate secured would be decided by which part of the bank the customer was with, ie: whether they were a retail or institutional customer.
"Individuals can invest from as little as NZ$5,000. Customers can enquire about rates for amounts of NZ$250,000 or more," the Westpac spokesman said.
A BNZ spokeswoman said her bank accepted term deposits of up to NZ$1 million. If a customer wanted to invest more than that, they'd probably be advised to talk to BNZ's private wealth department.
A spokeswoman for ANZ New Zealand, which also owns the National Bank, said there was no specific policy to limit the size of a deposit from any one customer. However, above NZ$1 million at ANZ and north of NZ$250,000 at the National Bank customers can contact the bank for pricing.
Westpac and BNZ, the two of the big four banks to have released June quarter General Disclosure Statements so far, secured NZ$329 million and NZ$277 million worth of new term deposit funding, respectively.
Banks are advertising rates around 5.5% for two year retail term deposits, while the two year wholesale swap rate is around 3.8% currently. See all bank term deposit rates here.
* This article was first published in our email for paid subscribers earlier today. See here for more details and to subscribe.
What term deposit rates are you being offered?