CEOs of country's four big banks get A$11.7 mln (NZ$15.3 mln), combined, in annual pay with 31% in fixed pay and rest in bonuses and benefits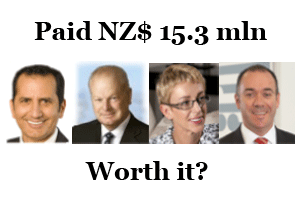 By Gareth Vaughan
The chief executives of New Zealand's big four banks received combined pay of A$11.7 million (NZ$15.3 million) for their 2011 financial years with just A$3.6 million, or 31%, coming in fixed pay and the rest in benefits and bonuses.
Annual reports from the banks' Australian parents show Westpac NZ's George Frazis was the highest paid in New Zealand, receiving A$3.5 million (NZ$4.6 million) for the bank's financial year ended September 30, but A$4.1 million when incentive pay from previous years, but received during 2011, is included. He's yet to actually receive A$800,000 worth of short-term incentives received for 2011 and A$550,000 of long-term incentives.  For Frazis 2011 saw a drop from A$4.38 million last year.
Westpac NZ had a strong year in terms of profit growth, with cash earnings for the year to September 30 up NZ$132 million, or 41%, to NZ$454 million from NZ$322 million the previous year.  Westpac's net loans rose 3% to NZ$51.2 billion and total assets also rose 3% to NZ$52.6 billion.
Next comes David Hisco, CEO of ANZ New Zealand, the country's biggest bank, after replacing Jenny Fagg last October. Hisco's pay for the September year totals A$3.4 million (NZ$4.4 million), but of that a combined A$1.2 million stems from long-term and short-term incentives that he's yet to actually receive. Fagg, who stepped down on September 1 last year, got A$2.13 million for the year to September 30, 2010.
ANZ posted record annual underlying profit, up NZ$361 million, or 41%, to NZ$1.243 billion. Net loans and advances contracted 3% to NZ$93.613 billion, and total assets rose 3% to NZ$128.7 billion.
BNZ's Andrew Thorburn, who is also parent National Australia Bank's group executive for New Zealand, Asia and the United States, saw his September year pay drop to A$2.6 million (NZ$3.4 million) from A$2.9 million with the main reason for the drop shares held being underwater to the tune of A$362,181 compared with being A$215,316 in the black a year earlier.
BNZ's annual cash earnings rose NZ$88 million, or 17%, to NZ$612 million. Its gross loans rose 2% year-on-year to NZ$55.9 billion and total assets 1% to NZ$58.1 billion.
Finally, ASB's Barbara Chapman who took the reins on April 26 after Charles Pink's departure last November. Chapman, head of human resources at ASB's parent Commonwealth Bank of Australia prior to April 26, received A$2.2 million (NZ$2.8 million) in the year to June 30, well down from A$4 million the pervious year, with the bulk related to her role at CBA. Again, the big reason for the drop was long-term share options being underwater, by A$166,344 compared with being A$1.3 million in the black a year earlier.
CBA's annual report doesn't cover Pink's pay.
ASB's annual cash net profit after tax rose by NZ$150 million, or 42%, to NZ$504 million. Its lending contracted 1.2% to NZ$53.2 billion and total assets fell by NZ$500 million to NZ$63.1 billion.
Frazis also tops in fixed pay & where the rest of it came from
In terms of fixed pay, Frazis also led the way with A$969,696, followed by Hisco with A$960,000, Thorburn at A$926,000 and Chapman on A$747,922.
In other remuneration, Frazis was awarded an A$1.2 million cash short-term incentive, A$52,882 non-monetary benefits such as health checks, tax advice and living away from home expenses, A$18,324 of superannuation benefits, A$399,634 worth of options and A$899,680 in share rights. A total of 71% of his pay was performance related.
Hisco was granted A$1.6 million worth of short-term incentives - including shares granted in 2007, 2009 and 2010 - and A$480,000 worth of long-term equity incentives. He also got A$357,283 worth of "other grants/benefits" such as flights, housing assistance and tax services. Prior to his appointment as ANZ NZ boss Hisco was commercial managing director for Australia at parent ANZ Banking Group.
Meanwhile, Thorburn's remuneration included an A$637,500 cash short-term incentive payment paid on October 31, A$30,904 worth of non-monetary benefits such as motor vehicle benefits, health fund and tax advice, A$50,041 of superannuation, the shares underwater to the tune of A$362,181, and A$1.3 million worth of options and rights.
Chapman's remuneration included A$431,420 of cash short-term incentive payment and the same sum of deferred short-term incentive payment, A$38,297 of other pay covering the likes of tax advice, club memberships and relocation costs, A$41,096 of superannuation, A$6,346 in long service entitlements, the performance rights at risk underwater to the tune of A$166,344 awarded in 2009, and 2010 and 2011 share and rights awards worth A$652,789.
In May international banking regulator the Basel Committee on Banking Supervision issued a report on aligning bank executives remuneration with risk and performance. Asked by interest.co.nz for its views on bank executive pay at the time, a Reserve Bank of New Zealand spokeswoman said it wasn't something the bank had a comment on.
This article was first published in our email for paid subscribers this morning. See here for more details and to subscribe.