BNZ CEO Andrew Thorburn says banks likely to hike floating mortgage rates even if the OCR stays at 2.5% for an extended period because of 'decoupling'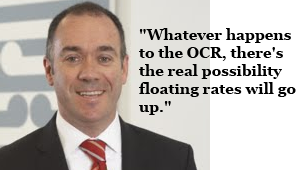 By Gareth Vaughan
Bank of New Zealand CEO Andrew Thorburn is warning that even if the Official Cash Rate (OCR) stays at its record low of 2.5% for an extended period, banks floating mortgages, currently all the rage with home loan borrowers, will probably rise because banks' cost of funding is likely to increase.
Speaking to interest.co.nz after BNZ reported a NZ$69 million, or 11.5%, rise in annual net profit after tax to NZ$671 million yesterday, Thorburn said whatever happens to the OCR, there's the "real possibility" of floating - or variable - rates rising due to an increase in the price banks pay to borrow money through term deposits and overseas wholesale funding markets, which they then on-lend to their customers.
"I think yes, there will be over time, leaving aside whatever happens to the OCR, the real possibility that floating rates will go up because of that rising cost of funds pressure that the banks face," Thorburn said.
"I don't think there has ever been a direct link between the OCR and floating (home loan) rates or business interest rates. Because the floating rate is the overnight cash rate, it's obviously the risk free rate and that's at 2.5%. As the term and the risk goes up the higher the rate. What I'm saying is I don't think it has ever been coupled because over the last few years as banks funding costs have gone up, that has been fed through to rates immediately, particularly on the business side."
Nonetheless banks hiking their floating rates against a backdrop of a 2.5% OCR would likely see them come under criticism.
In Australia a year ago the Ralph Norris led ASB parent Commonwealth Bank of Australia (CBA) came under sustained fire from politicians, the media and the public after lifting home loan rates by 45 basis points on the back of a 25 basis points hike to the cash rate by the Reserve Bank of Australia. And a year earlier Westpac, CBA and ANZ did the same with Australian Treasurer Wayne Swan saying they had no justification to do so.
'It costs BNZ between 5% and 6% to borrow money'
Thorburn said it was currently costing between 5% and 6% for the BNZ to borrow money. He noted a five-year term deposit rate of 6% and said when wholesale, largely overseas, funding markets open again properly - when investors are comfortable the European sovereign debt crisis is under control - BNZ will probably have to pay "a similar number" to secure funding.
"What that means is that needs to be fed through sensibly to borrowers because that's the way the bank stays profitable, keeps its capital high, and retains strong (credit) ratings to be able to continue to function really well and lend to businesses," said Thorburn.
"So that margin is important for us."
He said just as fixed-term interest rates follow moves in swap rates of the same term, so floating rates will move with the bank's cost of funding. And Thorburn said in his view it was 'definitely" a rising interest rate environment.
The Reserve Bank yesterday left the OCR at 2.5% and said if global developments have only a mild impact on the New Zealand economy, it is likely that gradually increasing pressure on domestic resources will require future OCR increases. Reserve Bank Governor Alan Bollard also commented on funding costs, saying: "The difficult international market conditions could also result in increased New Zealand bank funding costs over the coming year."
Many economists, including BNZ's, are picking the OCR to stay at 2.5% until mid-2012. The OCR has been at 2.5% since March.
Unlike ASB, BNZ's profit still lags boom
At NZ$671 million, BNZ's annual net profit after tax still trails the NZ$785 million it posted at the height of the recent boom in the year to September 2008. ASB, the only other bank to report its annual results so far this year, posted record annual profit of NZ$568 million. BNZ's cash earnings, meanwhile, rose NZ$88 million, or 17%, to NZ$612 million.
Thorburn said during the year to September BNZ increased its share of the housing lending market to 16.2% from 15.8% (housing comprises 48% of BNZ's total lending), agribusiness to 20.5% from 19.2% and business lending to 26.5% from 25.8%. With retail deposits up NZ$2.8 billion, or 10%, to NZ$31.1 billion, BNZ's deposit market share of 18.2% was at an "all time high."
The bank's gross loans rose just 2% year-on-year to NZ$55.9 billion and total assets 1% to NZ$58.1 billion. BNZ's bad and doubtful debt charge fell NZ$36 million, or 19%, to NZ$151 million. Just 1.51% of BNZ's gross loans were 90 days past due or impaired at September 30, down from 1.96% at March 31.
Meanwhile, BNZ's net interest margin increased by 14 basis points to 2.30% over the year, and by 11 basis points to 2.35% in the second half-year as customers switched to floating mortgages from fixed-term ones and loans were "repriced" to fit market conditions. Chief financial officer Ken Christie said nearly all customers taking on home loans were currently choosing to float with 60% of the bank's home loans now on floating rates, which is slightly above the overall industry figure of 56%.
Banks tend to do better out of floating, or variable, mortgages because the margin between the variable rate and short end of the yield curve, such as three month bank bills, is higher than the margin between swap rates and fixed rate mortgages.
Reserve Bank figures of monthly bank net interest margins show they have risen to 2.35% by August from 2.18% in May and 2.11% a year earlier.
'Despite weak lending growth we want to raise money to strengthen our balance sheet'
BNZ's net operating income rose 6% to NZ$1.77 billion and operating expenses rose 2% to NZ$747 million.
Thorburn said the domestic deposit market remained competitive with the big banks all wanting to strengthen their balance sheets by growing retail deposits. This competition stems from the Reserve Bank's core funding ratio (CFR). Introduced in April last year as a move designed to reduce New Zealand banks' reliance on short-term overseas borrowing, the CFR sets out that banks must secure at least 70% of their funding from retail deposits or wholesale sources such as bonds with durations of at least one year. The central bank lifted the ratio to 70% from 65% on July 1 and will increase it again, to 75%, on July 1, 2012.
According to auditing firm PwC's latest Banking Perspectives report, the big four banks - ANZ, ASB, BNZ and Westpac - plus Kiwibank obtained 36% of their funding from overseas in the first halves of their current financial years.
Lending growth is expected to remain weak. BNZ picks a 1.6% 2011 rise in systems housing lending growth and 2.4% 2012 rise, a 0.9% 2011 drop in personal loans and 1.3% 2012 rise, a 0.7% 2011 drop in business lending and 1.9% 2012 rise, leaving total systems credit growth of just 0.6% this year and 2.1% next year.
But despite not needing a surplus of funds to meet lending demand, Thorburn said BNZ always wants to bolster its balance sheet.
"So when offshore (funding) markets function properly again, we will want to re-enter to raise more money. Not because we think it's needed imminently, we're prepared for (lending) growth if it does happen, but because we want to keep strengthening the balance sheet of the bank."
BNZ's tier one capital ratio was 8.99% at September 30, up from 8.49% at June 30 and well above the Reserve Bank mandated minimum of 4%. Its total capital ratio was 11.84%, up from 11.24% and ahead of the 8% regulatory minimum.
See all advertised bank term deposit rates here and see all advertised bank mortgage rates here.
This article was first published in our email for paid subscribers this morning. See here for more details and to subscribe.