A review of things you need to know before you go home on Tuesday; more TD reductions, QSBO sweet spot, growth with less energy, drought concerns, China growth as expected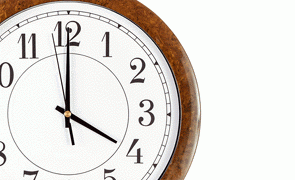 Here are the key things you need to know before you leave work today.
TODAY'S MORTGAGE RATE CHANGES
There were no changes today.
TODAY'S DEPOSIT RATE CHANGES
More term deposit rate reductions were announced today. This time it was Kiwibank who reduced rates from 2 to five year terms. Essentially the majors are settling on levels ANZ set last week, with minor variation.
MORE 0% CREDIT CARD TRANSFER DEALS
BNZ has followed Westpac and ANZ offering 0% again for 12 months for any balance transferred in.
A KIWI SWEET SPOT
New Zealand business confidence, as measured by the 4,300 surveyed firms in the closely-watched NZIER QSBO survey, rose in December. NZIER called it a 'Goldilocks' finish for 2014. As BNZ noted, we have the opposite of 'stagflation' which was no growth but high price rises. Now we have good growth without the price rises.
ANZ CUTS FONTERRA PAYOUT FORECAST
ANZ's economists have cut their 2014/15 Fonterra milk price forecast by 50 cents to $4.35/kg milk solids. As they note, that's well below break-even for many dairy farmers and represents a hit of about $6.9 billion, or 3.1% of GDP, to overall dairy revenue compared to last season where Fonterra's milk price was a record $8.40. Fonterra's own 2014/15 forecast is $4.70. ANZ has also lowered its forecast for Fonterra's 2015/16 opening price to about  $5.75 from $6.50, although they expect an increase towards the low $6 range by the end of that season.
AUSSIE HOUSEHOLDS CONFIDENT
Australian consumer confidence rose in January, according to the latest ANZ-Roy Morgan survey. That is on a different track to their business confidence. But at 113.6, that is a long way below the New Zealand level of 126.5.
LOWER ENERGY PRODUCED
Our economy might be growing but electricity consumption is not. A quarterly update from Mighty River Power confirms "thermal generation" (coal and gas) is down by 5,000 GWh, and the company produced the least amount of hydro power since it was formed in 1999. Geothermal is growing however and now made up 40% of Mighty River Power's total generation for the quarter.
BIG DRY
However, there are drought worries again on the east cost of both islands. ANZ has announced an "assistance package". Officials are concerned.
STILL STELLAR
China's 2014 Q4 GDP grew at +7.3%, the same as Q3 and a tick better than markets were expecting. This won't hurt the Aussie exchange rate although little reaction has been noticed as this story is published.
WHOLESALE RATES
There merest suggestion of some steepening crept back into NZ wholesale interest swap rates today. But the curves remained very flat basically at +10 bps. The 90 day bank bill rate popped back down to 3.66%.
NZ DOLLAR HOLDS HIGH
Check our real-time charts here. The NZ dollar held its relatively high levels today especially against the Aussie. But we did slip against the greenback. It is at 77.5 USc, at 94.8 AUc, and the TWI is now at 79.5.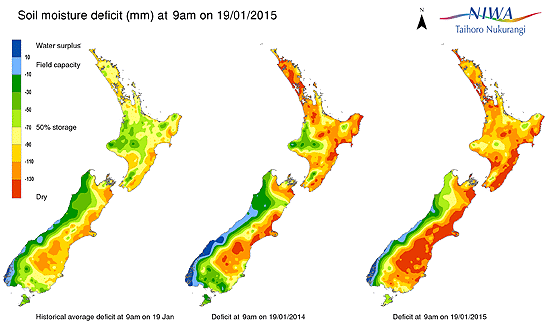 You can now see an animation of this chart. Click on it, or click here.