PM expects banks to be good corporate citizens and pass on all of OCR in full if they can; Key deflects calls for migration review; says migration needed with 5.2% unemployment; says RBNZ has flexibility with inflation target, but can use LVRs and cut OCR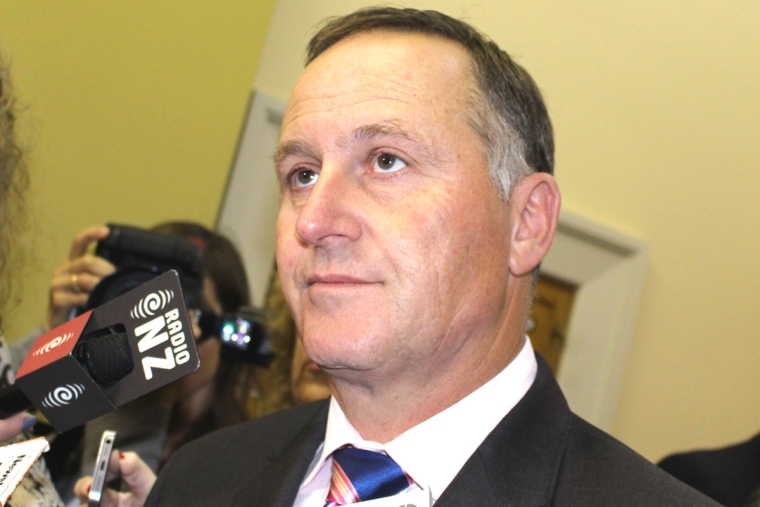 By Bernard Hickey
Prime Minister John Key has pre-empted any suggestion banks might not pass on all of an expected Official Cash Rate (OCR) cut later this week to mortgage borrowers, saying he expected banks to be good corporate citizens and pass it all on if their borrowing costs were lower.
Economists at ANZ signalled last week they expected banks not to pass on all of an expected 25 basis point cut in the OCR this Thursday, arguing international funding costs were higher. The banks retained about 15 basis points of the 50 basis points of OCR cuts in December and March, while their Australian parents retained 10-15 basis points of last week's Reserve Bank of Australia 25 basis point rate cut. See more in David Hargreaves' piece last week and in David Chaston's call today for new capital risk weighting rules for banks.
"If the Reserve Bank cuts, then we'd like to see the banks pass that on in full if they can," Key told his post-cabinet news conference when asked by an Australian journalist if the banks should pass on any rate cuts.
The decision by Australia's banks not to pass on last week's cuts sparked fresh calls for a Royal Commission of Inquiry there and forced Prime Minister Malcolm Turnbull to require the banks to front up to a Parliamentary committee regularly.
"The only thing that we caution there is to say it's not quite as simple as the base rate and any alteration that might take place when it comes to what a consumer pays for a floating mortgage. Sometimes the banks get ahead of these things and take pre-emptive action on what they think the Reserve Bank is going to do. It depends on their international borrowing costs," Key said.
"There's a number of different factors, but by definition, if the banks are getting a reduction in their borrowing costs, then we'd like to see that passed on to consumers," he said.
"By definition, as good corporate citizens, if their cost base is reducing, then we would expect them to pass that on to consumers. What we wouldn't want to see is a reduction in the costs to the banks and an increase in the profits for the banks without any flow on effect to consumers."
Key doubted further mortgage rate cuts would further worsen housing market pressures.
"Will it affect the housing market? At the margins, not really now. Interest rates are at a 60-year low and that reflects very low levels of inflation in New Zealand. I don't think it will have a dramatic impact," he said.
'RBNZ has flexibility'
Asked if the Reserve Bank should have more flexibility to ignore record low inflation and avoid further rate cuts that further inflame the housing market, Key said the Reserve Bank already had a reasonable degree of flexibility. Some economists have openly questioned in recent weeks whether there is a future for inflation targeting in an environment where record low inflation or outright deflation is forcing banks to push rates ever lower, sparking fears they are pumping up asset bubbles.
"Ultimately it's for the Governor to decide whether he's going to hit his target or not. What we know is that if over the medium term they can't achieve their inflation target then they have a policy response through interest rates to deal with it," Key said.
"It's not like it's a precise science. They can take a degree of time and they can look at lots of factors," he said.
"One of the reasons we've given the Reserve Bank more tools in its tool box like LVRs and other kinds of policy tools we've given them is to allow them to potentially do both things -- lower interest rates and cool the housing market insomuch though some demand management."
Calls for migration review deflected
Meanwhile, Key downplayed calls in recent weeks from the Reserve Bank of New Zealand, ANZ CEO David Hisco and prominent investor Stephen Jennings for a review of New Zealand's migration settings in the wake of record high net migration, which is putting pressure on house prices -- and some say wages.
Key said commentators did not take into account that the Government was constantly reviewing migration settings.
"When it comes to the skills category we've taken 56 occupations off the skilled category list. We do constantly review that list. On the number of students coming, broadly there's a logical limit to how many we can take, given the capacity constraints we have. If anything those numbers have been easing back a little bit," Key said.
"These things do go in cycles," he said.
Key said he acknowledged high migration "put pressure on the system."
"On the other side, we need these people in an environment where unemployment is 5.2% and where growth is still very, very strong. You've just got to be careful when you play around with these things that you don't hamstring certain industries that need these workers," Key said.