ANZ's Cameron Bagrie suggests New Zealanders may be ready to 'eat broccoli' by making some hard economic decisions such as implementing a comprehensive capital gains tax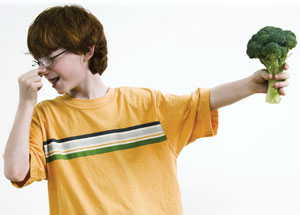 By Gareth Vaughan
New Zealand needs to deal with the "500 pound gorilla" of housing through a comprehensive capital gains tax among other things, if household savings are to be meaningfully boosted, ANZ New Zealand chief economist Cameron Bagrie says.
In their last two weekly New Zealand Market Focus reports ANZ's economists have highlighted a need for domestic savings growth to help fund the country's investment needs. This has seen them describe savings as the missing link from the Budget, and note that, on the evidence of the Reserve Bank's Financial Stability Report, the reliance on offshore funding by banks, given a significant gap between domestic debt and deposit growth, is coming under greater regulatory attention and scrutiny.
A key point Bagrie and his team are making is that if domestic savings is to increase significantly, more proactive savings policies will be needed. This, the ANZ economists say, will require "the finger to be pointed at the playing field between housing versus the rest."
"How New Zealand funds its future gargantuan investment needs remains at the forefront of our minds. Our previous modus operandi of back filling a domestic saving shortfall with offshore borrowing, and running a large current account deficit, is facing far more challenges in the current regulatory and global environment, which is all the more pertinent given a massive pipeline of investment needs," says Bagrie.
"It's a basic accounting identity that investment needs savings, and the local pool is insufficient. The offshore tap can still be turned on, of course, but we just can't be as dependent on it as we have been historically. Heavily indebted countries are under a brighter spotlight. We can run a current account deficit up to 4% or 4½% of GDP from today's 2.7% level, so this lever can be pulled to a degree. But anything beyond that will see the stock of net external debt lifting as a share of GDP, drawing negative attention," Bagrie says. 
'We've typically wanted to have our cake and eat it too'
Bagrie told interest.co.nz that whilst banks reining in offshore funding and starting to "swing the pendulum" away from borrowers towards depositors through higher interest rates is "jolly good stuff," people need to connect the dots and look at the downstream implications. If we're not funding our investment requirements for the likes of housing, roads, hotels to meet tourism demand, and broader infrastructure needs, through overseas money so much, then domestic savings rates need to increase. 
"If domestic savings goes up then you have got to forsake consumption, which has not been within New Zealand's DNA. We've typically wanted to have our cake and eat it too," says Bagrie.
"I'd like to see more of the debate brought to the forefront because I think it's a big significant issue in the next two to three years," he adds.
"I don't think people have thought through what the natural consequences are of what is going on, what they mean in practice. We're going to borrow less money overseas because that seems like the right thing to do. [It] reduces the point of vulnerability. We give ourselves a little pat on the back and say 'we're going to do that.' But what does that actually mean? Because those offshore savings will be used to prop up domestic savings to meet our domestic needs. Where's plan B? Or what does Plan B, C, D or E even look like?"
"We've got to pull more levers and the big 500 pound gorilla here is the housing market versus everybody else. It's the untouchable one," says Bagrie.
'It's all a bit like eating broccoli. You don't like it but it's good for you'
That said, he argues there's more maturity among New Zealanders now than there was five or 10 years ago, noting that we're now talking about raising the retirement age.
"We're starting to think about the hard decisions that just need to be made. It's all a bit like eating broccoli. You don't like it but it's good for you," says Bagrie.
"You've got to look at ring fencing [tax losses on rental properties so they can't be offset against other income]. [And] I think the lack of a full blown capital gains tax is a weakness of our tax system."
"if we roll into 2018 and we're not tapping offshore funding markets, where's the money going to come from for that big investment pipeline? The corporate sector is generating cashflow, [and] the government sector's going from the red into the black. Where we've got a glaring savings deficiency across New Zealand is in the household sector. And it's blatantly obvious that the house is a big part of that reason," says Bagrie.
"The last thing we want across this economy at the moment is for the investment line to start nudging lower. We've got to keep that investment line up which means we've got to have a well articulated plan, strategy in regard to how we're going to drive more savings."
Household savings rate negative
The most recent Reserve Bank data shows a household saving rate of -0.7%, or -$876 million, in 2015. Meanwhile, the household debt-to-disposable-income ratio is now at a record high of 167%.
The International Monetary Fund recently suggested the Government ought to make changes so that the ring-fencing of tax losses on housing investments could only be applied against housing income and not all income.
"The incentives for buying real estate increase when real estate investors can write off interest payments against their other taxable income," the IMF says. "This 'negative gearing' encourages investment that would otherwise be loss making, and thereby acts as an amplifier of price movements in the real estate market. Ring-fencing housing losses to within real estate earnings would therefore weaken an important price driver."
Through its 2015 Budget the Government introduced a so-called bright line test to tax gains from residential property investments sold within two years of purchase. In addition to this capital gains can be taxed in specific cases, as detailed by EY's Aaron Quintal here. However, calls for the introduction of a comprehensive capital gains tax continue from others aside from Bagrie, including from interest.co.nz contributor Terry Baucher here.
Seven ways to boost household savings
Bagrie and his colleagues have listed seven potential ways New Zealand's household savings could be improved.
1. Stronger income growth. This is the obvious fix. But it is easier said than done, of course. A decent terms of trade outlook certainly helps, but the productivity story is not signalling much in the way of prospects for a decent lift in real wage growth. Education needs to be more of a focal point, but the pay-offs there are of the long-term variety. 

2. Households lift saving of their own accord. That is possible, but arguably unlikely based on historical experience. The tendency remains to 'save' via the house. 

3. More money is put in the back pocket. Tax cuts (driving more incentive to work and get ahead) or additional welfare payments could help, but we have to be mindful that sometimes this is just redistributing income, not creating it. You need to drive the right behaviours, which is why using tax policy is favoured. But if it just means an equivalent drop in government saving, then it won't lift aggregate saving. 

4. Well-targeted social investment. Improved prospects for the vulnerable mean the same for incomes, and higher incomes lift the ability to save. Some levers are being pulled but this is a multi-decade long investment. 

5. Make it cheaper to live. New Zealand is not a cheap place to live, particularly housing-wise. The weekly wage gets whittled away pretty quickly. Construction costs are a problem. Local authority rates move up faster than inflation. Thankfully the electricity sector is functioning a lot better than it once was. 

6. Interest rates rise. That is already happening given the funding pressures banks face, but if domestic saving doesn't lift enough to meet our investment needs, then interest rates will need to keep rising until they do. That's bad for the investment side of the equation. 

7. There is a more proactive push on the policy front. This is something that we think is increasingly going to be necessary to drive the desired outcomes. And without getting into details, it is going to require the playing field between housing and other investments to even up. We have the new bright-line test but that doesn't go far enough. Some tough, but necessary, discussions are in store. 
*This article was first published in our email for paying subscribers early on Wednesday morning. See here for more details and how to subscribe.