The country's biggest bank is suggesting New Zealand's 'urgent' need for infrastructure outweighs the Government's 'arbitrary [debt] target'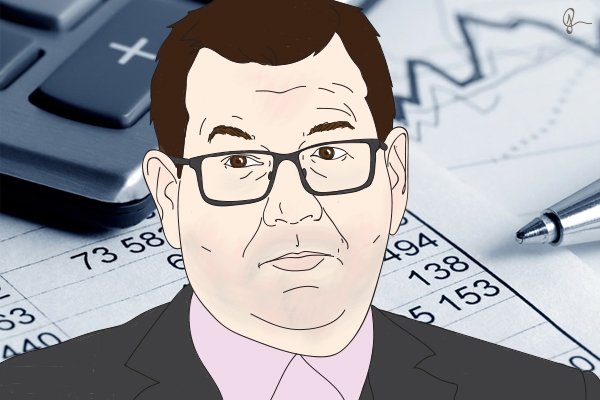 ANZ is weighing into the debate over the Government's fiscal responsibility rules, saying "simple, transparent debt financing would be preferable to workarounds to satisfy an arbitrary target."
The bank's Chief Economist Sharon Zollner says given New Zealand's "urgent" infrastructure needs, more investment should be undertaken and funded from the central Government's balance sheet. 
"[ANZ] thinks an argument can be made for increasing near-term debt targets for the purpose of growth-enhancing infrastructure spending."
In its Coalition agreement, the Government promised to reduce core Crown debt to 20% of GDP by 2021/22. Current Crown debt is 21.6% of GDP.
Finance Minister Grant Robertson has come under fire for sticking to the rules in recent weeks after he and the Prime Minister dampened Budget expectations in light of major infrastructure funding issues that have recently come to light.  
But Robertson has maintained the Government can fund infrastructure projects without breaking the rules and getting debt to 20% is important to safeguard against an economic shock.
Although she doesn't go as far as saying the Government should break the rules, Zollner says ANZ does not think "strict rationing of infrastructure spending is necessary at this point in time."
"There is nothing sacrosanct about the essentially arbitrary round-figure target for Crown debt of 20% of GDP in five years."
This is a view shared by former ANZ Chief Economist Cameron Bagrie, who last week called the target a "fiscal straightjacket."
Earlier this month, S&P's Primary New Zealand analyst Anthony Walker said if Government debt increase 2% or 3%, it would have very little impact on the agency's A-1+ credit rating of New Zealand.
Zollner says the Government's books are in great shape and it can borrow on favourable terms.
Although weighing up committing to its fiscal responsibility rules with promising to invest to correct the infrastructure deficit is a "difficult balance," Zollner says years of population growth and constrained Crown spending has put significant pressure on infrastructure.
Over the last decade, New Zealand's population has grown by more than half a million people with half of that growth occurring over the last three years.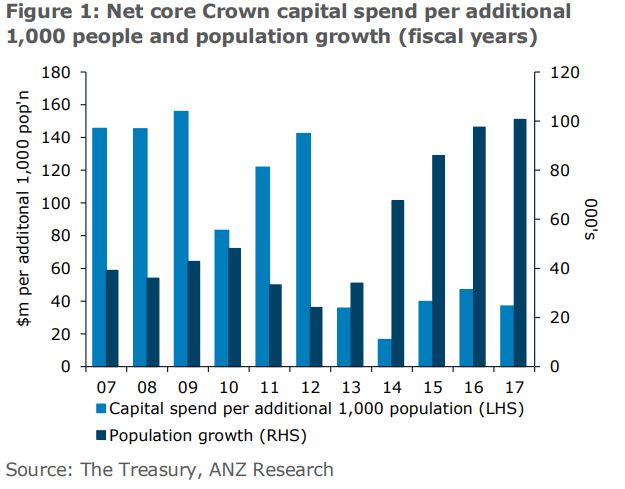 Despite this, the combination of both public and private sector spending on infrastructure was flat between 2015-2017, according to numbers from the Ministry of Business, Innovation and Employment.
As well as this, ANZ data shows new capital spending for each 1,000-additional people has fallen from $142m in fiscal year 2011/12 to $37m in 2016/17.
"As a result of this under-investment in recent years, infrastructure spending needs to be urgently undertaken on a range of fronts," Zollner says, outlining housing, education, transport and health as major areas in need of funding.
Can the Government have its cake and eat it too?
Last week, Transport Minister Phil Twyford said the Government could use special purpose vehicles to help fund infrastructure, but the debt taken on would not appear on the Government's books – essentially bypassing the responsibility rules.   
"It's a balance sheet that's not council or Governments – it's a public purpose hybrid if you like," he said.
But Zollner says developing special-purpose funding vehicles and negotiating with rating agencies about what they truly represent will bring about delays to projects, not to mention funding costs may end up higher than they need to be.
"Rating agencies may look askance at any of these funding measures if they perceive them to be an opaque or risky complication of the Government's books."