Kiwibank chief economist Jarrod Kerr on why fiscal austerity is our greatest mistake, widening inequality - a problem for everyone, the rise of the angry voter and more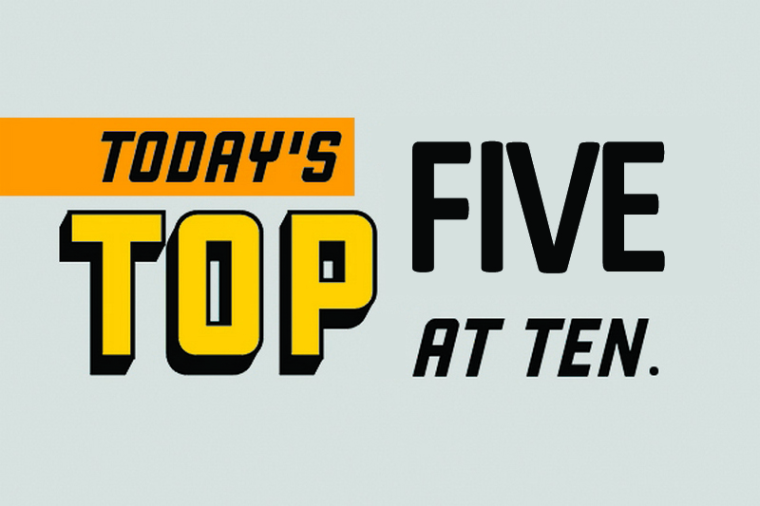 This week's Top 5 comes from Jarrod Kerr, chief economist at Kiwibank. 
As always, we welcome your additions in the comments below or via email to david.chaston@interest.co.nz.
And if you're interested in contributing the occasional Top 5 yourself, contact gareth.vaughan@interest.co.nz.
The outlook for global growth continues to disappoint. Our economic potential is fading, and output is failing to meet lowered expectations of potential. There are some very large forces at play, and some crazies in charge.
Our economic potential is being inhibited by the tectonic shifts in demographics (declining fertility rates and ageing populations), which lower population and participation rates. And our productivity has disappointed due to an underinvestment in infrastructure, and education.
We've revised down our growth forecasts. Because the risks we have been wary of are coming to fruition.
Here are the top 5 things wrong with the economic world right now…
1. Fiscal austerity is our greatest mistake.
Fiscal austerity in the post-crisis world (since 2008) has severely limited the outlook for growth.
"The persistence of low inflation and low interest rates is not a surprise when, as has been true in fact, the low interest rates fail to generate substantial fiscal expansion." (Christopher Sims, Fiscal Policy, Monetary Policy and Central Bank Independence)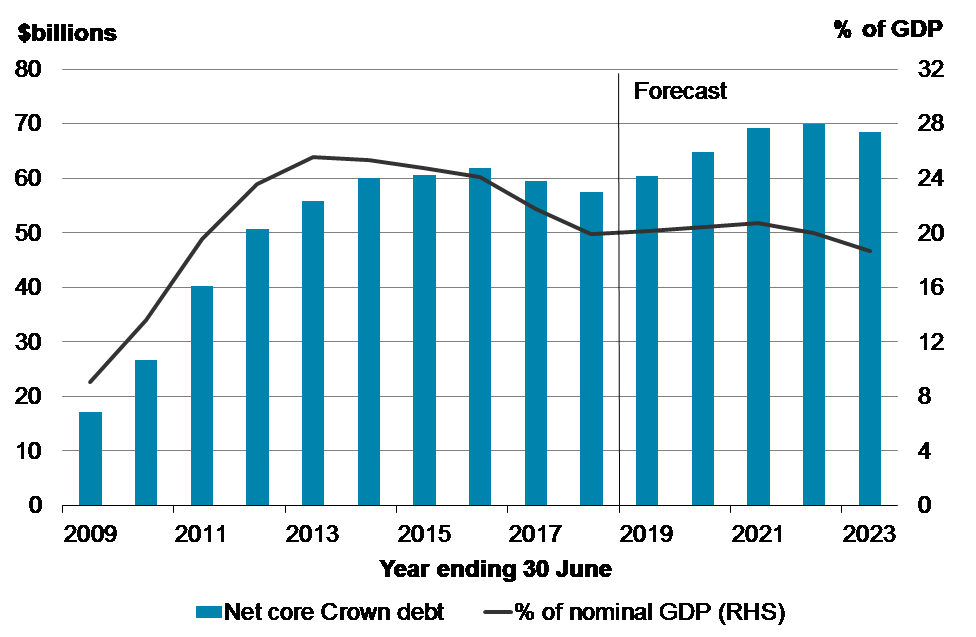 Our obsession with balanced budgets and debt limits has created a burgeoning infrastructure deficit. We're one of the 10 most highly rated nations in the world. And we have less debt than most nations in the top 10. Our Government has access to some of the cheapest funding in the world. But we haven't taken advantage of our advantage. Our lack of investment has effectively choked our potential.
We should use the record low interest rates to invest and stimulate the economy for our children. We have to live with the poor decisions of the past. But it's up to us to ensure the next generation has a healthy, vibrant, and efficient economy to grow into.  If in 10-to-15 years from now, fresh graduates spend an hour commuting into the Auckland CBD, when it should take 20mins, to arrive late for their first job interview, we've failed them. And if their skills don't match the job they're after, we've also failed them. If we fail the next generation, then the bad news is they'll vote for extremist parties that demand change. And so they should. Actually, it's already happening.
2. Widening inequality is a problem for everyone.
The worsening in inequality has many causes. Globalisation, technological disruption, and an underinvestment in education are key drivers. But the response to the global financial crisis in 2008 protected the wealthy more than the disadvantaged. Slashing interest rates, quantitative easing, and regulation have boosted and protected asset values. Therefore, the owners of assets have benefited to a far greater extent, in a world of very weak wages growth. Within the world of very weak wages growth, the incomes of the higher earners have risen much faster than the incomes of lower earners. The impacts of globalisation, technological disruption (think Amazon), and the disadvantages of poor education and wellbeing are seen clearly across income brackets.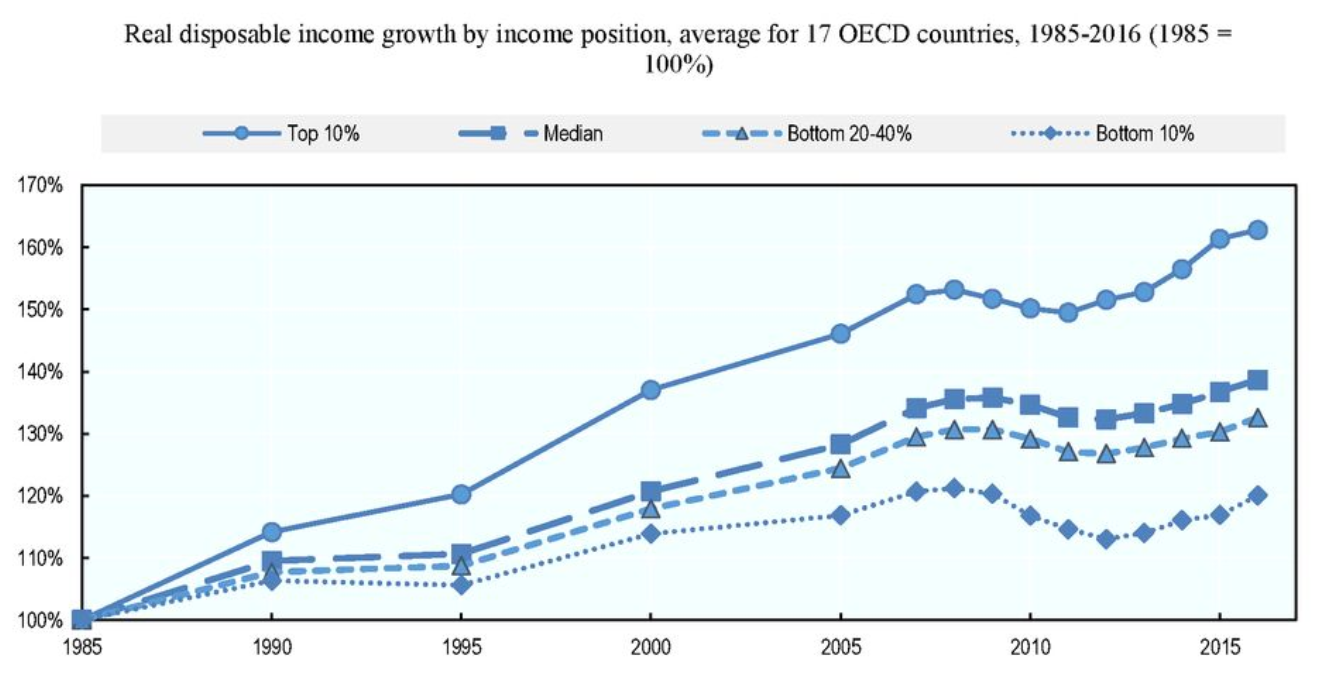 Source: OECD
Rising inequality is the reason behind rising populism.
3. The rise of the angry voter, is popular in disbelief.
The sharp rise in populism has resulted in a sharp rise in protectionism. The rise in "anti-system politics" is a threat to global trade, and a threat not seen since the 1930s. Rising Inequality has produced populists in: Trump's US, Italy, Philippines, Turkey, Brazil, plus Brexiteers, and Frexit followers. Trump's tirade may be a tipping point.
The populist protectionist president, aka Trump, is fighting on many fronts. The US-China trade tariff "war" continues without resolution. Mexico quickly succumbed to US trade threats over border protection to avoid a similar fate. But we suspect Trump has not finished with Mexico, or any nation with a trade surplus to the US. The populist protectionist Brexit ordeal is still unresolved, and the patience of the EU is wearing thin. The real concern for the EU, however, is the rise in anti-EU politics within. The epic recovery in equity markets since the start of the year has been halted in its tracks. Interest rates have fallen sharply as traders' position for several rate cuts, by several central banks!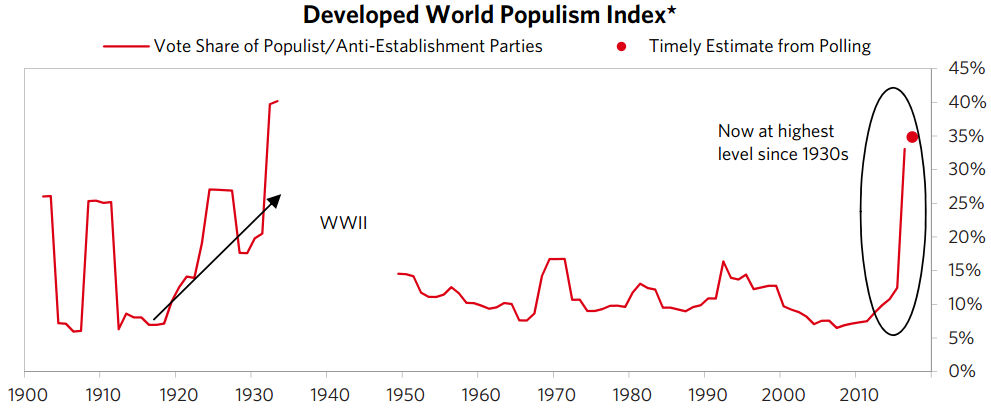 Source: Bridgewater Associates
4. The age of regulation continues to fuel uncertainty.
Regulation has played a large role in slowing growth. The repricing of credit (money was "too cheap" prior to the 2008 crisis) is ongoing. Regulation has impacted the price, by restricting the supply of credit. Credit is the oil in the economic engine. The ramping up of bank capital requirements has yet to play out here, and abroad.  Lower rates of credit creation, lower nominal growth rates. Regulation in financial markets is designed to reduce the risks of future meltdowns. 
Our financial systems are far safer than they once were. But the goal posts keep shifting. How safe is safe enough? Guarding against once in 100 year events, now need to be once in 200 year events.  And we've had some dire financial market meltdowns over the last 200 years.  "We specify that we want enough capital in the system as a whole to cover losses that are so large they might only occur very infrequently (for example once every 200 years)." RBNZ.
The issue from my perspective is not the intent, or even the endpoint.  The issue is around the time it is taking regulators to get us there. We've had 10-years of post-crisis regulatory change. It looks like we're in for at least another 5 years as the New Zealand banks build more capital. Credit growth is likely to be slower over the next 5 years, than it would be otherwise. And that's despite the record lows in interest rates.
5. Demography is destiny for interest rates.
One thing is certain, global growth rates remain on a glide path lower. As economists, we talk of 3 Ps. We define potential growth as "An economy's level of potential output is determined by the quantity and quality of its productive factors and the prevailing level of technology" (RBNZ). Potential growth has fallen, globally, for a variety of reasons.  The drivers are split across the 3 Ps: population, participation, and productivity.
We have lower fertility rates, and now an ageing population. Population growth rates peaked in the 1970s, following the baby boom. Populations are peaking in large parts of the world – China's population peaks around 2025, and starts to slowly decline for example. But we are not all created equal, India's population doesn't peak until 2070, and New Zealand's population – along with the US and Australia – doesn't peak in estimates out to 2100, given current immigration policies. BUT, we face the same ageing population issues. Which leads us to participation.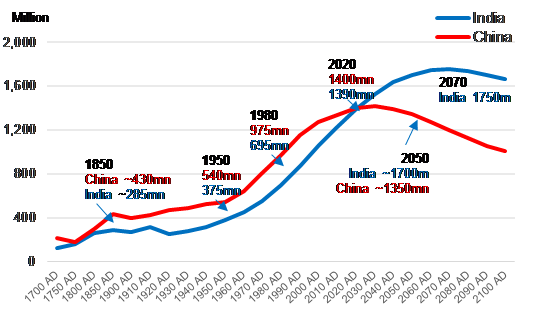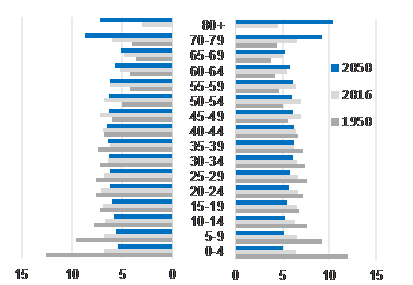 Participation has been lifted by the positive lift in female participation in large parts of the developed world. BUT, as the baby boomers retire, participation rates will naturally fall. How far and how fast will depend of migration (migrants are high participants) and keeping boomers in the workforce for longer.
In order to boost our potential, we need to look at policies to support population, participation and productivity.
I believe these forces, particularly demographic headwinds, will have to be analysed and re-analysed for years to come.  And I think I may have discussed this before, in a past life.