David Hargreaves says the Government needs to take a hard look at the growing usage of Kiwisaver to fund deposits for houses - and the risks that this carries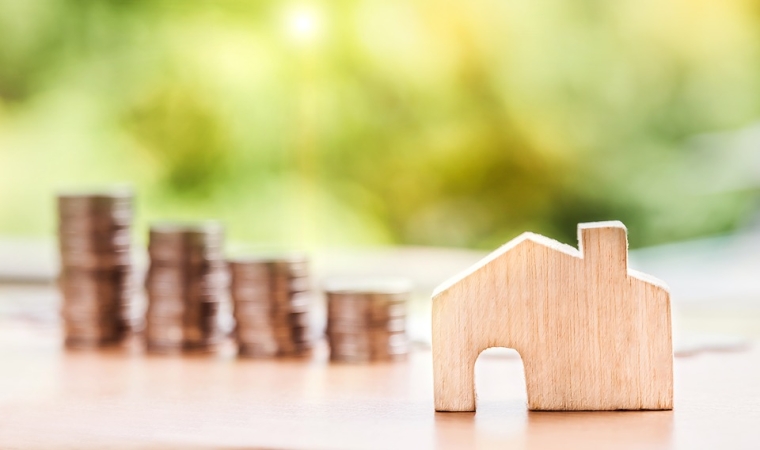 So, 'Kiwisaver', the retirement savings scheme, is continuing its transformation into 'House-deposit-saver'. Kiwisaver is becoming Kiwiraider.
Yes, that's right. The young of New Zealand are flocking to convert their future retirement nest eggs into heavily mortgaged houses, by withdrawing funds from Kiwisaver and using this as a deposit for a first home.
I think this is a problem and a problem that's likely to get worse if not tackled. But I don't think there's an easy solution either.
We do know that in a flat if not falling house market first home buyers are becoming more and more prominent.
As the official RBNZ figures indicate first home buyers are now forming an increasingly significant portion of mortgage borrowing.
Given how the FHBs withered away after the introduction of the Reserve Bank's loan to value ratio (LVR) 'speed limits directed at banks from 2013, this resurgence of the FHBs now can be viewed as 'good' news when looked at in isolation.
However, two sides to every coin and all that. The official Kiwisaver withdrawal figures give you a pretty big hint as to what is fuelling this FHB activity. And that's potentially not good news at all in terms of the future.
I opined on this subject as long ago as nearly three years ago now.
Since then all that's happened is that more and more young Kiwis are raiding their retirement savings to buy a house. The trend to withdraw Kiwisaver funds to buy first homes has increased.
KPMG's head of banking and finance John Kensington last week questioned whether this growing trend of young Kiwis raiding their Kiwisaver accounts to buy houses might have negative future consequences.
"Given [that] Kiwisaver is designed to be there for retirement, it does beg the question of whether this trend of many young Kiwis using Kiwisaver now for a home deposit is just pushing the problem of retirement affordability down the track for future generations," Kensington said.
Those comments by Kensington were made in relation to the March quarter of this year.
I can go a bit further forward than that. 
In fact the two months after the end of the March quarter have seen more increased activity around withdrawals from Kiwisaver accounts.
The most recent month for which figures are available is May 2019.
The official Kiwisaver figures show that in May some $105.6 million (up 18.1% from $89.4 million in May 2018) was emptied from Kiwisaver accounts to buy a first house. Some 4230 account holders (up from 3950 in May 2018) made these withdrawals.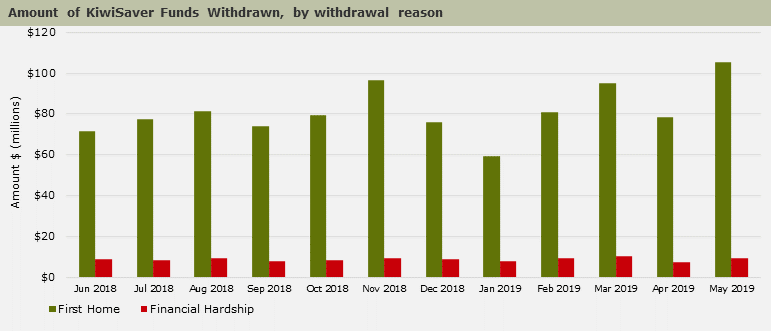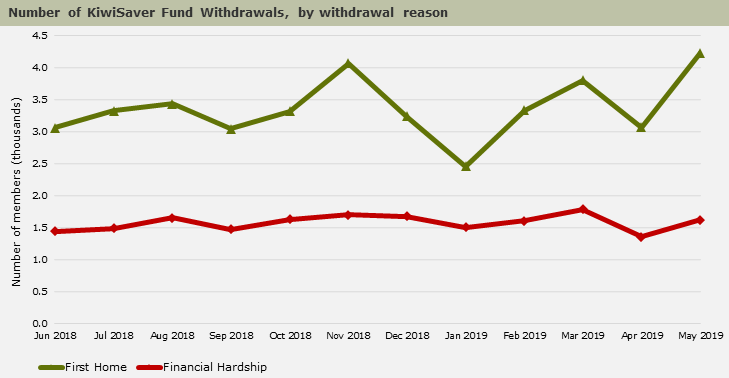 That means, on average, the amount of money withdrawn was a touch under $25,000 per account.
If you assume two people both doing this, then there's $50,000 towards a house deposit. With a 90% high LVR mortgage, there you go, into a $500,000 house. Maybe.
In the year to June 2018, a grand total of $873 million was withdrawn to use for house buying.
But, hey, you ain't seen nothing yet...
In the 11 months to May 2019 this figure has already been surpassed, at just under $905 million.
The FHBs are averaging a bit over $82 million a month in withdrawals in the 11 months to May.
So, the June 2019 year is likely to see a total of just under $1 billion withdrawn.  At the current rate of growth, the $1 billion will be easily exceeded next year (to June 2020).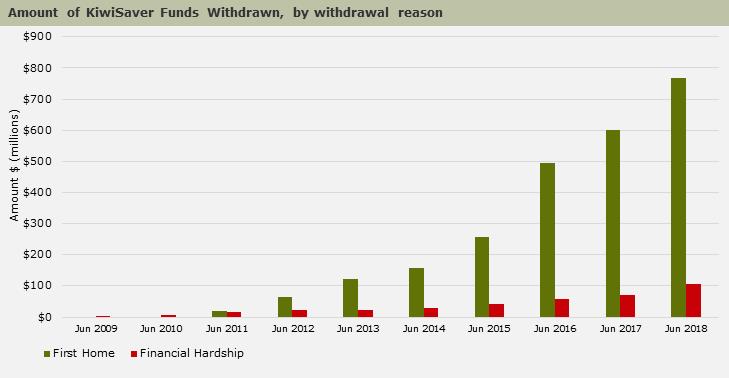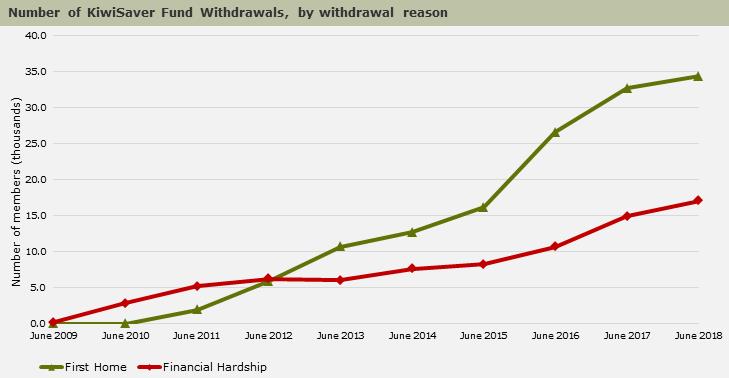 The impact of all this can be seen by going back to those Reserve Bank monthly mortgage figures.
The FHBs surpassed the investors in mortgage borrowing in May for the first time since the RBNZ started publishing this data in 2014.
Borrowing by the FHBs totalled $1.15 billion in the month, which was a new monthly high total. Of this, some $480 million was for high LVR (above 80%) mortgages.
Okay, if we then put the $105.6 million of money raided from Kiwisaver accounts in May into the mixer and start doing some sums, we can see that even applied as deposits on houses with 80% LVR mortgages our $105.6 million could raise over $400 million in mortgages.
But of course we know that $480 million of the total mortgage money advanced to FHBs in the month was for high LVR mortgages.
Right then, if we play around with the math a little more and say all those high LVR mortgages were 85% (and clearly some would actually have been higher) then this would get us $565 million worth of houses. That's made up of $480 million of mortgages and $85 million worth of deposits. 
So, in theory all of that $480 million of high LVR mortgage money could have been borrowed against deposits that were raided from Kiwisaver accounts - and there would still be $20 million of Kiwisaver money left over. So apply the $20 million remaining into 20% deposits and we could borrow another $80 million in 80% LVR mortgages. That would give us $665 million worth of houses, and an eye watering $560 million of mortgages.
Kiwisaver funding half of the FHB house purchases?
Therefore, I reckon the KPMG estimate that something like half of FHBs' total deposits for buying houses is possibly being sourced from Kiwisaver accounts looks about right. In fact it might even be slightly conservative.
So, yeah, something like half of the FHBs are getting into their first homes courtesy of money that was supposed to be put away for retirement.
Well, is this actually a problem?
This of course is where we get into the interesting and highly subjective area.
And the commenters reading this will already be gagging to say, if they haven't already: "But buying a house is a much better way to save for retirement than Kiwisaver!" 
And the point is that history shows buying a house is a good investment towards a retirement. So, who is to say to someone that wants to raid their Kiwisaver account that they shouldn't?
But it is putting all your eggs in one basket.
The idea of Kiwisaver is that you can diversify your risk. 
Now, however, we have thousands of young Kiwis tipping all or most of their money out of their Kiwisaver accounts and into a house. How long will it take them to get back up to speed again in terms of their Kiwisaver savings?
The fact is that there is a risk if we, perish the thought, do get a big housing bust in this country, that thousands of people who might have been otherwise insulated through Kiwisaver are knocked back by instead putting it all on the house.
Kiwisaver propping up the housing market?
There's a couple of other thoughts that form here too.
First is, to what extent is the housing market at the moment being propped up, in terms of prices, by young people raiding Kiwisaver accounts?
We can see from the figures what impact the raiding of Kiwisaver funds is having on the overall mortgage statistics.
How would the housing market be looking if these young FHBs were not finding deposits from Kiwisaver and so therefore were not buying houses now?
Might the overall housing market be softer than it is?
Is this raiding of Kiwisaver accounts in fact helping to keep prices artificially raised?
Undermining Kiwisaver?
The second point that comes to mind is, to what extent is all this withdrawal activity undermining the original purpose and intent of Kiwisaver?
Is there any point in having a 'Kiwisaver' as such if people simply treat it as a housing deposit scheme? The retirement scheme that you dip your hand into just as soon as you can.
When I wrote on this subject three years ago, I wondered if there was another way to do all this. And I still do wonder that.
Is there a way in which young wannabe FHBs can use the savings in their Kiwisaver accounts as collateral for house deposits without having to pull the lot out of their accounts?
Would we be better to offer people the option of 'splitting' their Kiwisaver contributions - with some going into an account that can be accessed for a house deposit, while the rest goes into a 'don't touch this' account?
Ideas need considering
I note that there have already been suggestions made of a 'rainy day fund' within the Kiwisaver scheme. Clearly these sorts of ideas have got to be considered.
Look, this issue was identifiable as a problem three years ago.
Since then, to my knowledge nothing's been done to address the issue and in the meantime more and more people are doing this.
And the assumption is that as the amounts in Kiwisaver accounts do grow then so more and more people will look to raid their accounts. 
We don't want everybody pledging everything on the house. This country is arguably already far too dependent on the health of its housing market.
 In an ideal world as many of us as possible would by retirement age have our own freehold houses - and other retirement investments as well. Diversification. And that surely is what Kiwisaver was about. 
There's room for us being able to achieve both property ownership and a portfolio of investments, but I think this situation with Kiwisaver needs urgently addressing.
It's a growing issue and nobody so far as I can see is addressing it.
Government needs to look at it
I suggest the Government needs to look at this and review the purpose of Kiwisaver, what the money's being saved for, and how Kiwisaver members can and can't access money.
Is there another way, independent of Kiwisaver, that the young would be able to access to get deposits for houses? 
We need to look at this issue as a matter of urgency.
Otherwise we are going to end up with a retirement scheme that's stocked with IOUs. 
And that's where KPMG's concerns about simply pushing retirement affordability down the road come in.
Kiwisaver is supposed to help fix these problems. The risk is it could actually worsen them if it is purely used as a house buying scheme - with all those eggs going into that one basket.