Chris Trotter muses on whether the Covid-19 crisis is ushering in a major shift in New Zealand foreign policy centring on a tilt away from Beijing and a cosying up to Washington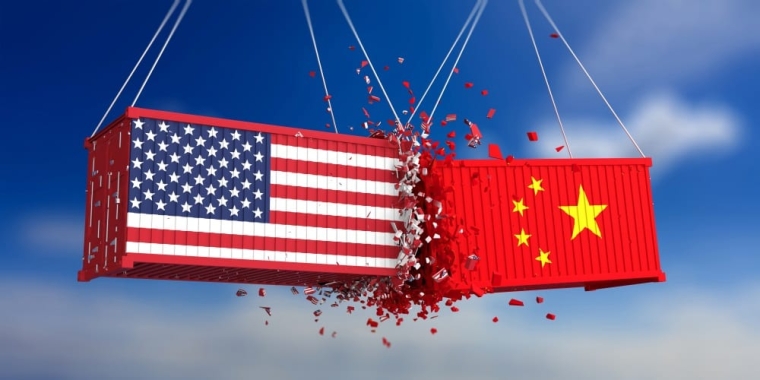 By Chris Trotter*
It is difficult to determine whether the abrupt shift in New Zealand's foreign policy is accidental or intentional. If this country's sudden tilt away from Beijing is simply the result of our pro-American Foreign Minister, Winston Peters, taking advantage of the Covid-19 crisis to opportunistically curry favour with Washington, then it is reversible. If the recent and repeated provocation of the Chinese Government is intentional, however, then a fundamental reorientation of New Zealand diplomacy is underway – a change for which neither New Zealanders, nor their business enterprises, have been adequately prepared.
The two provocations in question are both closely related to the Covid-19 Pandemic. The first arose out of the Foreign Minister's publicly expressed support for the Australian Government's call for an international inquiry into the Chinese authorities initial handling of the Covid-19 outbreak in Wuhan. The second, even more serious, provocation was Peters' decision to back Taiwan's participation in an international Covid-19 conference organised by the World Health Organisation.
The Australian Prime Minister Scott Morrison's call for an international investigation of China's handling of the Wuhan outbreak is pretty obviously a water-carrying exercise for the Trump Administration. With the Covid-19 virus claiming American lives at the rate of 2,000 per day, President Donald Trump – ably assisted by his Secretary of State Mike Pompeo – is doing all he can to convince Americans that their woes are attributable to the Chinese Government's failure to contain the virus within China's borders. Washington has called upon its allies and friends for assistance, and Australia, as always, has been quick to oblige its American "mates". Much more surprisingly, so has New Zealand.
Peters' support for Morrison's call has bewildered Beijing. Canberra's shadowing of Washington's diplomatic sallies is expected by the Chinese. They don't like it (and have made their displeasure very plain) but they are not surprised by it. Peters' behaviour, on the other hand, has left them perplexed. Is he acting with the full knowledge and blessing of his Prime Minister? If so, then Jacinda Ardern is deliberating putting at risk the mutually respectful and highly beneficial relationship that has evolved between Beijing and Wellington over the course of nearly half a century. If not, then what the hell is going on inside the New Zealand Government?
It's a question that is doubtless being asked with even more force following the second provocation. Beijing's acute sensitivity to all things Taiwanese is a given of international relations. To recognise the Peoples Republic of China – as New Zealand did in 1973 – is to withdraw recognition from the Republic of China (which is still how the government in Taipei styles itself). As far as the Chinese are concerned, the island of Taiwan is an integral part of the Chinese state which will eventually, like Hong Kong and Macau, be reabsorbed into the motherland.
All this has been crystal clear to New Zealand diplomats for 47 years. Hence Beijing's fury at Peters' support for Taiwanese participation in the WHO conference. The Chinese Government knows that the New Zealand Government knows that participation in WHO events is restricted to member states. The very suggestion that Taiwan should be allowed to attend will therefore be interpreted by Beijing as a profoundly disruptive diplomatic gesture. In associating Wellington with yet another anti-Chinese American thrust, Peters is at risk of permanently damaging Sino-New Zealand relations.
Both the Foreign Minister and the Trade Minister, David Parker, are fully conscious of the size of China's contribution to New Zealand's economic wellbeing. It is, therefore, not unreasonable to assume that in this matter both men are aware of factors which the rest of New Zealand knows nothing about. Risking a catastrophic breakdown in Sino-New Zealand relations is, surely, not something those entrusted with the nation's welfare would contemplate in the absence of a rock-solid guarantee that if we get knocked down, then somebody is waiting in the wings to pick us up.
Realistically, that "somebody" could only be Uncle Sam. But, if the United States is prepared to step into the economic space vacated by a permanently alienated China, then Washington's campaign to contain and confound their East Asian rival has clearly been ratcheted-up several notches. The arguments of those who claim the world is now in the throes of a new Cold War will be vindicated.
One of the strongest indications that something major is afoot is the level of co-operation currently on display between Peters and Parker. A fair and generous free-trade agreement between the United States and New Zealand has long been Parker's Holy Grail. Trump's hostility towards free-trade – manifested in his extraordinary decision to pull the USA out of the Trans-Pacific Partnership in 2017 – appeared to signal that all hope of such a mutually beneficial free-trade relationship with the Americans was now vain. For this bleak situation to change, something truly cataclysmic would have to intervene.
Bleak Situation, meet Covid-19.
The Covid-19 Pandemic currently convulsing the planet has brought an unusual measure of clarity to the USA's strategic thinking. Allowing China to become "the workshop of the world", while bringing immense profits to American corporations, has also been responsible for enhancing significantly China's economic – and hence strategic – global position. The playing-out of the Pandemic has made it unnervingly clear to Washington exactly how extensive that transformation has been. The strategic implications for the United States of China exercising hegemony in East Asia are as clear in 2020 as they were in 1941 when President Franklin Roosevelt reviewed the likely consequences of Japan exercising hegemony over the same real estate.
As Jeffery Record explains in his 2009 monograph Japan's Decision For War In 1941: Some Enduring Lessons:
"[T]he Roosevelt administration […] regarded a Japanese invasion of Southeast Asia, especially the oil-rich Dutch East Indies and tin- and rubber-rich British Malaya, as strategically unacceptable. Control of Southeast Asia would not only weaken the British Empire and threaten India, Australia, and New Zealand; it would also afford Japan access to oil and other critical raw materials that would reduce its economic dependence on the United States."
Record quotes fellow American historian Jonathan Marshall's observation that the Roosevelt Administration was wedded to the  "fundamental proposition that the United States and Britain could not afford to lose the raw material wealth and the sea lanes of Southeast Asia" – even at the cost of going to war.
The United States and her English-speaking "Five Eyes" allies can no more afford to allow China to roll out its "One Belt, One Road" project unhindered, than Roosevelt could acquiesce in Japan's assertion of its "Great East Asia Co-prosperity Sphere". To do so would mean abandoning not only the nations of South East Asia, but also Australia and New Zealand, to Chinese domination. The United States' emphatic answer to Beijing's perceived regional and global aspirations is its new "Indo-Pacific Strategy", through which Washington, Tokyo, Canberra and New Delhi intend to contain and confound China's geopolitical ambitions. It is with these four capitals ("The Quad") that Wellington now appears to be identifying itself. ("Quad+1").
All of which suggests that New Zealand's sudden foreign policy shift is, indeed, intentional. In the absence of a clear, official, first-principles government explanation, however, New Zealand's farmers and manufacturers can only cross their fingers and hope that before embarking on a diplomatic re-orientation costing, potentially, one in every five of this country's export-generated dollars, Winston Peters and David Parker were given incontrovertible proof that the USA's primary and secondary producers are ready and willing for their country to receive all the product New Zealand can send.
Because God help them – and us – if they haven't.
---
*Chris Trotter has been writing and commenting professionally about New Zealand politics for more than 30 years. His work may be found at http://bowalleyroad.blogspot.com. He writes a fortnightly column for interest.co.nz.