With Westpac reviewing its ownership of Westpac NZ, Gareth Vaughan ponders the questions of why anyone might sell an oligopoly bank, and who might want to buy an oligopoly bank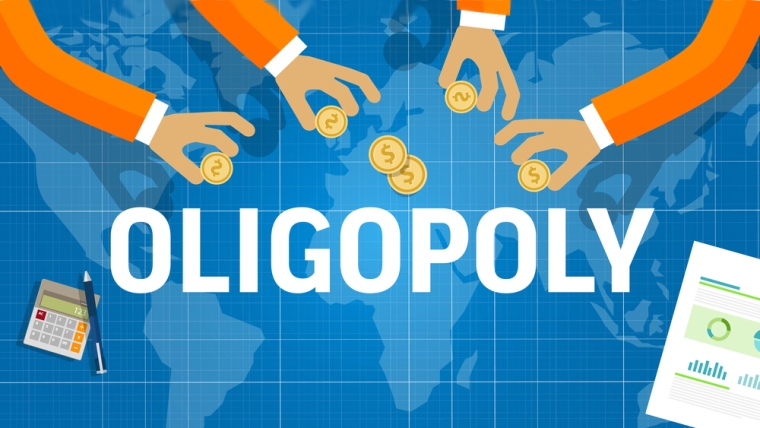 By Gareth Vaughan
News that Australia's Westpac Banking Corporation is reviewing its ownership of Westpac New Zealand poses a couple of key questions: Why would you sell an oligopoly bank? And who might want to buy an oligopoly bank?
NZ's banking oligopoly, of course, consists of the Aussie owned quartet of ANZ NZ, ASB, BNZ and Westpac NZ. Between them they had total assets of $501 billion as of September 30 last year. That's 88% of total New Zealand banking assets. Westpac NZ, with total assets of $103 billion, ranks fourth. It dwarfs Kiwibank which is fifth with total assets of $27 billion. (See chart at the foot of this article for more detail).
This market dominance means the big four banks have enjoyed a stellar time of it in NZ for years. Deutsche Bank analysts Matthew Wilson and Anthony Hoo summed this up nicely two years ago, at a time the big banks were lobbying hard against Reserve Bank (RBNZ) proposals to increase their regulatory capital requirements.
"This unique market structure, we are yet to find another one, generates oligopoly-like returns. The four banks print an average return on equity of 15% and remit 65%, or NZ$3.25 billion, of earnings back to the parents as dividends," Wilson and Hoo said.
So why would an owner of one of these banks want to give this up?
Westpac's announcement of the ownership review came within hours of the RBNZ saying it had ordered Westpac NZ to increase its holding of liquid assets, cash or assets that can be easily converted into cash, after being non-compliant with liquidity rules for eight years. Westpac noted this, and the RBNZ's strengthening of outsourcing requirements - so Westpac NZ can operate on a standalone basis from its parent - and increasing bank regulatory capital requirements.
"Westpac NZ is a valuable part of the Westpac Group and has been for over 160 years. The business continues to perform well with a strong position in retail and commercial banking. However, given the changing capital requirements in New Zealand and the RBNZ requirement to structurally separate Westpac's NZ business operations from its operations in Australia, it is now appropriate to assess the best structure for these businesses going forward," Westpac said.
Westpac said it was "assessing the appropriate structure for its New Zealand business and whether a demerger would be in the best interests of shareholders."
The increasing RBNZ capital requirements, which banks have seven years to phase in, will likely reduce the major banks' return on equity outlook. Albeit from a high base.
The citing of RBNZ regulatory moves in Westpac's statement shouldn't come as a surprise. Those with long memories will recall Westpac, even though it's the NZ Government's banker, isn't shy about throwing its weight around in politically charged situations. This certainly happened in the run up to Westpac NZ being registered as a NZ bank, a NZ incorporated subsidiary of Westpac Banking Corporation, in 2006. Until then Westpac NZ's business was conducted by a branch of the Australian incorporated bank. The change was made to bring Westpac in line with the RBNZ's local incorporation policy, and meant all systemically important banks (the big four) were locally incorporated.
Behind this dispute were concerns on the NZ side of what might happen to Westpac NZ depositors in a wind-up situation, and for Westpac whether the shift would see it slugged with a capital gains tax liability from the transfer of assets from the branch to the incorporated subsidiary.
What about its own backyard?
Westpac's statement didn't say much about its domestic Australian woes. These have included the Royal Commission into Misconduct in the Banking, Superannuation and Financial Services Industry. In its 2019 financial results Westpac included provisions for estimated customer refunds and payments, associated costs, and litigation of A$958 million.
Additionally the Australian Prudential Regulation Authority (APRA) acted against Westpac breaches of liquidity standards in December. And prior to that Westpac and Australian anti-money laundering regulator AUSTRAC struck a deal for the bank to pay an A$1.3 billion penalty for 23 million contraventions of Australia's Anti-Money Laundering and Counter-Terrorism and Financing Act. The contraventions included transactions associated with possible child exploitation.
This scandal saw Westpac CEO Brian Hartzer resign in late 2019, to be succeeded by Westpac's former chief financial officer Peter King. Westpac's September 2020 year cash earnings fell 62% to A$2.608 billion. And in December Westpac announced the sale of its Pacific businesses, in Fiji and Papua New Guinea, to Kina Bank for up to A$420 million. 
And not to be underestimated are changes that APRA is requiring the major Aussie banks make to the capital treatment of equity investments in subsidiaries such as their NZ offshoots. UBS analysts have noted that: "The implication is that small investments, below 10% of parent common equity tier one capital, can be leveraged further. But large exposures such as NZ subsidiaries require more capital to protect Australian depositors in the event of default." There's more on these APRA moves here and here.
In Westpac's own words, the ownership review of Westpac NZ comes as part of the banking group's "fix, simplify and perform strategy."  And there's a whole range of reasons why Westpac might have decided now's a good time to test the market for its Kiwi subsidiary.
So who might buy?
Moving onto the next question of who might want to buy Westpac NZ, we can expect plenty of tyre kickers. Why not? Investment bankers sensing a nice fee feed will be peddling the bank in all directions. And NZ institutional investors, gagging for a slice of one of the country's major banks, would love to see Westpac NZ listed on the share market.
The options likely to be under consideration by Westpac include retaining Westpac NZ, spinning it off to Westpac shareholders and listing Westpac NZ on the share market, or selling the NZ subsidiary to new owners. 
From a New Zealand Inc perspective speculation will swirl over whether Kiwibank, backed by shareholders the NZ Super Fund and ACC, could make a play for Westpac NZ. Realistically, given the size difference between the two banks, such a deal would require some serious financial engineering. In their 2019 report Deutsche Bank's Wilson and Hoo valued Westpac's NZ business at NZ$13.7 billion.
Nonetheless, the idea of the Government potentially getting involved will also be floated. One suggestion on twitter, for example, is merge Westpac NZ and Kiwibank, retain a controlling stake and use the combined entity as a policy bank to grow business lending and fund developers of affordable housing whilst listing a minority stake on the NZX to allow Kiwis to participate.
The last ownership change at a major NZ bank was when ANZ bought the National Bank from Lloyds TSB for almost $5.5 billion in 2003. However, it's hard to see ANZ, BNZ's parent National Australia Bank or ASB's parent Commonwealth Bank of Australia seriously considering buying Westpac NZ today. They likely feel they have enough exposure to NZ, and face the same APRA subsidiary capital rules as Westpac.
The return of George?
Meanwhile, The Australian newspaper has touted Bank of Queensland as a potential bidder. This suggestion is interesting if for no other reason than because Bank of Queensland's managing director is George Frazis, the former CEO of Westpac NZ. A Bank of Queensland spokeswoman said the bank doesn't comment on speculation.
Bank of Queensland is currently acquiring ME (Members Equity) Bank, which may keep it occupied for the time being. The ME Bank acquisition will give Bank of Queensland 2% of total Aussie banking assets, or about A$92 billion worth. After leaving Westpac NZ in 2012, Frazis headed up St George Bank for three years, which Westpac had acquired in 2008. Thus he both knows Westpac NZ and has experience running a relatively newly acquired subsidiary. 
Japanese interest in Westpac NZ can't be ruled out. The last sale of a major NZ financial institution, UDC Finance, was to a Japanese bank. Shinsei Bank completed the $794 million acquisition of the vehicle and asset financier from ANZ last year.
Bank of China, China Construction Bank and Industrial and Commercial Bank of China, the three Chinese government controlled banks active in NZ, could all certainly afford to buy Westpac NZ. But would they want to? Thus far they appear to be pursuing a strategy of incremental growth in NZ. And are New Zealanders ready for one of their major banks to be owned by the authoritarian Chinese government?
Banks or behemoth international private equity funds from elsewhere in Asia, Europe and the US can't be ruled out. And could fintech companies even play a role? Notably Westpac already has a partnership with buy now pay later service provider Afterpay. Afterpay is launching a banking app in Australia with Westpac to hold Afterpay deposits on its balance sheet and meet APRA requirements on Afterpay's behalf.
I'm sure plenty of names will be thrown around before Westpac's review of its ownership of Westpac NZ is done and dusted.
Should a deal with a new owner be done, a non-objection notice will be required from the RBNZ, Overseas Investment Office Approval will be required if the buyer's an offshore entity, and should one of the other oligopoly banks be the buyer, the Commerce Commission would need to give its stamp of approval. There could also be questions about whether the Westpac name would be retained, and if so for how long?
So hold on to your hats as there's plenty of water to flow under the bridge before Westpac NZ's 1.3 million customers and 4,500 staff find out if they're getting a new owner of their bank.