Gareth Vaughan on what the world thinks of the US election, China's debt binge, Madoff whistleblower hitting out at the big 4 accounting firms, Hong Kong shoebox apartments, Steven Adams, Dilbert & more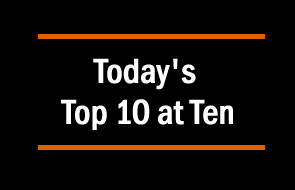 Today's Top 10 comes from interest.co.nz's own Gareth Vaughan. This is his third Top 10. His first one is here and second one here.
As always, we welcome your additions in the comment stream below or via email to david.chaston@interest.co.nz.
And if you're interested in contributing the occasional Top 10 yourself, contact gareth.vaughan@interest.co.nz.
See all previous Top 10s here.

1) What the world thinks of the US election.
The Guardian has put together an interesting wrap up of views on the US presidential election from its correspondents around the world. Countries featured include Russia, Mexico, Iran, China, Canada, Israel, the Middle East, North Korea, Japan, South Korea, Afghanistan, Germany, Italy, the UK and Iraq. As you might expect, there's quite an array of views on Democrat candidate Hillary Clinton and her Republican rival Donald Trump.
Here's a flavour of the view from Russia, which has featured prominently in the election.
What is clear is that Moscow has enjoyed making trouble. Vladimir Putin has a personal dislike of Hillary Clinton going back to her time as secretary of state, while Trump fits perfectly into the mould of "chaos candidates" that Russia has supported in other western countries. 

It would take a conspiracy theorist to believe Trump is actually a Kremlin stooge rather than simply a "useful idiot", and some in Russia believed a Trump presidency could actually have more potential for conflict than a Clinton one. 
And.
US politics tends to be portrayed as driven by geopolitical interests rather than personalities, and so most ordinary Russians assume that little will change, whoever wins.
Here's a taste from North Korea.
Kim Jong-un is hoping Donald Trump will be the next occupant of the White House. The North Korean leader has not publicly commented on the US presidential election, but if state media are to be believed, Trump represents his best hope of engagement with the west. 

The DPRK Today newspaper has described the billionaire property mogul as a "wise politician" and "prescient presidential candidate". 

"It turns out that Trump is not the rough-talking, screwy, ignorant candidate they say he is, but is actually a wise politician and a prescient presidential candidate," Han Yong-muk wrote in a column.
It's a completely different story in Germany for Trump, however.
If Hillary Clinton were to run against Donald Trump for the German presidency, she would win by a landslide. An October survey run by the polling institute Infratest Dimap found that 86% of Germans would vote for the former US secretary of state. An earlier poll discovered that even among supporters of the rightwing populists Alternative für Deutschland, only one in four could imagine voting for Trump. 

The widely held view is that a Trump presidency would add further turmoil to an increasingly unstable global economy, a development which Germany, as an exporting nation, would suffer particularly strongly. "Donald Trump could endanger our prosperity," wrote Die Welt.
2) "The Clinton's are a crime family."
Ex-FBI assistant director James Kallstrom has laid into the Clintons, describing them as "a crime family" with a foundation that's a "cesspool," The Daily Mail reports. At the same time Kallstrom describes Trump as "a good human being" and "a patriot."
'The Clintons, that's a crime family. It's like organized crime, basically. The Clinton Foundation is a cesspool,' Kallstrom said.

'It's just outrageous how Hillary Clinton sold her office for money. 

And she's a pathological liar, and she's always been a liar. And God forbid if we put someone like that in the White House.'
3) Why Donald Trump may never pay federal income tax again.
David Cay Johnston in The Daily Beast has a poke around Trump's tax situation and concludes "the alleged billionaire," last known to have paid federal taxes in 1977, may not have to until 2042 - if then. He also has interesting detail on Trump persuading New Jersey casino regulators to take his side against his bankers in 1990.
What I can now report is that Trump is not restricted to using or losing his tax losses over 19 years but can offset income for as long as he lives. 

Based on his 1995 income, Trump could enjoy 47 years of income-tax-free living. That would cover Trump until 2042, when he would turn 96. 

But even that understates the situation. As a real estate owner Trump can acquire still more tax losses under liberal rules set by Congress - rules Trump lobbied for - that apply only to full-time managers of their own investment real estate. This means Trump could enjoy a much larger income than the $19 million he reported on his 1995 Connecticut nonresident tax form in future years and still pay no income taxes.
Johnston is, in my view, justifiably far from happy.
Trump says that not paying income taxes shows that he is "smart." I say it is outrageous because the rest of us have to pick up the burdens that Trump shirks, making us subsidize him. 

The fact that he alone among every major party nominee for president going back more than 40 years refuses to make public any of his tax returns raises reasonable questions about whether he is a tax cheat.
4) As I write this on Wednesday there are doubtless several more twists and turns to play out in this most bizarre of US elections. Whatever the outcome once the votes are counted on November 8, this Matt cartoon from The Telegraph has both angles covered.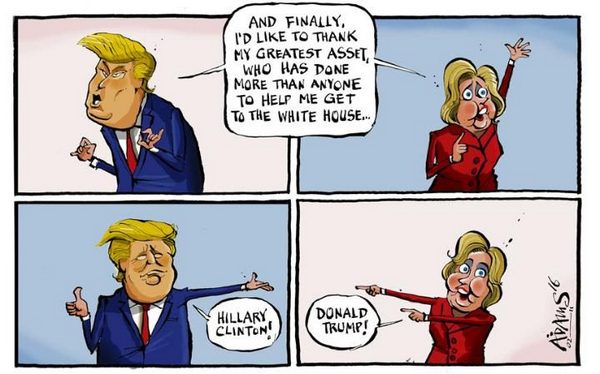 5) Banks, they giveth and they taketh.
Now for something different. ANZ NZ's economists wrote this week of banks (read ANZ) now "actively rationing credit" and "leaning against activity at the top of the cycle".
"In an environment where credit growth is still far outpacing deposits, the former needs to slow and the latter rise," the economists say.

"Lending criteria have been tightened beyond explicit prudential requirements. That's a) responding to higher economic risks at the top of the cycle; b) trying to bring some balance back to the economy (i.e. stop the current account deficit blowing out); c) responding to shifting regulatory requirements (i.e. deposit and liquidity requirements); and d) common sense; excessive credit can be a key driver of booms and busts."
They do have a point. As the chart created by interest.co.nz's David Chaston below demonstrates, we Kiwis are again borrowing more than we're saving via deposits. That means our big banks have to either source more wholesale funding, with much of it from overseas, or ration credit, as the ANZ economists put it.
Whilst there is certainly some evidence some banks, notably ANZ, are rationing credit, there may also be a case of one hand not knowing what the other is doing. Or that the bank staff running the particularly lucrative area of credit cards haven't been handed a ration card yet. For no sooner had we posted Monday's article from the ANZ economists on credit rationing, than one of our interest.co.nz team received a letter from the same bank offering to increase his credit card limit.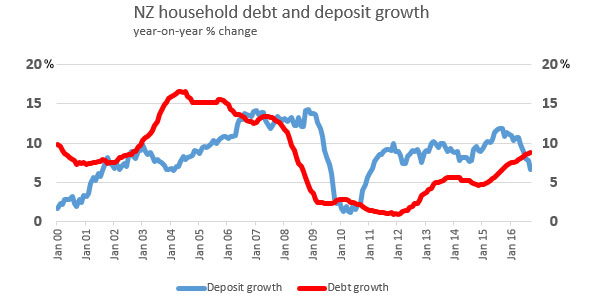 6) Questions for peer-to-peer lenders in Britain.
I've taken a keen interest in the emergence of licensed peer-to-peer lending in New Zealand over the past couple of years. One of the great aspects of, or promises made by, the sector is being fully transparent. Transparency, however, appears to be going backwards in the UK in their slightly more mature P2P industry, as FT Alphaville points out.
It [ the Peer-to-Peer Finance Association] was set up in 2011, has eight members, including Zopa, Ratesetter and Funding Circle, and releases detailed quarterly data on the volume of loans being written by its companies. Well, it used to anyway. 

The association has stopped providing platform-level granular data like total new lending, total amount of principal outstanding, capital repaid, number of lenders and number of borrowers. Instead it is now only providing aggregate data that disguises the individual performance of each of its lenders.

Why is the P2PFA now offering less transparent data than it did in the past? We don't know. Robert Pettigrew, the association's spokesperson, appeared to feign ignorance when we asked for more detailed data.

"I am not aware of the P2PFA having published more detailed information than that contained in the press notice previously; could you send me a copy of a previous version of what you are seeking?" he said in an email.
However, sometimes journalists asking questions do ultimately get their answers.
Update: after we published this post, the P2PFA made more detailed data for Q3 available.
7) Madoff whistleblower hits out at big four accounting firms & the insurance industry.
Harry Markopolos, the man who blew the whistle on Bernie Madoff's US$65 billion Ponzi scheme, has trained his sights on the big four accounting firms and the insurance industry, The Business Insider reports. In terms of the accountants, Markopolos argues it's impossible to name a single multi billion fraud the big four uncovered.
The fact that Madoff feeder funds were getting clean audit opinions from the Big Four accountants, when Bernie was stealing every dime from day one, shows how easy it was for Madoff to fool the accountants, Markopolos said, adding that in the history of accounting it's impossible to name even one multibillion fraud that the Big Four uncovered. 

"Now, if I asked you, to name all the big, multibillion-dollar accounting frauds that the Big Four aided and abetted, we could be here all afternoon," he said. 

"The incentives are totally screwed up in the accounting industry. There is no way the company should be paying the audit fees. It should be the shareholders. It should be a fee. Every time you buy a share, a certain number of basis points should be allocated to audit fees. Because the audit fees are currently way too low. Management brags about how low they've gotten the audit fees.
He's also unimpressed with US insurance regulation.
"The insurance industry is unregulated everywhere. In the United States, we have 50 state insurance commissions. I think 43 of them are politically appointed by the governor. Seven of those commissioners run for office," he said. "And it's a race to the bottom in regulation. If you have the easiest insurance regulations, you'll take in the most insurance fees, because operating carriers will choose to domicile in your state and put their employees in your state. And you'll take fees in to your state Treasury." 

With only 7c from every dollar of insurance fees going towards regulation to fund the Insurance Commission, the whole industry is a profit making machine for the states, which just want to get the most insurance companies domiciled in order to get the most insurance jobs.
And below is Markopolos in a 2013 interest.co.nz video interview with Bernard Hickey.
We hear much about China's huge appetite for debt these days. Here's another chart made by David Chaston, this time using Bank for International Settlements data up to March this year. It certainly shows China's private sector debt on a tear. The Aussies and the Canadians have been bingeing too, with we Kiwis looking a little more subdued in terms of our debt appetite. That's even though our debt to disposable income ratio recently hit a record high of 165%, which is nothing to sniff at. Germans, meanwhile, appear to have a much smaller appetite for debt.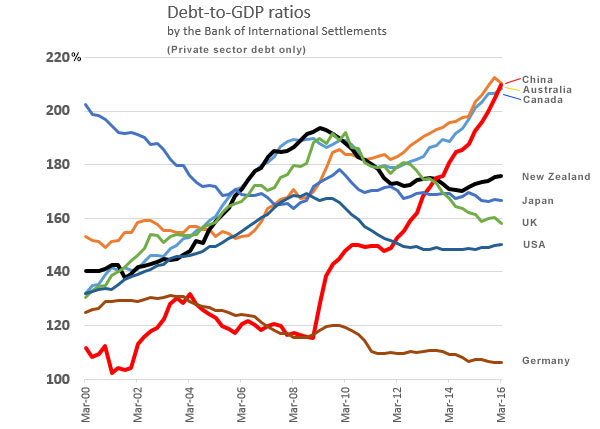 9) Hong Kong shoebox apartments, - "put us in coffins and be done with it."
The South China Morning Post's Yonden Lhatoo has had a guts full of shoebox apartments. He's talking about 61 square foot flats, although "flat" is stretching it a bit here. We're talking about something that's about the size of a study. Or a small single bedroom.
Emperor International Holdings has entered the hall of shame for heartless developers putting profit before people, with plans to build the tiniest homes in the city. With these 61.4 sq ft shoeboxes being mismarketed as homes for humans, can we sink any lower in dehumanising the population of one of the most prosperous cities in the world?

Even Stanley Prison offers more living space for criminals, with the standard jail cell measuring a relatively luxurious 80.7 sq ft. 

The only thing left now is to put us all in coffins and be done with it. 
He makes some points that sound familiar for those following our own housing woes, including hitting out at land banking.
There is enough land and wealth in Hong Kong to house every citizen in relative comfort and dignity. What there is an acute dearth of is the guts, political will and generosity to achieve it. 

People get emotional about killer whales in captivity, and how confining them in their marine park tanks is the equivalent of keeping a human in a bath tub all his or her life. Boredom, depression and frustration lead to self-harm and aggression. 

Hello? That ring a bell, humans in Hong Kong?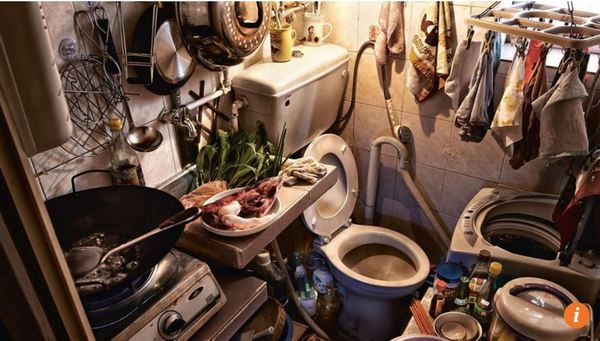 10) "Slimmer than a peeled onion."
There has rightly been much hoopla in the local media this week about Steven Adams' new four-year contract with NBA team Oklahoma City Thunder that's reportedly worth about NZ$140 million. Well done to Adams. But as RNZ sports editor Stephen Hewson points out, the new deal doesn't improve the chances of Adams playing for the Tall Blacks. Hewson notes there would be insurance issues to overcome if Adams was to play for his country, and an apparently bad relationship between Adams' manager and Basketball New Zealand.
Insurance issues arise if Adams were to play for the Tall Blacks and, on his new deal, Basketball NZ would struggle to stump up with the premium required to cover Adams while he was on international duty. 

Australian NBA players previously have paid their own insurance policies so that they can turn out for the Boomers. 

The validity of that view can be debated, but Adams' stance could also be influenced by the difficult relationship his manager, Kenny McFadden, has had with Basketball New Zealand. 

A few years ago McFadden was dropped from the national coaching programme and things have been frosty since. 
Hewson suggests the prospect of Adams ever playing for the Tall Blacks "remains slimmer than a peeled onion." I don't really follow basketball but it would certainly be a boost to the game in New Zealand if Adams turned out for the Tall Blacks. Not to mention a boost to the team's chances of winning games...
Adams is also keen to promote his 'Kiwi-ness' on social media. 

His wardrobe has several All Black jerseys in it - it's just shame there's no Tall Black singlet and seemingly never will be.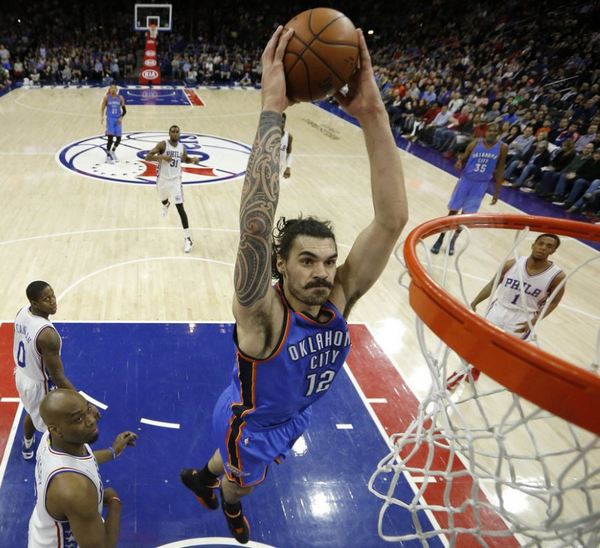 Steven Adams dunks. Source
NewsOK.