Amid increasing debate over whether Auckland can build enough houses, new Statistics New Zealand projections suggest the city's population is growing even faster than was thought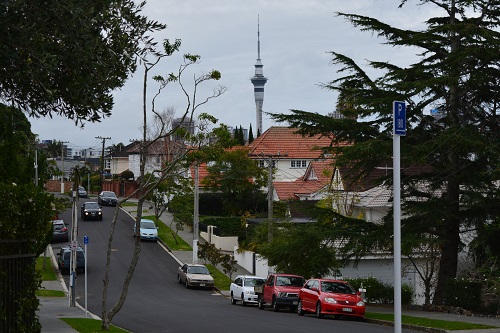 By David Hargreaves
As the debate heats up about whether Auckland can build enough houses, new population projections show the demand for accommodation is set to continue exploding.
Statistics New Zealand has put out its latest 'Subnational Population Projections', updating the last ones that were released in February 2015.
The projections series uses the population statistics from 2013 as a base and then projects out a series of figures to 2043.
Three different scenarios - 'high', 'medium' and 'low' - are outlined depending on assumptions about things such as birth rates, death rates and migration rates.
Auckland region population projections

 
 
June 2018
June 2023
Av Ann % change
Feb 2015 projections
High
1,670,100
1,820,700
1.6
Medium
1,646,500
1,767,500
1.3
Low
1,622,500
1,713,900
1.0
 
 
 
 
 
Feb 2017 projections
High
1,736,200
1,936,500
1.9
Medium
1,699,900
1,859,300
1.5
Low
1,663,300
1,781,400
1.1
For the sake of argument the 'medium' projection can be taken as the projection assumed most likely.
Remarkably the latest projections show that taking this 'medium' scenario, the Auckland population by June next year is forecast to be just a touch under 1.7 million.
That new 1.7 million projection is over 50,000 higher than the Stats projections just two years ago.
Remarkably also, the new 'medium' projected figure for the Auckland population by June next year is actually higher than the old 'high' forecast from two years ago. In other words, the population growth of Auckland is overshooting the most bullish of forecasts.
Stats NZ estimates that the Auckland population broke the 1.5 million barrier as at June 2014.
If the 1.7 million figure for June 2018 comes to pass it means the Auckland population will have grown something in the region of 200,000 - or over 13% - in four years.
Putting another 200,000 people in Auckland would, based on three people per home, require over 66,500 new homes.
Between mid 2014 and the end of 2016 Auckland builders got consents to put up just 23,500 new houses in Auckland.
This means another 43,000 would be needed - over the next 18 months - just to play catch up with the population growth. Such a heroic achievement would be way more than Auckland has ever achieved historically.
Auckland consented under 10,000 new homes last year.
Stats NZ says that deriving the new projections involved a review of all projection assumptions for each area, as well as being consistent with the latest national population projections, which based on the 'medium' estimate see New Zealand's population standing at 5.16 million by June 2023.
Stats NZ said the new projections assumed higher levels of immigration and lower fertility rates than the previus ones.
Nationally, the median annual net migration gain is now assumed to be 276,700 for 2014–18, 129,000 for 2019–23, and 75,000 for each subsequent five-year period.
This compares with 149,300 for 2014–18 and 60,000 for each subsequent five-year period from the previous 2013-base projections.
Whether Stats NZ proves correct even with its now slightly higher long term assumptions of immigration will be a point for debate.
Stats NZ is suggesting long-run annual migration gains of 15,000, while the current annualised rate is well in excess of 70,000.
At the moment around 60% of new migrants are settling in Auckland, which suggests a net annualised gain of over 40,000 migrants for the city.
As far as Auckland is concerned, the perceived need to increase building of houses is running up against much tighter lending criteria from banks probably increasingly unnerved by the high debt-to-income ratios being taken on by Auckland home owners, while also trying to combat rates of deposit growth that are sluggish when set against the demand for borrowing.
Ratings agency Standard & Poor's said in a new report that it thought Auckland was short of 30,000 to 40,000 homes. 
S&P said the tightening lending standards, including for property development, meant new construction could slow despite the aims of the Auckland Unitary Plan to promote more building activity. Such a slowing of construction activity could put renewed upward pressure on house prices.
Earlier, ANZ economists in a detailed update on the housing market said they saw "growth headwinds" intensifying for the supply of new Auckland dwellings as escalating costs and capital constraints start to squeeze the market.
"In fact, there is a risk that the above pressures actually result in a slower rate of dwelling construction over coming months.
"At a time when net migration inflows are showing few signs of turning, a weaker supply story certainly doesn't paint a picture of Auckland housing imbalances and affordability challenges being corrected any time soon..."