Jenée Tibshraeny considers the extent to which the migrant vote has propped up National, particularly in Auckland's traditional Labour strongholds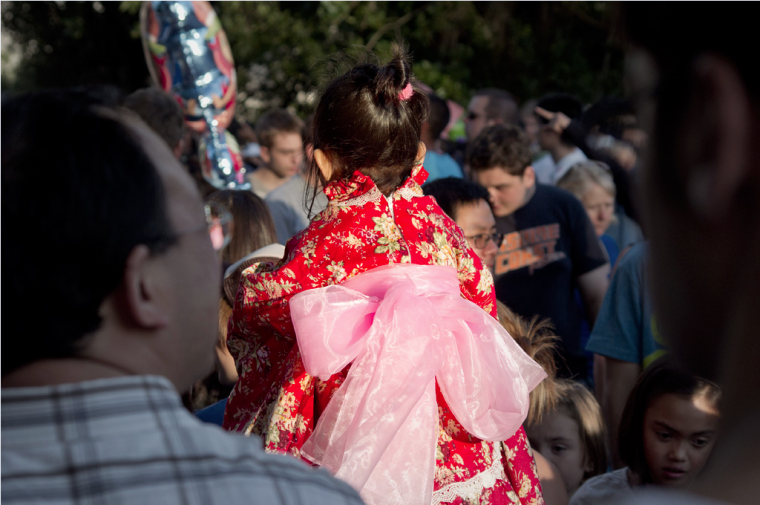 By Jenée Tibshraeny
The theories are flying as the pundits pick apart the available results from the election.
'Labour's handling of tax will see it lose the election', 'the major parties gazumped the minor ones', 'everyone's "had enough" of Winston', 'Jacinda sparked a youth-quake', and here's another one… 'National takes the cake for being the party of migrants'.
I acknowledge the hard evidence for this latter hypotheses isn't there. But the anecdotal evidence is compelling enough for the theory to be explored.
To begin with, the preliminary results show support for National increased in south and west Auckland, despite these areas arguably being among those hit hardest by Auckland's housing and transport woes.
With the median house price in Manukau up 62% in the last five years (to $793,000), and the weekly median household income (from all sources) in the Auckland region up only 29% (to $1,778), the cost of living is clearly an issue.
And then try commuting into the city from the outer suburbs and you'll see your quality of life wither away before you.
These changes in party vote from the 2014 election, charted by Stuff, are fascinating.
Put to Labour's campaign manager, Phil Twyford, he points out the fact that the parts of Auckland where National made the greatest proportional gains, were the parts it didn't have much support to begin with, so had more new votes to capture.  
For example, while the percentage change in Manukau East was relatively substantial, Labour still received 64% of the vote, versus National's 23%.
Twyford says this graph tells the story.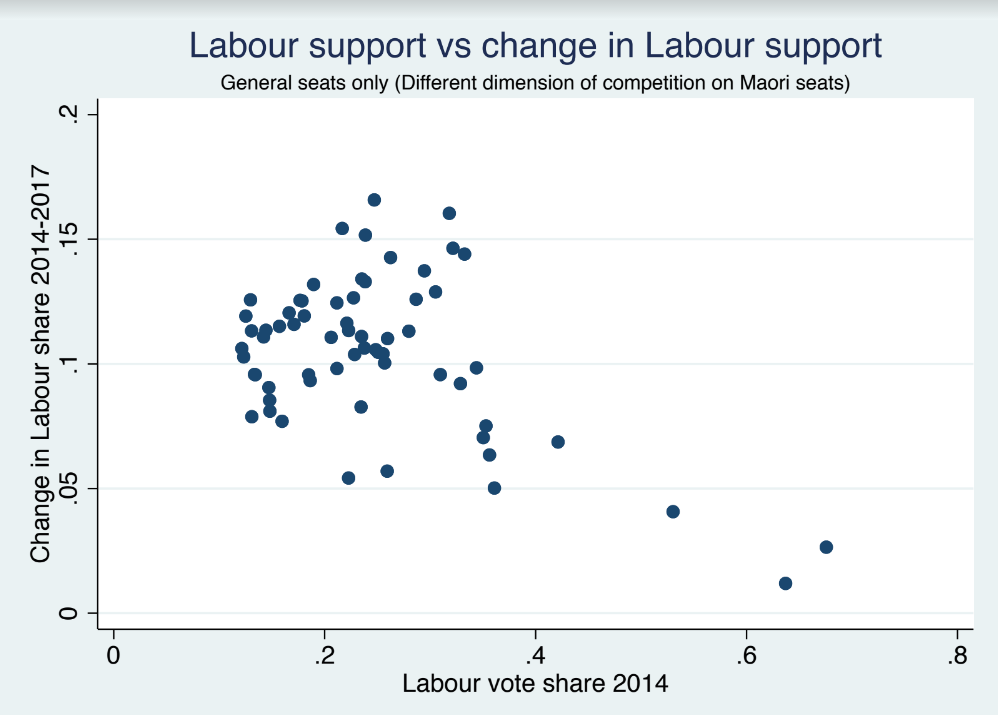 He says the three dots on the far right are Manukau, Mangere and Manurewa, the next five moving left are Kelston, New Lynn, Mt Roskill, Te Atatu and Maungakiekie.
The first graph does of course also show Labour increasing its share of the vote substantially across Auckland, reflecting an increase in support for Labour overall.
Nonetheless, with migrant communities having a strong presence in the parts of Auckland that saw support for National increase from the last election, it's fair to question whether a lot of National's support came from this sect of society.
The Chinese psyche
From a Chinese perspective, research suggests this is bang on the money.
According to a Trace Research survey, 74% of Chinese voters recall giving their party vote to National in the last election, versus 14% for Labour. This time around, 59% considered Bill English their preferred prime minister, and only 20% Jacinda Ardern.
Trace estimates there are 168,000 Chinese New Zealanders of voting age, which represents 5% of the voter roll.
Labour's East Coast Bays candidate, Naisi Chen, is one of two Chinese nationals on the party's list.
Currently in her final year of completing a law degree, Chen is keen to see more Chinese representation in parliament.
Yet she recognises there are a number of hurdles for Labour to cross, to win the Chinese vote.
To begin with, she says the Chinese psyche is generally to support the current government. In this vein, she says Labour received more support from the Chinese community when it was in government.
Chen maintains most Chinese media will accordingly lean towards whoever's in government.
She also concedes that without Labour having a Chinese MP until Raymond Huo was sworn in after the Mt Albert by-election in March, it has been on the back foot.
Asked about the extent to which the Chinese community sees National's policies as more favourable than Labour's, she accepts it views Labour as less pro-migration than National.
Chen also admits the Chinese community is afraid the possible introduction of a capital gains tax will see property prices fall.  
Scaremongering around tax and migration policy
Yet she says National and National Party supporters have used scaremongering tactics to hit raw nerves with the Chinese community around these issues.
National for example repeatedly asserted that people would be taxed more under a Labour-led government, despite the water tax being the only tax put on the table, and the promise made (admittedly rather late in the game) that any tax changes, including the introduction of a capital gains tax, recommended by a tax working group would not be implemented before the 2020 election.
Chen says the scaremongering happened in mainstream media, as well as on WeChat.
Labour's campaign manager Phil Twyford, agrees: "The National Party consistently and blatantly lied during the campaign. The Prime Minister and the Finance Minister consistently lied, and their campaign advertising was based on lies that for instance Labour was going to put up income tax.
"You could argue that Labour didn't effectively shut that down quickly enough. You could also argue that the media, by running the lies of the National Party as if it was one truth among many, contributed to a great deal of confusion in the public mind."
Asked about whether he believes the migrant community saw Labour's immigration policy as anti-migrant, Twyford says: "We took the view that National had allowed a massive blowout in net migration numbers. They had allowed net migration to quadruple in the last few years.
"[We believed] that a better balance was needed in immigration policy to take away some of the pressure on infrastructure, while ensuring that immigration policy continued to deliver the skilled migrants that the economy needs.
"The National Party tried to portray this as xenophobia or a desire to turn off the tap, which it never was."
While National's Chinese 'Blue Dragons' group has declined interest.co.nz's interview request, a spokesperson says: "National stands by its campaign, including our criticisms of Labour's proposed multiple new taxes that would hurt families and businesses." The Blue Dragons is a National Party advisory group on Chinese issues.
Challenged on whether Labour did enough to correct any misconceptions, Twyford concedes that while Labour might not have convinced everyone, it's too simplistic to think new migrants believed discussions around migration policy were "anti-migrant".
"New migrants in a city like Auckland are working hard to try to establish themselves and get ahead, and the very issues like affordable housing and infrastructure pressures impact on them hugely."
Twyford is adamant these were the right issues for Labour to campaign on.  
Impact of the 'Chinese sounding names' and 'Jian Yang spy' sagas
Asked about the extent to which his Chinese sounding names stunt is still hurting Labour, he says the effect is "negligible", hitting Twitter more than the Chinese community.
Chen however admits Ardern is still being asked about this and it's "still taking up our media space".
As for the impact of Newsroom revealing National MP Jian Yang hid the fact he studied at an elite Chinese spy school before moving to New Zealand, so could have been an officer in the Chinese military intelligence and a member of the Communist Party, Chen maintains this would've increased the level of support for Yang from the Chinese community.
She believes the community would've seen this story as an attack on Chinese MPs, not Yang or National.
She maintains the community would've empathised with Yang, as the majority of Chinese believe when they leave China, they leave the system.
"In China it's very hard not to have anything to do with the Communist Party, or even the military regime itself. It's part of the working life. The hospital, the schools are all part of the regime. There's a lot of people who worked for state owned enterprises in New Zealand, and obviously they're not all spies and they know how hard it is to try to get out of the regime as well."
A National Party spokesperson says: "We believe attacks on Dr Yang's character were racially motivated and politically timed a mere 10 days from the election."
Indian community more enticed by cultural recognition than government handouts
What about the Indian community? To what extent has it helped prop up National?
Auckland-based India Trade Alliance general secretary, Sunil Kaushal, believes the National Party's moves to preserve Indian culture in New Zealand, have gone a long way to help it secure the Indian vote.
He mentions National's election promise to make it legal for Sikhs to carry a 'kirpan' (traditional knife) on them.
He also notes its willingness for Hindi to be taught in schools.
As for migration policy, Kaushal says: "No one will go into detail with what the policies are, but just to say, 'we'll cut down the number of immigrants' is enough to drive them to the other side."
And when it comes to housing, Kaushal maintains the Indian community isn't looking to the government for help.
"Indians will never beg. You will find Indians and probably Chinese, they don't go on the benefit. They will work three jobs, they will work long hours. To beg; the dole is literally begging for them…
"The first thing Asians in general will do is pay back their debt. You will not find Indians being a burden to the system. The caveat is, you will always get rotten apples in any community. You will always getting people exploiting others in the Indian community. But for the majority, it's not in the culture.
"We would rather borrow money from our friends to get a house, than go on a dole and be a burden to the system."
Asked about the fallout from all the exploitation and scandals involving agents selling Indian students false dreams of a great education from tertiary colleges on Queen Street, and good job prospects to follow, Kaushal says: "I don't think it was a voting issue. Those who were affected couldn't even vote.
"I think the Indian community does agree they need to sort this mess out. It is a mess. If you talk to most of them, no one wants this kind of dirt here. In my opinion, the organisation that escaped being scrutinised is the New Zealand Qualifications Authority, not Immigration New Zealand."
National onto robberies and fraud
As for the effect of the spate of brutal dairy robberies that the Indian community has borne the brunt of, Kaushal maintains National has been quick to get on top of this.
"Crime is still happening, but the response time to crime has increased."
National's Manukau East candidate, Kanwaljit Singh Bakshi, says National has boosted police staff by 1,125. This includes 880 extra frontline officers, which will help ensure there's a 24/7 patrolling police presence for more communities. It has also employed 20 "ethnic liaison officers".
Bakshi has declined an interview request, but asked over email about the scandals around Indian students and tertiary education, he says: "The Government has zero tolerance for fraud and has invested heavily in intelligence-gathering and verification support resources for immigration officers in India.
"Because of the complexity of the market and the high incidence of fraud, the student visa approval rates for India have traditionally been lower than elsewhere. But as a result of the firm and decisive actions taken to tackle fraud, we are now seeing an increase in the number of quality visa applications from students.
"Any suggestion of a guaranteed pathway to residence for students is not a commitment that has been made by the New Zealand Government."
Bakshi has also outlined what National has done to particularly benefit the migrant community in Auckland.
He says it has worked with Auckland Council to accelerate the $669 million Auckland Manukau Eastern Transport Initiative. It has invested taxpayers' money in the SH1 Southern Corridor Improvements project from Manukau to Papakurua, the EastWest Link roading project, and the Waterview Tunnel (begun under the last Labour-led government).
He has also provided a list of facts and figures around what National has done in health and education, highlighting $20 million of funding for Kauri Flats School in Takanini and $51 million more funding for the Manukau Counties District Health Board.
Bakshi makes no mention of housing, Sikhs being able to carry kirpans, or Hindi being taught in schools.
Auckland - an evolving battleground
Both Twyford and the National Party spokesperson conclude that due to votes being private, we simply don't know whether there's a link between the migrant vote and the growth of support for National in some of Auckland's Labour strongholds.
The National spokesperson says: "We are proud to be an open and diverse party that welcomes all cultures. Reaching out to ethnic communities is an important part of campaigns as we have always seen ourselves as the party for all New Zealanders."
Twyford recognises Labour's put a "pretty significant" amount of resource into attracting the migrant vote. He also notes National's efforts, particularly during the John Key era, to carve out support in places like West Auckland.
"That's been a major part of their political strategy. It's a contest zone," Twyford says.