Political reporter Jason Walls has always kept an unofficial list of his favourite political moments/events in the back of his head and has now laid them out for all to see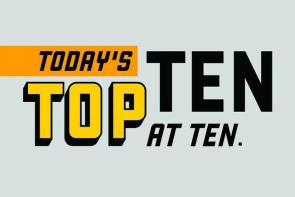 Today's Top 10 is from our own Jason Walls, who reflects on some of the most fun moments in Parliament so far this year.
As always, we welcome your additions in the comments below or via email to david.chaston@interest.co.nz.
We are keen to find some new Top 10 contributors so if you're interested in contributing, contact gareth.vaughan@interest.co.nz.
Politics is often synonymous with entertainment – at least for those paying close attention. I am very much one of these people and find great delight in being entertained by what happens in the Beehive.
Maybe you are, and maybe you aren't – either way, that's fine. I have spent the better part of the last nine months paying very close attention to the action. Being a press gallery reporter means you eat, sleep and dream politics.
As such, I have always kept an unofficial list in the back of my head detailing my favourite moments, sagas and events of the year so far.
Today is my last day with Interest and thus I thought I would share with you, the readers, my official top 10 political events of the year… so far.
10: The Teachers' strike
It was the biggest demonstration outside Parliament this year so far. Hundreds, perhaps thousands, showed up outside the Beehive to demonstrate. They were after more pay and more resources and were not shy about letting their demands be heard.
Picket signs, songs, speeches, costumes, kids, adults, students, teachers. It really had it all.
I was blown away by the scale of the crowd but was even more blown away that the Prime Minister came down to talk to them.
Flanked by her Minister of Education, Chris Hipkins, Jacinda Ardern addressed the protesters – "I wasn't scheduled to be here. But I was sitting up in that office in a meeting and I could see you streaming to Parliament and I thought 'I cannot, not be here."
She talked about how the Government needed time to address the needs of teachers; her speech, although short, was laced with Ministerial political talk.
But the crowd lapped it up – cheering before and after she made her speech. It was almost like they had forgotten they were there asking the Government for more money and that same Government had turned down their request.
It was a bit surreal – was this the "Stardust" that Bill English liked to talk about?
9: English's resignation
Speaking of Bill, he comes in at number nine on my list – or rather, his resignation does.
After a week of stories about a potential leadership spill within National, Opposition MPs were on edge and reporters were buzzing.
On his way to National's weekly caucus meeting, English was again asked about the rumors. Instead of denying them, he said he was not going to talk about that "right now."
This was slightly more specific than the words he had used before, as there was an implication he might have something to say a bit later.
He did.
And within hours, he had resigned as National's Leader. It was an emotional press conference. He had given so much of his life to politics and was now bowing out. He teared up as he talked about his kids.
His valedictory speech was impeccable. Funny, emotional, charming, smart – it ticked all the boxes.
8: The curious case of business confidence
It's an issue that has plagued this Government since its inception and will continue to be a thorn in its side well into the rest of its term.
No matter what Ardern and her Ministers do, it has no impact on the numbers. And to make things worse, it's a measure that comes out every month so there are plenty of opportunities to ask about it.
Which I do – a lot. In fact, often other gallery reporters will mock me for it. "Got a question about business confidence, today?" they ask me before a stand up with nothing to do with businesses confidence in the slightest.
Ardern keeps bringing it up; three times this year she has spoken directly to business audiences about it being the "elephant in the room." But yet, it keeps falling.
How this continues to unfold will be one to watch for sure.  
7: Shane Jones takes on corporate New Zealand
As press gallery reporters, I feel like sometimes we don't appreciate the value of Shane 'the Provincial Champion' Jones. I'm not talking about his effectiveness as a Minister or as an MP. No, I'm talking about the sheer entertainment value of the guy.
His colourful language and eccentric personality plays so well into the media's hands. I've lost count of how many perfect sound bites he has thrown up that we, the fourth estate, have lapped up.
But the man is smart and always knows what he is doing.
Case-in-point, his attacks on Fonterra, Air NZ and The Warehouse. As far as New Zealand companies go, you would be hard-pressed to find another threesome as Kiwi as that.
He used that to his advantage, slamming them for turning their back on the provinces and in doing so, made it clear that he was there to hold them to account for all Kiwis.
A great NZ First vote winner.
6: The Prime Minister is pregnant
This one happened before I started at Interest but I remember it pretty clearly.
I had left the room for about 10 minutes and when I came back in, my phone had just about exploded due to all the news notifications.
Ardern announced on Instagram she was having a baby and the media went into meltdown mode.
It will be the biggest story of this year, I'm sure. But for me, it comes in at number six on my list.
5: Bridges' first press conference as National Leader
I know, I know. "You're putting Simon Bridges' first press conference as leader above the PM announcing her pregnancy?!" I hear you cry from behind your keyboard.
Yes, I am. Only because I was actually in the room for Bridges. It was a media conference that set the tone of his tenure as leader. A number of times, he reiterated his commitment to the Green economy, seemingly, to some, paving the way to a "teal deal" with the Green Party next election.
I was impressed, actually. I thought he did well and came off as a strong, smart choice who would be able to help the Nats navigate through their time in Opposition.
Yes, he has had his issues since then and the recent "whodunnit" leaks saga will be a black mark against his name.
But National is still polling highly as a party – if he was a particularly bad leader, the party numbers (not just the preferred Prime Minister ranking) would reflect that.
4: The PM and Labour's youth camp saga
This was genuinely the only time I have seen the PM rattled. A Newsroom story which revealed someone at a Labour youth camp had sexually assaulted a number of other guests, caught Ardern off-guard.
She was asked about it at her weekly post-cabinet press conference and did not have a proper response. After leaving the podium, she did something I have never seen a Prime Minister do after post-cab – she addressed the journalist asking the question.
As she was walking out, she sought him out and had a short conversation. No one, aside from the PM and the journalist in question, could hear what was being said.
But the room was quiet; like at school when the teacher has walked back into the classroom after stepping out.
It was interesting to see Ardern's veil of having full control of every situation slip, even if it was only slightly for less than a minute.
3: The Clare Curran saga
Picture this – it's Friday on a recess week. The Aussies have just elected their 4th Prime Minister that month and everyone is gearing up for the final game of the Bledisloe cup the next day.
Nothing interesting politically is meant to happen, right?
Wrong. So, so wrong.
The Prime Minister removed Clare Curran from Cabinet and stripped her of some portfolios after she failed to disclose a meeting, again.
Where am I when this is going down? 35,000 feet above Lake Taupo on a flight from Wellington to Auckland. When I landed, my phone exploded with notifications.
This latest development came after Curran had been pinged for the EXACT SAME THING a few months earlier.
The cynics might say this issue is far from over – and how the PM handles any future indiscretions from her Ministers will be under the microscope like never before.
2: Adrian Orr's first Monetary Policy Statement press conference
Okay, this one is not strictly politics, but I think it was very significant. There was a lot of hype around Adrian Orr, the Governor of the Reserve Bank, before he took the job.
His communication skills particularly were highly regarded and many were expecting him to inject a bit of colour into what can at times be pretty boring press conferences.
He didn't disappoint – he was funny, clever and articulate in a way that was highly engaging. What's more, he was appealing to more than just the economists.
"I think our challenge is to speak in plain English as opposed to a high-tech, scientific language around which only half a dozen people actually understand and even less are interested in," Orr said in May.
His new style was very well received by critics.
1: Winston Peter's tenure as Prime Minister
That was a fun six weeks, wasn't it?
NZ First Leader, and Deputy Prime Minister, Winston Peters' time in the top job was ALWAYS going to top this list. And the King of Kiwi politics didn't disappoint – although it can be argued he was more statesman than scrapper.
In fact, it was a pretty uncontroversial affair. He had his tussles with journalists but that was nothing compared to some of his other skirmishes.
He held his own in the House as Prime Minister, mostly.  
But at the end of the day, Winston was Winston and that in and of its self, made for some fun reporting.