BNZ reverses the trend of ever lower term deposit rate offers with a Chinese New Year 'special' that is close to the best offer in the market for any bank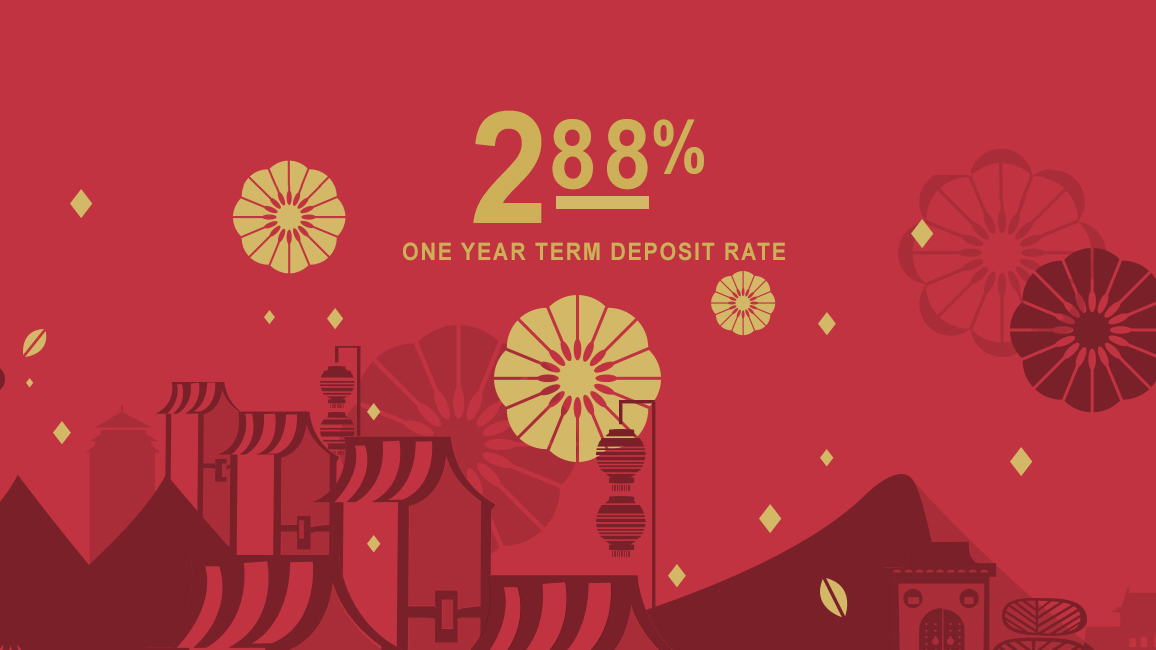 You know Chinese New Year is approaching - banks are starting to change some TD rates to end in an '8'.
The first to do so this year is BNZ who have launched a one year 'special' at 2.88%.
And it is a worthwhile 'special' because it has raised its offer by +28 bps from 2.60%
At 2.88%, that makes it nearly the highest one year offer from any New Zealand bank for this term, pipped only by Heartland Bank's 15 month 2.90% offer.
And at BNZ, interest can be paid as often as monthly.
In fact, apart from an offer from the specialist Indian branch of the Bank of Baroda, or Kookmin Bank's $100,000 four and five year terms, BNZ's 2.88% is the highest rate currently on offer from any bank for any term.
It comes at a time when one year wholesale swap rates have risen +4 bps in the past week, and have risen +30 bps in the past three months. Back at the low point in mid-October, BNZ had its one year term deposit offer at 2.60%, when it was first reduced to this level.
The average bank one year term deposit rate is currently 2.58%, and all-time record low and still trending down, although this new BNZ rate will take it up marginally to an average of 2.60%.
Analysts are expecting the December 2019 CPI level to show inflation rising. This data will be released at 10:45am on Friday. Kiwibank economists expect annual inflation to come in at 1.7%, ASB and Westpac economists expect 1.8%, and ANZ economists forecast 1.9%. BNZ economists have picked 1.8%.
If it does come in at +1.8%, for taxpayers on a 33% marginal tax rate, the new BNZ one year rate will deliver a tiny +0.13% tax-paid, real return. Taxpayers on a 30% marginal rate, the same real return would rise to +0.22%. For those on the 17.5% marginal rate, the real return would be +0.58% pa.
It is positive that this BNZ 'special' turns the tide of ever lower rates, higher. It is a move than many may not have expected in early 2020.
For readers looking for risk-free returns, we should also note that the 1.00% offer for the Government's Kiwi Bonds (for fixed 6 month, one year, two year and four year terms) is now available.
That the Government now offers Kiwi Bonds at a -80 bps discount to inflation is not a great signal to those who need low-risk interest income.
The updated rates in the table below are the highest offered by each institution for the terms listed. You will, however, need to check how often interest is credited or paid. That important factor is not filtered in the table and rates with various interest payment/credit arrangements are mixed here. However, our full tables do disclose the offer basis. (The codes are explained here).
Our unique term deposit calculator can help quantify what each offer will net you.
All carded, or advertised, term deposit rates for all financial institutions for terms of less than one year are here, and for terms of one-to-five years are here.
The latest headline rate offers are in this table.
for a $25,000 deposit

Rating
3/4 mths
5 / 6 / 7
mths
8 - 11
mths
  1 yr  
18mths
2 yrs
3 yrs
Main banks
 
 
 
 
 
 
 
 
ANZ
AA-
2.25
2.65
2.65
2.60
2.60
2.60
2.60
AA-
2.15
2.55
2.60
2.55
2.50
2.50
2.50
AA-
2.25
2.70
2.65
2.88
2.50
2.50
2.50
Kiwibank
A
2.25
2.65
2.65
2.60
 
2.50
2.50
AA-
2.25
2.65
2.70
2.60
2.60
2.60
2.60
Other banks
 
 
 
 
 
 
 
 
Co-operative Bank
BBB
2.05
2.60
2.60
2.60
2.50
2.50
2.50
BBB
2.40
2.80
2.80
2.80
2.90*
2.80
2.80
HSBC Premier
AA-
1.90
2.20
2.20
2.05
 
2.05
2.05
ICBC
A
2.45
2.90
2.80
2.80
2.80
2.80
2.80
A
2.05
2.70
2.65
2.55
2.50
2.50
2.50
BBB
2.25
2.70
2.70
2.60
2.60
2.60
2.60
A-
2.25
2.60
2.65
2.60
2.60
2.60
2.60
* = 15 months