HSBC trims its one year home loan rate to just 2.09% even as wholesale swap rates start moving up at the short end. It raised all rates for two years and longer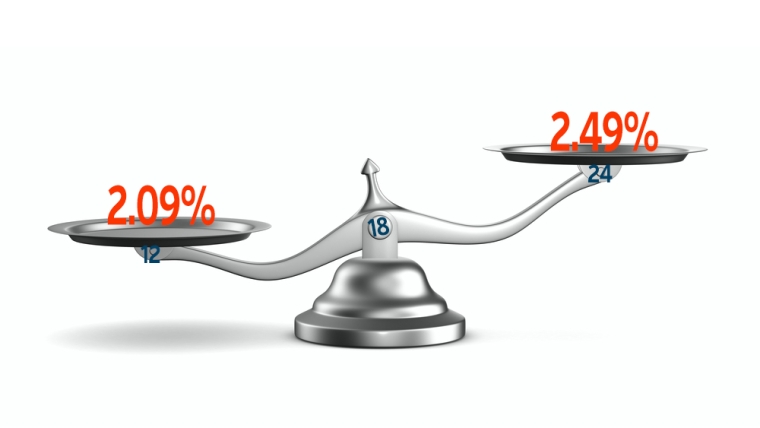 HSBC is the latest bank to change its fixed home loan rates, and they have steepened their rate curve pivoting on the 18 month rate.
Their Premier one year rate has been cut by -10 basis points to 2.09%.
All their two year and longer fixed rates have risen by increasing amounts.
Their two year fixed rate is up +4 bps to 2.49%.
Their three year fixed rate is up by +10 bps to 2.79%.
Their four year fixed rate is up by +20 bps to 3.19%.
And their five year fixed rate is up by +30 bps to 3.49%.
After these shifts, only China Construction Bank has a five year rate below 3%.
At the sort end, Heartland Bank has a one year fixed rate offer at 1.85% and the Co-operative Bank has a one year offer for first home buyers at 1.99%.
This overall rate pivot by banks in the mortgage market is less understandable when you look at wholesale swap rates. That is because since June 16, 2021*, one year swap rates have risen from 0.36% to 0.50%, a +14 bps rise in just two weeks. The two year wholesale swap rate is up from 0.52% to 0.79% and a +27 bps rise in the same two weeks. At some point these background money costs will push home loan rates higher at the short end too. (Five year swap rates ended June at the same level they started the month).
They will if banks don't take up the RBNZ's Funding for Lending programme. They can have that money at the OCR rate, currently 0.25%. But it is a floating rate, and some banks are expecting the OCR to rise, perhaps as early as November 2021 and less than 18 weeks away. However, the most the OCR is likely to rise is +25 bps which would take the FLP money then to 0.50% - and still lower than the current one or two year swap rates.
The opportunities to lock in especially low five-year fixed rates may have faded somewhat, but the current offers are still historically low, so probably still deserve attention if you are the view that rates can only go up over the next few years.
One useful way to make sense of these changed home loan rates is to use our full-function mortgage calculators. (Term deposit rates can be assessed using this calculator).
And if you already have a fixed term mortgage that is not up for renewal at this time, our break fee calculator may help you assess your options. Break fees should be minimal in a rising market.
Here is the updated snapshot of the lowest advertised fixed-term mortgage rates on offer from the key retail banks at the moment.
* The US Federal Reserve published a higher dot plat on June 17, causing a global rise in short-term wholesale funding rates.