Personal Finance
/
news
Government consultation paper floats three options for addressing financial hardship caused by the buy now, pay later sector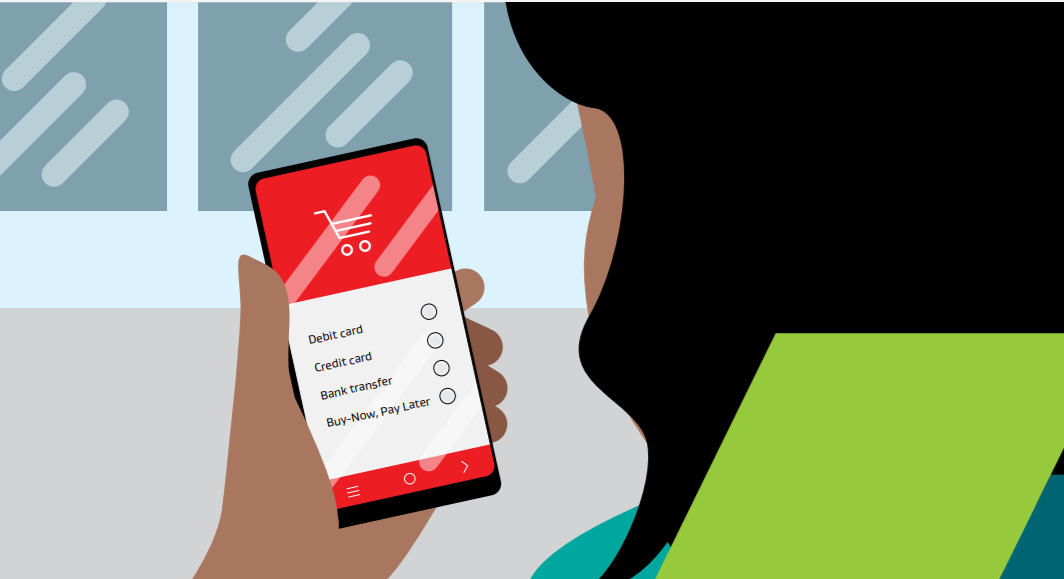 A government consultation paper looking at the the triggers of financial hardship caused by the buy now, pay later (BNPL) sector floats three possible options to address them including applying the Credit Contracts and Consumer Finance Act (CCCFA) to BNPL service providers.
Releasing the Ministry of Business, Innovation & Employment (MBIE) consultation document, Commerce and Consumer Affairs Minister David Clark says he has heard from financial mentoring organisations that BNPL is creating financial hardship for some people. 
"It is important to understand the extent of those harms and the actions that might best address them. That's why I have launched this consultation. The feedback received will help inform Government and the way we address any potential triggers of hardship, and achieve an effective BNPL sector," Clark says.
BNPL services allow consumers to purchase and obtain goods and services in-store or online immediately, but pay through installments over time. While there are no interest charges, there are penalty fees for late payments. MBIE says the Government wants to deliver long-term benefits to consumers by protecting their interests.
The three options
The first option MBIE floats is the status quo, meaning BNPL providers remaining free from consumer protection measures other debt providers face, thus giving them a competitive advantage.
The second option is the Government establishing incentives for BNPL providers to have an industry code that addresses the triggers of financial hardship.
And the third option is applying the CCCFA to regulate BNPL products.
The MBIE paper doesn't highlight a preferred option.
Because BNPL products don't charge interest or fees, other than missed payment fees, or take security, they aren't required to comply with CCCFA obligations for consumer credit contracts. The obligations applying to consumer credit contracts under the CCCFA include requirements that fees are reasonable and cost-based, that lenders provide adequate disclosure, and that lenders comply with responsible lending obligations.
Additionally BNPL providers aren't required to assess a consumer's financial position, or make an assessment as to whether the consumer is likely to be able to repay the credit without substantial hardship, as required under the CCCFA. Additionally BNPL falls outside the definition of "layby sale agreements" in the Fair Trading Act. Thus BNPL customers don't have the same protections under the FTA as they would with layby agreements.
The status quo
Of option one the paper says it means individual providers may decide to address the triggers of financial hardship identified and put policies in place ensuring BNPL is focused on consumers who are able to afford purchases suitable to their needs. However, this will reflect the individual priorities of BNPL providers. Thus there's risk of a lack of consistency across the BNPL sector.
"This means that the interests of some consumers will be protected while other consumers could be subject to the triggers of financial hardship," MBIE says.
The paper also says option one provides flexibility for the BNPL sector to continue innovating.
"The work being conducted by financial mentoring organisations and reputational drivers associated with either positive or negative protection of consumer interests may drive competition towards the long-term benefits of consumers. However, BNPL providers may not be sufficiently incentivised to tackle the triggers of financial hardship effectively and consistently across the sector as there is no legitimate way to hold the BNPL providers to account for not protecting consumers," MBIE says.
A voluntary industry code
Meanwhile MBIE says the second option would see the Government facilitate a voluntary industry code for the BNPL sector. This is similar to the Australian Finance Industry Association's BNPL Code of Practice implemented in March.
"The industry code would be focused on ensuring consumers are able to afford purchases and that BNPL is suitable for the needs of the consumer on an on-going basis, whilst ensuring there is sufficient flexibility for the sector to continue to innovate and provide competition," says MBIE.
This option would also include an ongoing independent review of how BNPL providers are addressing the triggers of financial hardship and protecting consumers' interests.
"The outcome of the review would then determine whether sufficient progress was being made on addressing triggers of financial hardship through the industry code. If the review determined that progress was insufficient, the Government may wish to pursue further regulatory options."
"In addition to the review providing legitimacy to the industry code, such a review would provide an effective monitoring and evaluation mechanism for the sector overall and be able to identify how individual BNPL providers may need to improve their performance to ensure compliance with the industry code," MBIE says.
"In terms of flexibility, an industry code is likely to allow the sector to continue innovating and therefore provide effective competition to other credit products. Whether an industry code is effective at protecting the interests of consumers, is supported by the credibility of the review."
If the review was to be credible and provide legitimacy to the industry code, it would need to be conducted independently of the sector and be regularly undertaken.
"One approach could be for the Minister to direct MBIE to conduct the review. Another approach could be for the Commerce Commission to be encouraged to conduct the review through the Minister of Consumer and Commerce Affair's annual Letter of Expectation process," MBIE says.
Consumer credit contracts
In terms of option three, MBIE says bringing BNPL under the CCCFA would see the sector's services deemed to be consumer credit contracts.
"Using this power would allow for BNPL products to be regulated under the CCCFA and impose minimum standards to all BNPL products."
Not having to comply with the CCCFA means BNPL products don't need to comply with the responsible lending obligation to assess that loans are affordable.
"The monitoring and enforcement powers available in the CCCFA provide legitimacy to Option Three. In terms of effectiveness, the CCCFA would protect consumer interests. However it will be important to ensure that exemptions from the CCCFA are fit for purpose to ensure there is sufficient flexibility for the sector to continue innovating and competing with other credit products," MBIE says.
"Given that the sector is evolving, there is a risk that even with exemptions from the CCCFA and a specific BNPL Responsible Lending Code (or amendments to the existing Responsible Lending Code), compliance would be unworkable for some BNPL providers, who may choose to exit. The resulting concentration in the sector could mean that the innovation and competition provided by BNPL across the financial system are lost."
"Over the long-term, as open banking and the ability for BNPL providers to assess affordability in real time increases, we consider that the risk of the CCCFA being unworkable for the sector is likely to decrease," says MBIE.
"An alternative approach could be to introduce aspects of CCCFA sequentially as the sector matures. For example, initially the sector could be subject to a disclosure requirement which then allows for the regulator to effectively monitor the BNPL sector (under section 111 of the CCCFA). This would allow the Government to explore whether additional aspects of the CCCFA are required to protect the interests of consumers. There may be additional costs to this approach which we would like to test with stakeholders."
MBIE notes that in the UK, February's Woolard Review recommended BNPL should be brought under the regulatory oversight of the Financial Conduct Authority and be required to undertake affordability checks, rather than credit checks which are focused on the risk of non-payment to the BNPL provider.
"The precise regulatory details of how affordability checks will be conducted in the UK is yet to be announced. However, open banking and the ability for consumer data to be shared in real time means that real-time affordability assessments could be a pragmatic option for BNPL providers operating in the UK," MBIE says.
The consultation paper points out the New Zealand Government is establishing a consumer data right that could be applied to the banking or financial services sector in order to develop open banking.
Bulk of revenue comes from merchant service fees
MBIE cites seven BNPL providers that are active in NZ being Afterpay, Humm, Zip, Laybuy, Genoapay (Latitude), Openpay and Klarna. There's also another, named Bundll. (You can see details on New Zealand's BNPL service providers here).
Based on information received by MBIE from some of the BNPL providers, the average BNPL transaction increased to $210 in 2020-21 from $200 in 2019- 20.
BNPL providers earn most of their revenue by charging businesses merchant service fees.
"The majority of the revenue BNPL providers earn comes from charging businesses a percentage value of the price of the product or service, or a fixed fee. Information received from some BNPL providers indicates that in 2020-21, around 68% to 82% of revenue was generated through fees charged to businesses," MBIE says.
"The percentage of revenue generated by default fees from consumers has fallen slightly from an average of 29% in 2019-20 to 26% in 2020-21."
"Various sources suggest that BNPL is rapidly becoming an established form of credit in New Zealand. According to data covering around 35% to 40% of the New Zealand BNPL market, the number of active consumers has doubled in the last two years, with an increase of 20% in the last year," MBIE adds.
The paper also notes that BNPL customer satisfaction is high, with about 75% of customers reporting extremely high satisfaction. And, MBIE notes, BNPL provides competition in the credit sector to traditional lenders by offering alternatives to existing credit products.
"Around 45% of BNPL customers also have credit cards and this trend has been relatively constant since January 2019...Users of BNPL and users of credit cards have similar credit scores. This suggests that for some consumers BNPL may be in competition with credit cards as the types of consumers having both credit cards and BNPL have a similar credit profile."
BNPL loan arrears higher
However, loan arrears rates are higher among BNPL users than among credit card and personal loan customers.
"Data covering around 35% to 40% of the New Zealand BNPL market, suggests that in August 2021, 8.3% of active BNPL customers were in arrears (late or missed payments). In comparison, around 7.9% of personal loans and 4.2% of credit cards were in arrears."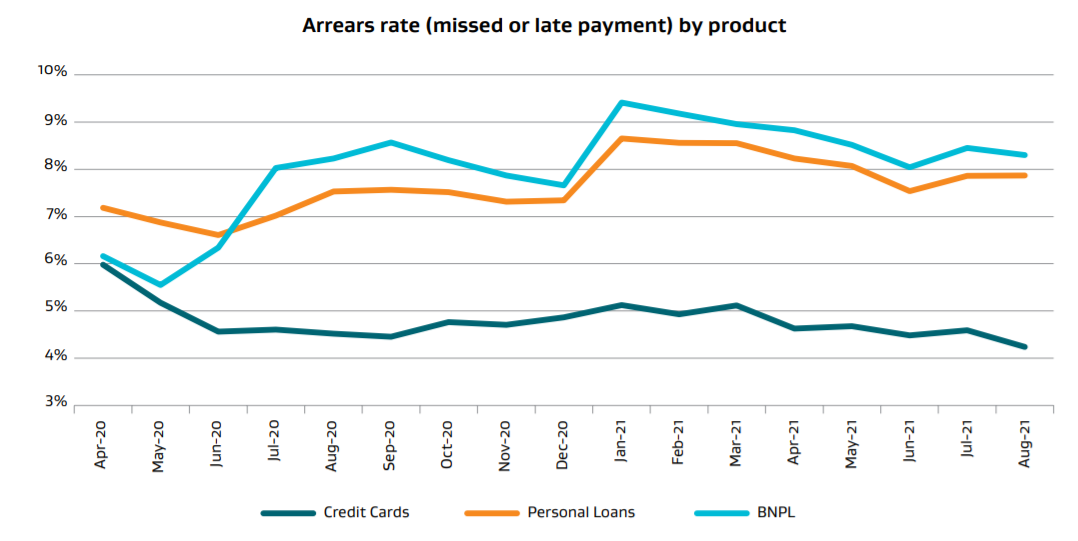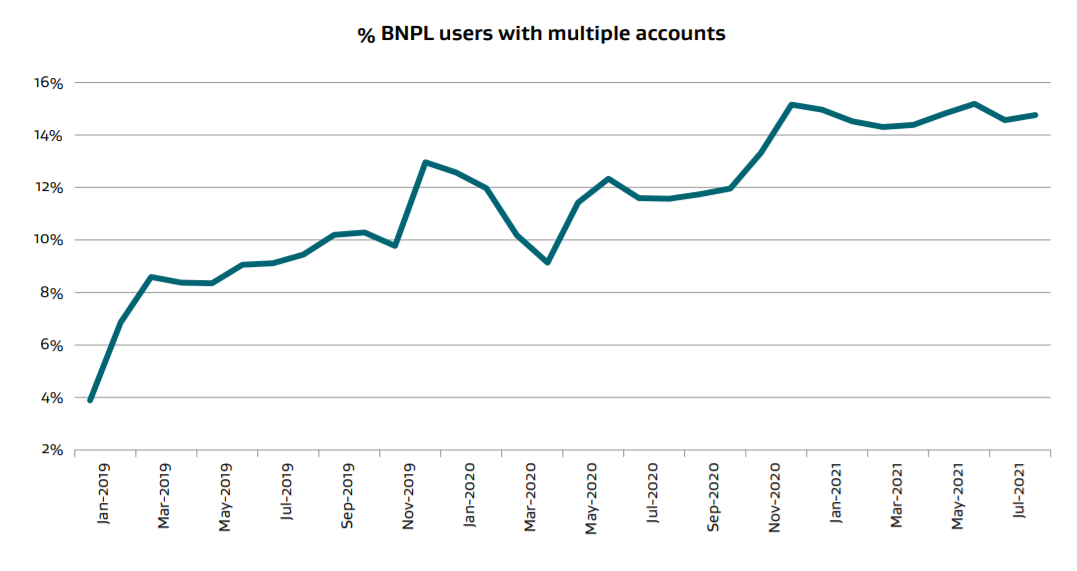 Charts: MBIE.
'Submit your feedback'
MBIE also probes issues around consumers using two or more BNPL providers. The paper points out that when an instalment payment is missed, many BNPL providers freeze the consumer's account.
"One approach could be to explore how BNPL providers could share information on consumers who have had their accounts frozen to avoid these consumers opening multiple BNPL accounts and risking financial hardship," the paper says.
And a way suggested to encourage consumers to be financially responsible is requiring them to use a personal finance management tool that would highlight to the consumer the timing of instalment payments, timing of other expenses, and how much total BNPL purchasing they are able to afford.
Clark says he wants people who use BNPL to be confident and informed participants in a transparent, competitive and innovative sector.  
"I encourage consumers, advocacy groups, businesses, BNPL providers and any other interested parties to submit their feedback and have their say," says Clark.  
Feedback on the consultation paper is due by 5pm on Thursday, December 16.
*This article was first published in our email for paying subscribers. See here for more details and how to subscribe.