Personal Finance
/
opinion
Economist Matt Nolan thinks the actions taken by the RBNZ so far have been generally appropriate, but concedes his 'personal comfort' doesn't match what people are saying to him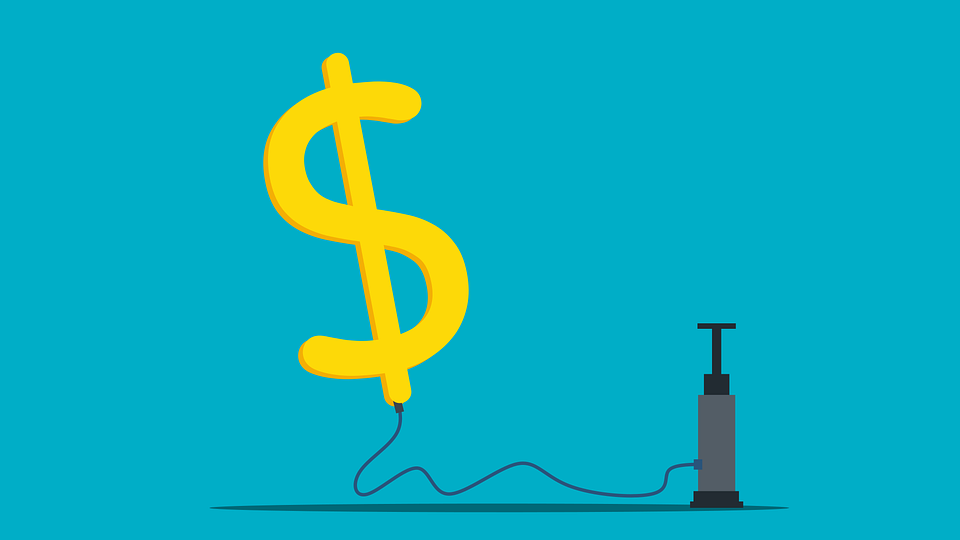 By Matt Nolan*
There is nothing like inflation to get a good headline - and as part of that it is almost obligatory to throw some shade at the Reserve Bank of New Zealand. So what is going on, and are we right to be so furious at the RBNZ?
You're probably thinking that this is another attention seeking economist ready to criticise the RBNZ about what is going on with the growth in consumer prices. Fair guess, especially because I think those economists tend to have some pretty good points. However, I think the implementation of the dual mandate and the actions taken by the RBNZ have been generally appropriate given the balance of risks.
But my personal comfort doesn't match what people say to me. I keep getting calls from people worried about the value of their retirement savings and individuals who are trying to work out if they should be bargaining for a wage increase between pay rounds.
So how can we explain all the inflation measures shooting up above the top of the RBNZ's target band in this graph without panicking?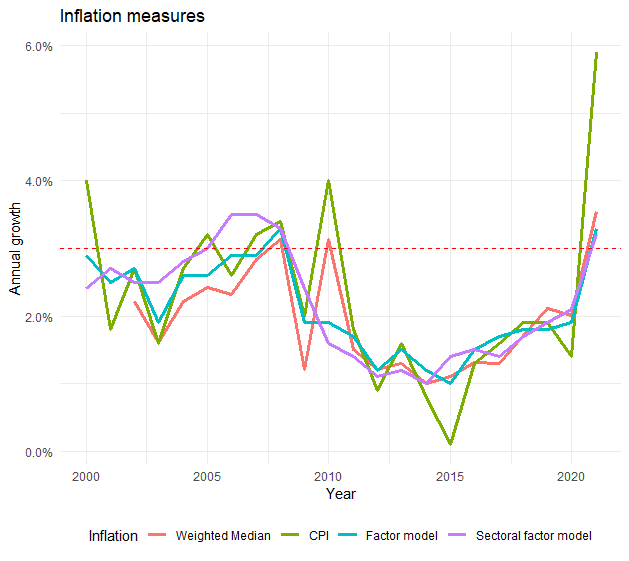 Let's start by working out our own little narrative to try to figure out what is going on?
So should we panic?
There is no need for panic, and I believe the RBNZ forecasts of where we are going - insofar as forecasts are always subject to hard to pick errors. Let me explain why.
Covid, the Russian invasion of Ukraine, and the related supply chain shocks are a "temporary" bad income shock for the New Zealand economy. Fiscal and monetary policy have been focused on alemorating the effect of these income shocks, and providing a credible path for managing overall demand when the shock reverses out.  With uncertainty about the size of the shock, part of this has translated into a sizable lift in prices.
In that situation what would we expect to see happen with prices in the future? 
We have a central bank that is targeting future inflation - not the price level - so when things start to open up again they don't intend to let the ticket price on goods and services fall in so far as they've perceived what is going on.
What does change going forward is that income growth should rise sharply.
Current real wage growth is very negative, and with monetary policy accommodating the price shock (prices don't fall, they just stop growing so quickly). With unemployment low and workers noticing that the buying power of their current pay has dropped, the dollar value of wages will be pushed up over the next couple of years - even with inflation falling.
However, things are never quite that simple. In the end, the price of some products that have shot through the roof - i.e. international air travel - will return back to earth. As that process happens overall price growth may come in lower than the Bank expects. With unemployment in New Zealand now very low, some degree of weak consumer price growth could be a consequence. Here the Bank will continue to project that inflation will return to 2%, but the amount wages will need to rise to buy the same set of goods and services will be a bit lower.
In both cases, if this is the nature of the economic shock facing New Zealand we would expect sharp reductions in the rate of growth in consumer prices and a recovery in real wages over the next 2-3 years.
The RBNZ is taking actions to ensure that this adjustment is as smooth as possible by managing the level of demand for New Zealand goods and services. They are doing this by setting monetary conditions (both interest rates and bond purchases) in such a way as to return inflation to its expected level and prevent unnecessary unemployment.
Put this way there is no need to panic - the spike in prices, even if it is relatively broad, is based on how the Bank and broader government policy has responded to a temporary income shock in the economy. The reduction in income isn't nice, but it isn't due to monetary policy - it is due to all of the horrible things happening right now!
For monetary policy what matters is that people don't start to expect and "price in" inflation that is unrelated to current supply-chain disruptions. This involves clearly communicating outcomes in price and wage growth that would be consistent with this adjustment, so that people bargaining in the economy have a clear idea whether they are bargaining for a real wage rise or just keeping up with a rising cost of living.
It is time to make this clearer
Whether you think New Zealand monetary policy is expertly managed or you believe that it is being run by three-monkeys in a trench coat there is one thing we'd probably agree on. The communication about the spike in consumer prices has been poor.
The February 23rd MPS release just stated that the official cash rate was now 1% and that headline inflation would go back to 2% "over the coming years".
If you aren't following every release by the RBNZ you'd never pick up that this was a 25 basis point increase, you'd have no understanding about why inflation would fall from its current high levels, and you wouldn't be clear whether that means the current high prices we're all struggling with are here to stay - in such a world it is easy to feel a bit panicked.
The Bank has continued to communicate as if this is the "status quo" and that this is a simple update. The truth is that current headline inflation offers a significant risk of unanchoring expectations that requires more than an update on the latest set of house price forecasts - it requires an economic narrative and explanation about the future path of policy and economic outcomes.
Once a quarter forecast documents are not sufficient - we need speeches, and more direct public focus on how the Bank expects the economy to get back to around 2% inflation in the medium term. This should be the absolute priority of a central bank - and the plethora of nice-to-have projects should go on hold until they are able to perform this core function.
When I read the February 2022 MPS I don't see a document linking monetary policy and economic projections to tell a narrative about how the RBNZ achieves its mandate. I see a series of disparate graphs with cookie-cutter text next to them.
When I scroll through the speeches made by the RBNZ, there has only been one speech on the monetary policy outlook in recent years - a very short speech on February 25th this year. It can be summarised as "trust us, and don't increase your expectations of inflation please".
There are two types of communication that are delivered by other central banks which are arguably absent in New Zealand - the communication to financial and economic professionals about how policy functions (i.e. this from a recent Fed Speech) and the communication with the public about what is expected to happen with prices and wages, the risks around this, and how this has changed. When clearly explained individuals can then use this for their own price and wage setting behaviour.
Both of these forms of communication matter as they help the public understand what is coming - thereby managing inflation expectations.
So in New Zealand, when wage growth picks up, how does the RBNZ currently communicate that? What part of increased rising wage growth is a transitory response to recent price pressure, and what increase would point to risks of a wage-price spiral? If inflation is more persistent, what actions will that trigger from the Bank? Get out and explain this to the rest of us!
Currently the Bank is far away from their target and unless us in the public can understand why, and how the RBNZ is going to get back to target, we can quickly turn around and start expecting inflation to persist forever. I already have friends pushing for large wage increases based on this very concern - and if this growth is then met by firms pushing up prices this is the very inflationary pressure that it is a central bank's job to prevent.
It isn't the dual mandate that is a problem, and it isn't the operationalisation of monetary policy through money and credit markets. It is the lack of active and open discussion about why things are happening with consumer prices.
I don't agree with the shock headlines out there from New Zealand journalists and economists bemoaning the failure of the central bank and out of control inflation - given the mandate and current policy settings. However, if the RBNZ can't improve its communication about what is likely to happen then the unanchoring of expectations will lead to a situation where these other economists are right, and my defence of the Bank is wrong.
---
*Economist Matt Nolan is a research manager at e61, an Australian not-for-profit economic research institute, and blogs on the TVHE website.