Housing reset: KiwiBuild eligibility broadened for buyers and developers; Developers to shoulder more risk; $400m of KiwiBuild funding to go towards new progressive home ownership schemes; Existing schemes supporting first-home-buyers bolstered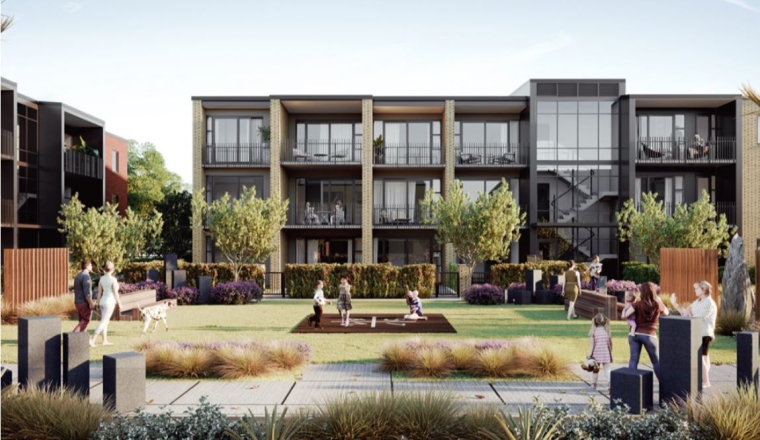 The Government has, after nine months, revealed its "housing reset".
KiwiBuild is staying, but the numerical targets around the number of houses built under the programme are going.
The Government is also reducing the amount of taxpayer money put on the line to pay developers if they don't sell properties they've tagged as "KiwiBuild".
Put another way, the Government is watering down the sweetener (by an unspecified amount) offered to encourage developers to build houses that meet the KiwiBuild criteria.
But to developers' benefits, it is giving them the option of selling some more expensive, larger houses to KiwiBuild buyers.
On the buyers' side, the Government is trying to broaden the pool of people eligible to buy KiwiBuild houses.
It's making it easier for people who have owned houses in the past to qualify and is reducing the amount of time owners of one-bedroom studio apartments need to live in their properties for from three years to one year. 
Further to the Labour/Green Party's Confidence and Supply Agreement, the Government is allocating $400 million of the $2 billion-recyclable fund put aside for KiwiBuild to support progressive home ownership schemes.
It hasn't detailed the nuts and bolts of the programme, but has said progressive home ownerships schemes could include shared equity and rent-to-buy set-ups. Schemes already offered by community organisations could be scaled-up and included in the Government's programme. 
Furthermore, as of October 1, the Government is providing more support for first-home-buyers by letting those eligible for KiwiSaver HomeStart Grants combine their grants if they'd like to buy a home together.
It is also reducing the deposit required for a government-backed mortgage from 10% to 5%.
In summary, the "housing reset" is seeing the KiwiBuild eligibility criteria broadened for both buyers and developers. 
Some taxpayer money is being shifted from KiwiBuild to yet-to-be-detailed progressive home ownerships schemes.
Developers of KiwiBuild homes won't be able to share as much of the risk with taxpayers. 
And more taxpayer money is being allocated to existing schemes aimed at supporting first-home-buyers.
Here are the details:
KIWIBUILD
- Numerical targets to go.
The focus, according to Housing Minister Megan Woods, will be on "building as many homes as we can, as fast as we can in the right places". A dashboard of statistics will be published each month.
Woods said KiwiBuild's targets were "part of the problem". She said a fixation on quantity was driving perverse outcomes - IE the Government underwriting developments in areas where there wasn't demand.
Woods said the Government would be "proactive" in turning down deals where there wasn't a clear market case.
- Government to provide less support to developers who can't sell KiwiBuild houses.
Woods said the amount made available as a part of the Government underwrite would be reduced "so developers are incentivised to sell to KiwiBuild first-home-buyers instead of triggering the underwrite".
She said the extent to which this underwrite would be reduced/the amount of risk developers would need to shoulder, would vary contract to contract. She said it was a matter of putting "enough tension" in those contracts.
- Developers can build some more expensive, larger homes.
Currently all houses have to be under set price caps. Looking ahead, up to 10% of KiwiBuild homes in a development can be over-cap if they are four-bedrooms or larger.
-  Criteria loosened for buyers.
Buyers of one-bedroom studios will only have to commit to living in their properties for a year, rather than three years, as remains the case for other KiwiBuild houses.
The asset test for "second chancers" or people who have previously owned homes is going. Currently second chancers can't have assets worth more than 20% of the relevant First Home Grant price cap for an existing home. Looking ahead there will be no asset limit. They'll still have to not currently own a home and meet other criteria including an income test.
Furthermore, Woods said: "Homes in Te Kauwhata, Canterbury and Wanaka that haven't sold will be released to the open market allowing us to reuse the government capital to get more developments underway where there is clear demand."
To date, there are 169 KiwiBuild homeowners. 258 KiwiBuild homes have been completed and the building of 10,356 homes has been contracted.
The programme was meant to deliver 100,000 houses over 10 years.
EXTENDED HOME OWNERSHIP SUPPORT
- First Home Grant cap on multiple buyers removed.
Currently the First Home Grant is capped at twice the individual cap for each property bought by three or more buyers. This cap will be removed.
- First Home Loan and First Home Grant deposit requirement lowered.
The deposit required for the above will fall from 10% to 5%.
PROGRESSIVE HOME OWNERSHIP
- $400 million to be made available to increase government support for progressive home ownership schemes.
Details around how this funding would be used haven't been revealed, however Green Party Co-Leader Marama Davidson indicated the Government would be "rolling out progressive home ownership schemes" and "supporting community housing providers and iwi to deliver progressive home ownership".
The Government said the number of households supported will depend on how it targets funding, but it expected 2500 to 4000 homes to benefit over four years. 
Woods expected to take a paper to Cabinet before the end of the year with a policy proposal. 
She was unapologetic for not having any concrete policy to announce, despite progressive home ownership schemes being on the cards for some time, saying time was needed to get it right.  
Other housing affordability-related work underway
The Government is working on major structural reforms aimed at improving housing affordability:
- Establishing Kāinga Ora-Homes and Communities on October 1 - an entity that will pull together Housing New Zealand, its subsidiary HLC and the KiwiBuild Unit, to lead urban development projects and be a public landlord.
- Passing legislation to give Kāinga Ora the power to override local planning laws to speed up development of large scale projects in designated areas.
- Reforming the Resource Management Act, however changes aren't expected to be made before the 2020 election.
- Introducing a new National Policy Statement on Urban Development that will direct local councils to provide for more intensification under the RMA.
- Reforming the Building Act to make way for prefabrication and better regulate building products.
- Introducing legislation to introduce new infrastructure funding mechanisms like the one used in Milldale north of Auckland that sees homeowners help fund local infrastructure via a levy added to their rates.
The Government has already made the following policy changes to curb demand for housing, with the aim of improving affordability:
- Extending the bright-line test from two to five years. This means if you sell a residential property that isn't your family home within five years of buying it, you'll have to pay tax on the capital gain.
- Ringfencing of rental losses. So rental losses can no longer be offset against an investor's other income.  
- Introducing a ban preventing non-residents from buying residential property in New Zealand.
National's response
Here's statement by National Housing Spokesperson Judith Collins in response to the reset:
The long-awaited KiwiBuild reset has proven to be a damp squib, with all the elements that made the policy unique now consigned to the rubbish bin, National's Housing spokesperson Judith Collins says.

"It's pretty easy to achieve targets when there aren't any, which appears to be the Government's strategy on housing. This shouldn't surprise given how averse it is to setting measurable targets in other areas like health and education.

"New Zealanders who dream of home ownership will feel justifiably let down by the KiwiBuild reset. The three key elements are gone – there's no 100,000 homes target, price caps have been loosened and the asset test for 'second chancers' is no more.

"There were no new initiatives to speed up the delivery of houses. All we got from the new Housing Minister was a commitment to try harder. What are prospective first-home buyers supposed to do with that? It's meant to be KiwiBuild, not KiwiHope.

"This is a massive retreat from the flashy promises that Labour fooled the public with for so many years. If they had taken this watered-down policy to the last election they would have been laughed out of town.

"More details are needed around the Government's progressive ownership schemes. There may be some merit in this approach, but the devil is always in the detail – and Labour's policies have a habit of being light on detail.

"For months I questioned whether the Government had robust processes in place to ensure houses were being built where there was need. Megan Woods now admits that wasn't the case and the taxpayer has underwritten $200 million worth of houses that can't be sold.

"At least, after two years in Government, Labour has finally figured out it should be building houses where people want them, not just wherever developers have spare land.

"Real change on housing will require RMA reform to eliminate red tape and bring down the cost of building for everyone. National invited Labour to work bipartisanly on this, but instead they set up a working group that won't report back until it is too late to make changes in this term of government.

"Labour talked a big game on housing but has failed to deliver meaningful change. The only KiwiBuild target still standing is the one on the Government's back if it doesn't get this right."