ANZ NZ retail boss Kerri Thompson says next major moves in fixed-term mortgage rates may be up
This article was first published in our email for paid subscribers this morning. See here for more details and to subscribe.
By Gareth Vaughan
The head of retail banking at ANZ New Zealand, the country's biggest bank, says there's a "bit of pressure" on fixed-term mortgage interest rates at the moment following recent rises in wholesale rates, hinting that rather than another round of cuts by the banks as seen in April-May, the next major moves may be up.
Kerri Thompson, managing director for retail banking at ANZ NZ which includes both the ANZ and National banks, told interest.co.nz in a Double Shot Interview the fixed-term mortgage rate cuts of April-May were less a mortgage war among the banks in a low growth environment as touted in the media, and more moves by banks to cut rates following drops in wholesale interest rates.
"So it made sense for us to change our fixed rates," Thompson said.
"(But) we're seeing wholesale rates move in a different way at the moment. And wholesale rates are so impacted by the global economy, whether it's Europe or the US, or what's going on in China. So it really depends on that as to whether our interest rates will go up and down. There's certainly a bit of pressure on fixed rates at the moment so we'll see what happens in those markets. But you need a crystal ball to work out exactly what's going to happen next."
Asked, (yesterday before Kiwibank unveiled a fresh six month "special offer" this morning), whether the next major moves could be up rather than down Thompson agreed that potentially they could be.
Swap rates have been on the rise over the past month. The one-year swap rate, for example, was at 2.73% yesterday, which is up 38 basis points since June 6. The two-year swap rate was at 2.85%, up 43 basis points since June 6, and the five-year was at 3.34%, up 38 basis points. (Also see the swap rates chart at the bottom of this story). Nonetheless, the most recent mortgage rate move by a big bank was ASB cutting its advertised five-year rate by 51 basis points to 5.99% this week.
More customers choosing to fix than float
Meanwhile, Thompson said fixed-term rates are back in vogue with customers, confirming monthly data out from the Reserve Bank this week showing the first drop in the industry wide value of floating mortgages since last August.
"We're seeing that 60% of the new mortgages are being fixed whereas a year ago it was the other way, 60% were floating so there has been a change," said Thompson.
"And you can understand people are saying  'we're at a very low interest rate at the moment and what is going to happen in the future?' We're (also) seeing many customers fix part of the loan and float part of the loan which is a sensible option."
With fixed-term rates, one-year was currently the most popular timeframe followed by two-year.
Market share growth
ANZ NZ has been growing its share of the residential mortgage market, with this up to about 31.70% as of March 31 from about 31.03% a year earlier, based on data from the banks' general disclosure statements. Its share of mortgage registrations has also been rising, something the bank pointed out in its half-year financial results via the chart below based on Terralink data.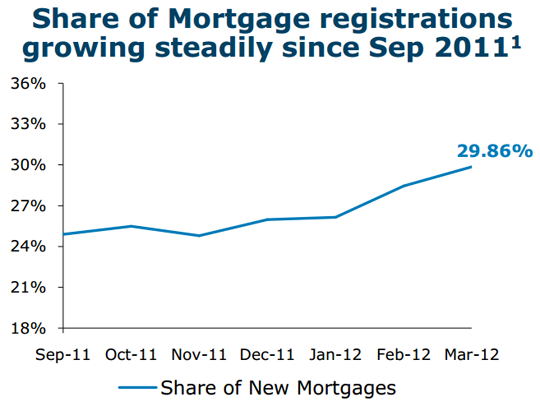 Thompson, who took the retail reigns in March 2010, said there has been a lot of focus on mortgage lending.
"We've increased the training in our front line, we've changed some of our processes, we've made it easier for our bankers, easier for our customers. But we're still focussed on making sure that we are making good quality credit decisions. So that hasn't changed at all," said Thompson, who has previously worked for ASB's parent Commonwealth Bank of Australia and General Electric.
"We see the buying of a home as something that's really important to Kiwis and we put more Kiwis into homes than any other bank in the country and we're proud of that. We want to continue to do that."
"We've put on more mobile mortgage managers that are there when customers want them."
'We certainly like to make sure that we're giving our customers what they need to stay with us and to come to us'
With much anecdotal evidence of banks' offering discounts of up to 50 or 60 basis points on advertised mortgage rates, throwing in thousands of dollars of cash to customers to cover the likes of legal and valuation costs, and even being prepared to pay - or contribute towards - break fees to help win business from customers on fixed-term loans with rival banks, Thompson said ANZ does what it calls "A to Z reviews" with borrowers whereby bankers talk to customers about their mortgage, insurance, KiwiSaver and other banking business.
"In doing that we develop that relationship where we can have a relationship with them if they are thinking about moving and we can encourage them about what's the total package that's best for them. So I think it's more about a long-term relationship than it is about stealing a particular product off each other in the banking market," said Thompson.
Specifically on reductions to advertised rates she said: "We certainly like to make sure that we're giving our customers what they need to stay with us and to come to us so we like to be able to understand what we're competing against. But at the same time we've also got to be careful about profitability and our long-term sustainability, which is terribly important. So we carefully and rationally make those decisions about whether we do discount off what the carded rate is."
Thompson acknowledged that competition was a factor in the ANZ and National banks continuing their NZ$1,000 cash back offer, which launched on October 26 last year, for longer than they may otherwise have done. To be eligible for this customers must take out new home lending of at least NZ$100,000, have their main transactional account with ANZ NZ and their salary or wages credited to this account, and have a credit card or insurance product with the bank.
"We had a lot of feedback from customers that when you're buying a home it's a tough time and it's also an exciting time. It's nice to put new curtains in or a new piece of furniture at the same time as you're going into a new home. So people have really appreciated the NZ$1,000 cash back so we've continued that perhaps longer than we would have normally and partly because of the competition in the market," said Thompson.
Home loans at 80-85% LVRs 'not as big a risk' as over 90%
Competing in a market that's growing only an a 1.5% annualised rate compared with double digit growth between 2003 and 2008, Thompson said ANZ encourages borrowers to have a deposit for a house of at least 10%. Earlier this year ANZ NZ CEO David Hisco hit out at rivals ASB, BNZ and Westpac over loan to valuation ratios (LVRs) above 90% on home loans saying this wasn't necessarily the right thing for customers or the best use of funds by a bank.
"We encourage people to have at least a 10% deposit," said Thompson. "An 80-85% (LVR) is not so big a risk, but once you get over 90% we get a little bit concerned and we get a lot more careful in that area."
"A couple of percent of the loans that we've written in recent times have been over 90% so we're very selective. And what we look for is what's their long-term employment sustainability, have the customers got good savings history, are they likely to be able to manage through a crisis that might happen. So it is a wholistic look at the customer's situation. In those situations we're pretty keen to make sure they've got insurance."