Westpac retail head says 'happy to talk' with existing customers about aggressive new mortgage offers targeting other banks' customers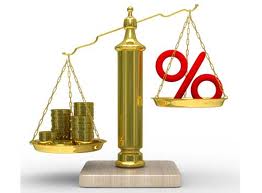 By Gareth Vaughan
Westpac NZ bankers will talk with any existing home loan customer interested in the bank's new, aggressive market leading fixed-term mortgage rates specifically aimed at enticing other banks' customers over, says Westpac's head of retail banking Ian Blair.
Westpac yesterday revealed new market leading one, three and five-year fixed-term mortgage rates conditional on borrowers having a minimum of 20% equity and taking out minimum new lending of NZ$100,000.
Asked by interest.co.nz whether he was concerned the offer might annoy existing Westpac customers, especially those on higher floating mortgage rates considering fixing, Blair said: "We're happy to have a chat with anyone. Certainly (with) existing customers, we're happy to discuss their financial position. But this is focused at new lending to the bank and customers who are looking to move their banking across to us."
"Our bankers and bank managers are empowered to make sure that our existing customers enjoy competitive rates in the market, not just on their home lending, but certainly on their broader package of financial solutions," added Blair, formerly Westpac's general manager of business banking who replaced Gai McGrath as head of retail banking in November.
Westpac's new mortgage rates saw it shave 36 basis points off its one-year rate reducing it to 4.89%, 51 basis points off its three-year rate dropping it to 5.39%, and 24 basis points off its five-year rate, cutting it to 5.75%, which interest.co.nz believes to be the lowest ever five-year rate advertised by a bank.
No discounts
Although there have been lots of discounts offered on advertised, or carded, rates by the banks in a low growth market over the past couple of years, Blair ruled out discounts from Westpac on these new rates.
"These rates are absolute and they are extremely competitive in the market space in the one, three and five-year space and well below any of our peers," Blair said. "All I can do is encourage those who are interested in those rates to come in and have a chat with us soon because I'm not sure how long we'll be holding those rates for. Certainly there'll be no further discounting on those rates in those terms."
Blair said about 70% of home loan customers taking out new loans, or rolling over existing ones, were currently choosing fixed-term ones as opposed to floating, or variable, rate mortgages.
In a presentation released last week by Australian parent Westpac Banking Corporation, Westpac NZ CEO Peter Clare said his bank's mortgage growth in the October to December quarter was below the system, or industry wide, level although ahead of system for loans with loan-to-valuation-ratios (LVRs) below 80%. Clare said Westpac NZ was "maintaining discipline" on pricing and risk in a subdued but competitive environment.
Blair reiterated that Westpac was growing ahead of market in lending with LVRs under 80%.
"It was the higher LVR, higher risk lending, where our peers outstripped us. Our focus is absolutely growth of a quality book and we will continue with that focus and you will note that the conditions that exist on these new rates will ensure that our growth continues in the higher quality, lower LVR area," said Blair.
Changed tune
December quarter figures aren't yet available, but in the September quarter Westpac grew home loans by just NZ$90 million, down from NZ$326 million in the June quarter.
"We've certainly stood out of the higher risk markets and the markets I refer to would be, for example, high LVR, small Auckland apartments. Some of our peers have had a greater appetite for leveraging up in what we think is a more volatile market," said Blair. "And also in addition to that, it's important that we take our responsibility as a lender seriously and only provide finance to those customers who we think are leveraged in a manner that's sustainable for them."
Westpac has changed its tune given that earlier last year it was running an advertising campaign offering home loans from as little as a 5% deposit, which included billboards such as the one pictured here.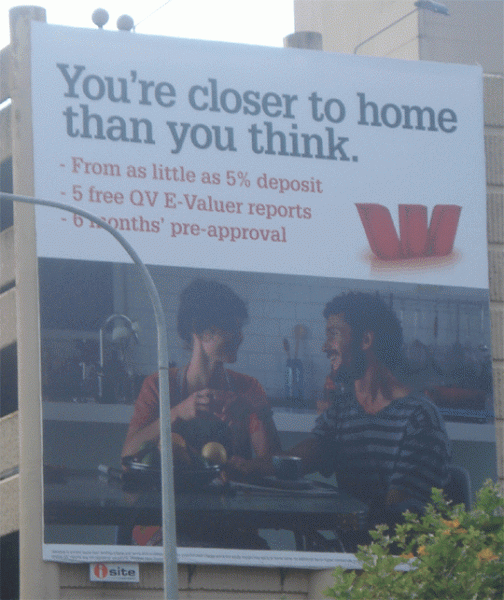 Figures from Westpac's latest General Disclosure Statement show the bank grew home loans in all LVR categories except "exceeds 90%", with this down NZ$133 million to NZ$3.022 billion in the three months to September 30. Loans in all other categories - below 60%, between 60% and 70%, between 70% and 80%, and between 80% and 90% - rose a combined NZ$223 million.
Based on Westpac's disclosure statements, in the year to September 30, 2011, it grew home loans with LVRs over 80% by NZ$608 million compared with growth of just NZ$150 million in the year to September 30, 2012. However, as a percentage of the bank's overall residential mortgage book, these high LVR loans rose to 24%, or NZ$8.629 billion, from 23%.
ASB loosened apartment lending, ANZ's 'aggressive' cash back offers
In terms of lending on apartments, interest.co.nz reported early last September that ASB had relaxed its LVR policy on selected borrowers buying apartments. From being prepared to lend 70% of the money required for an apartment purchase, or just 50% in the case of some smaller apartments, ASB was now prepared to go to 90%, we reported.
Meanwhile, Blair said ANZ - which has been dominant of late in terms of residential mortgage growth adding NZ$1.09 billion with of home loans in the June quarter and NZ$904 million in the September quarter - had taken a "very aggressive position" with cash back offers and providing money in hand to borrowers to switch to them.
"We've taken a defensive position on that from time to time," said Blair. "But I don't think that aligns well with responsible lending, - both leveraging up a customer and enticing them to buy with cash hand backs. We prefer to take a longer-term position and ensure that we offer good, sustainable rates for customers over a period of time rather than buying the business with cash in hand."
ANZ competition offering chance to win back value of mortgage repayments
Anecdotally ANZ has been at the forefront of aggressive moves by banks targeting other banks' customers over the past year in a low growth environment. This has included offering cash incentives and discounts to advertised interest rates. ANZ ran a formal cash offer of up to NZ$2,000 for borrowers, including up to NZ$1,000 towards legal fees and NZ$1,000 cash for new home lending over NZ$100,000 between October 2011 and the end of January.
An ANZ spokesman says the bank will still contribute up to NZ$1,000 towards legal fees for new customers but is now running a competition whereby 10 customers will win back the value of their annual mortgage repayments every month. The offer applies to new and existing ANZ home loan customers. ANZ's also offering 20 cash prizes of NZ$2,000 each month. See ANZ's new advert here.
Reserve Bank sector credit data is showing an uptick in housing loan growth. Figures for the December month show  3.7% growth year-on-year, the fastest rate since 4.1% in January 2009. That's still well down on the double digit growth recorded between January 2003 and April 2008, which peaked at 17.5% in April 2004. For 2013 as a whole Blair said Westpac's picking a growth rate of about 5%.
This article was first published in our email for paid subscribers. See here for more details and to subscribe.