ASB CEO Barbara Chapman defends bank's low equity home loans, says default levels lower than on other home loans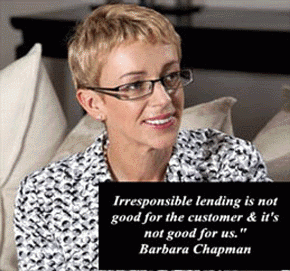 By Gareth Vaughan
ASB CEO Barbara Chapman reckons it's a question of when, not if, the Reserve Bank will actually implement its "speed limits" on banks' low equity home loans, but defended such lending saying ASB's low equity mortgages were subject to lower levels of default than its other loans.
Speaking to interest.co.nz yesterday after ASB posted record annual net profit after tax of $705 million, Chapman said it was merely a question of how much the limit's set at and when the policy is introduced, rather than if the Reserve Bank pulls the trigger.
"I do (think they'll implement the policy), they've certainly given no indication to us that they won't," said Chapman. "It's just a question of how much and when and we don't know that yet."
The Reserve Bank says any implementation of loan-to-value ratio (LVR) restrictions, which would be on a temporary basis, would typically take the form of "speed limits" limiting the share of new high LVR lending that banks may do, rather than banning such lending altogether. The Reserve Bank "generally defines" high-LVR lending as loans with an LVR of 80% or more, and LVR restrictions would be unlikely to be imposed below this threshold.
The Reserve Bank has said each restriction would be specified in the form of a "speed limit" meaning no more than X percent of applicable new mortgage lending over each specified period can have an LVR greater than or equal to Y percent.
ASB grew home loans in the June quarter by about $844 million. This comes after ASB's last two general disclosure statement showed it grew home loans by $1.7 billion, combined, over the December and March quarters with $1.4 billion, or 84%, coming in high LVR lending. This was a much bigger percentage of high LVR lending than the other banks.
Chapman said the proportion of new lending coming from high LVR loans remained "quite high" in the June quarter, but it was down.
"It's certainly quite a high proportion and that's partly to do not just with the amount of lending we're writing, because we're still writing more loans at a lower LVR than at an over 80% LVR, but the lower LVR book runs off faster. It's a much bigger book so on a net position you can see a lot of that growth is in that high LVR lending. But there's no doubt it has come back a bit from where we were in the prior quarter."
About 20% of new home lending at high LVRs
In the June quarter she estimated just over 20% of new residential mortgage lending came from high LVR lending, or loans where borrowers have a deposit equivalent to less than 20% of the value of the property they're buying.
And Chapman defended the high LVR lending ASB had been doing.
"Any suggestion that we lend more than 80% of the value of a home to people that are financially struggling isn't right. And in fact it would be very irresponsible for us to do that," she said.
"The above 80% LVR part of our (loan) book isn't subject to high levels of default. In fact it's performing slightly better than other parts of our book. So to us this is about the way we assess customers. Obviously we've got a very long history of lending to young couples who are potentially going to go away and have a family. It's about talking to those customers and about what their plans are and understanding their financial needs and lending responsibly to them," added Chapman.
"Irresponsible lending is not good for the customer and it's not good for us."
'A step change'
Asked what impact a Reserve Bank speed limit of 10% might have Chapman noted an example provided in a Reserve Bank consultation paper that suggested in any three month period banks would be limited to no more than 12% of their mortgage lending being above 80% LVRs and no more than 5% above 90%.
"That would be quite a step change. If you imagine that we are lending at about 20% (LVR loans as a percentage of new residential mortgage lending) at the moment, that is quite a drop down," she said.
"That's going to affect a number of people. If you can picture a young couple buying their first home, if you picture a businessperson who is wanting to use equity in their home to invest in a small business, or someone doing renovations or (buying) an investment property, it's going to have an across the board impact on the market," Chapman said.
This week the Reserve Bank made some changes to how the LVR speed limits would be implemented after consultation.
One significant change, based on feedback from banks, is over mortgage pre-approvals to provide housing finance that can be valid for up to six months. The Reserve Bank said some banks had indicated they might be unable to meet a speed limit in the first few months of it being introduced due to a pipeline of pre-approved loans.
To address this the Reserve Bank has decided banks would initially be required to meet a speed limit on high LVR lending measured as an average rate over a six-month window. 
"Thereafter, the speed limit for banks with lending in excess of $100 million per month would apply to the average rate over three-month windows, as originally proposed," the Reserve Bank said.
The regulator said this change was needed because some banks had so many pre-approved high LVR mortgages they would have breached any limits placed on high LVR lending straight away.
Asked whether ASB had been in this boat Chapman said: "I think that was a concern. (But) it's not really a question of were you or weren't you. The reality of having pre-approved home loan certificates out in the market is that you genuinely don't often know when they are going to land."
"So customers can hold onto those certificates for a number of months. They could buy a house tomorrow, they could buy a house at the end of October. And if you've got a number of these things out in the market you just don't know when they are going to hit. So there was a potential for anyone, I would have thought, to have breached those limits under those circumstances," said Chapman.
'Supply shortage driving prices up'
 The latest Real Estate Institute of New Zealand (REINZ) figures show the national REINZ Stratified Housing Price Index, which adjusts for some of the variations in mix that can impact on the median price, rose 8.6% in the year to July. The Auckland Index rose 13.9% year-on-year and the Christchurch Index 5.4%. However, the Auckland Index was down 4.4% month-on-month, while the Christchurch Index was down 4.1%.
 Chapman said the main reason behind Auckland and Christchurch price rises was a lack of supply.
"So until supply really comes on stream with things like the Housing Accord in Auckland, then there is going to remain pressure in the market and it is that kind of pressure that concerns the Reserve Bank and hence their move," Chapman said.
The Auckland Housing Accord, a deal reached by the Government and Auckland Council in May, foresees a total of 39,000 new houses being built in Auckland over three years from September. Asked whether she thought this target was achievable Chapman noted it required a lot more houses to be built than have been over the past few years.
"It's certainly a lot stronger than where we have been in the last wee while which is about 7,000 a year, I think, and the long run (20-year) average in Auckland is about 7,500 a year. So it is a big step up from that.

I think it will require a lot of developers and a lot of development going on. But obviously the Government and council believe that's achievable because that's the number they've set."
This article was first published in our email for paid subscribers. See here for more details and to subscribe.