Key denies land tax for foreigners would break 'no new taxes' promise; says supply still best way to deal with Auckland housing issue; says first home buyers should buy apartments first; Seymour attacks 'third new tax'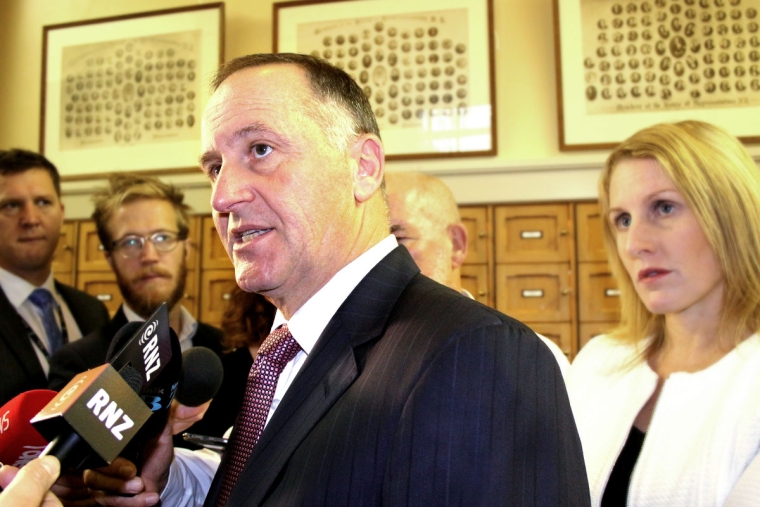 By Bernard Hickey
Prime Minister John Key has defended his suggestion of a land tax on non-residents, saying it was not a broken promise because it would not apply to New Zealanders.
Key said he could not rule out such a tax before the next election, but that it was not imminent and would depend on the data collected on the extent of non-resident buying, which is expected to be published in the next two weeks.
"There's no doubt that if you really want to choke off demand, there are lots of ways the Government can do that and by far the strongest way is through a land tax," Key told reporters.

"It wouldn't be a tax on New Zealanders, per se," he said when asked if it was a broken promise.
ACT Leader and Government coalition member David Seymour attacked Key's suggestion as another broken tax promise, while Labour Housing Spokesman Phil Twyford questioned whether it would work to quell rampant house price inflation.
Key repeated comments made over the weekend that a land tax for non-residents was an option, although he described it only as one of the options in a tool box and dependent on what the data due in two weeks would say.
"It's not unique. Victoria has it," Key told reporters yesterday in Auckland.
Victoria announced on Friday it would more than double its stamp duty on non-resident investors to 7% from 3% from July 1. It is a stamp duty rather than an annual land tax.
"There are plenty of countries in the world that do apply a land tax at a higher differential rate or only apply it to non residents," he said.
"Let's have a look at the data and see whether it really stacks up because if the data ultimately shows that the number of buyers who are buying properties, particularly in Auckland, are for the most part New Zealand residents, and a land tax wouldn't apply to them, then there's not much point in putting it on."
'Buy apartments first'
Key said the Government had other options for addressing the demand-side of the housing market, but he cautioned that supply was the best solution and he was wary of affecting first home buyers. He said a broader land tax, which the Tax Working Group recommended as an option in 2010, would not be fair on first home buyers, although he did not explain why.
"If we can fix the issue through supply, and overall I believe we can, then along the way we create a bigger city and a lot of jobs," he said.
He suggested first home buyers in Auckland focus on buying an apartment first.
"If you look at what's been happening in housing, 44% of all new consents in Auckland have been in apartments. It's highly likely for a lot of first home buyers -- young people -- that an apartment will be realistic place that they start. That's equally true in Australia. Most people that live in Australia, that live in the UK, in the United States, their first home is an apartment," Key said.
"They probably enjoy that while they don't have children and then as their needs become greater they transition out to a greater property," he said.
Opposition attacks
Twyford said a land tax on non-residents could push up rents and risked having no effect on prices, given capital gains over the last year of 25%.
"The Government needs to explain why the thousands of dollars overseas-based landlords will be forced to pay in land tax wouldn't simply be passed on to tenants," he said.
"If the tax is too low, foreign speculators won't be discouraged and they'll just treat it as the cost of doing business. If it is ratcheted up as high as 10 per cent -- as the PM has suggested could be an option – then it will be a de facto ban, and in which case why not just adopt Labour's ban?"
Seymour said the introduction of a land tax would break National's promise not to introduce a new tax for a third time, given the introduction of a travel levy and the two year bright line test for taxing capital gains.
"For the third time now, this promise could be broken, as the Prime Minister ponders a land tax. It's another example of National campaigning from the Right and governing from the Left," Seymour said.
"The tax would likely include expat Kiwis and could easily be extended by a future government to Kiwis within New Zealand. Homeowners are getting bled dry with rate bills as it is. Whatever happened to 'your house, your castle'?," he said.
'Restrict buying instead'
Meanwhile, Property Institute CEO Ashley Church said the Government should adopt the Australian policy of limiting foreign buying of existing homes and forcing foreign investors to instead fund the building of new homes.
"Taxing foreign investors might make a few people feel better – but it will do little to slow down house price inflation in the Auckland market," Church said.
"The only way to slow the growth in Auckland house prices is to build more homes as quickly as possible – so rather than penalising those who want to invest in our real estate market, we should be channelling that investment into getting more homes built, more quickly," he said.