Public Policy
/
opinion
TOP's Raf Manji on UBI, land value tax, monetary financing and more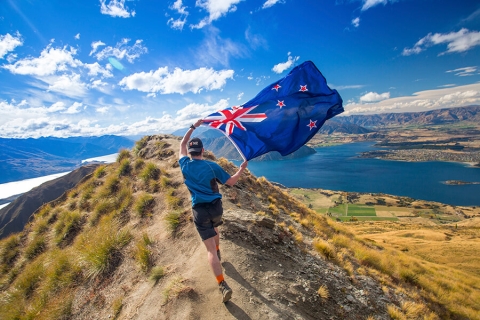 By Raf Manji*
When I last wrote a series of articles for Interest.co.nz back in early 2020, my concerns were centred on whether the Reserve Bank would manage a Quantitative Easing (QE) programme to support the real economy and not boost asset prices, as previous programmes had done. The evidence from the post-Global Financial Crisis (GFC) response was clear that misdirection of new investment would benefit those with access to capital, and able to enjoy the fruits of low interest rates. 
As early as August 2020, we could see that house prices were starting to take off and that the economy, far from collapsing, was operating at a reasonable level. Added to that, domestically constrained savings and deferred consumption was starting to fuel demand for housing and other goods such as cars, boats and home renovations.
The financial authorities did not respond, seeing this as a good outcome, and an example of the wealth effect at work. In the 18 months since the emergency COVID-19 rate cut, the median house price has risen by 36%.
At the same time, there are enormous pressures at the lower end of the socio-economic scale, with increasing rents, a huge public housing waiting list, more children in benefit-dependent households, unmet demand for foodbank support and increasingly precarious financial situations for many, even with a low unemployment rate.
The Labour government, now in its fifth year in charge, has not addressed the structural problems, with the Prime Minister even ruling out a basic Capital Gains Tax for the lifetime of her rule. So when I was approached to consider taking over the Leadership of The Opportunities Party (TOP), I figured it was now or never. We simply cannot wait any longer to rebalance the system and anything I could do to support that was worth the effort. 
As a discussion starter, I posted up on Twitter FIVE policy areas I was interested in exploring and bringing to fruition: UBI (Universal Basic Income), LVT (Land Value Taxation), TCP (True Cost Pricing), OMF (Overt Monetary Financing) and NSC (New Social Contract). The first four ideas deal with the basic pillars of a society: income, taxation, environment and money, all underpinned by a deeper understanding of citizenship. 
Anyone who has heard of TOP probably knows that Universal Basic Income is its flagship policy. Redesigning a welfare system to support all people, whether in paid work or not, is about recognising the value and dignity of the individual and all the various contributions people make in their lives. It acknowledges the complex needs of modern life, the uncertainties, as we have seen with Covid-19, and a more precarious system of work.
It does away with the unending cycle of bureaucratic intervention and paperwork that simply shouldn't be necessary to provide basic support to all and incentivises work by removing abatement issues for those on lower incomes. It also directs that support for health and wellbeing issues, such as disability, learning support and specialist care are properly provided and funded through the health and wellbeing system. 
Some of the questions we often hear in response to a UBI are how will you pay for it and why do well-off people need it? These questions are answered by a well-structured and fair tax policy, which taxes housing properly. If you are well-off the extra income you receive through a UBI will be taxed back through housing, which is where most of our wealth resides (since Labour came into power, house values are up over $500b!).
There is a debate on how best to tax housing, whether the equity in it (TOP's current policy) or the land itself. I've always been interested in Land Value Taxation. It's an idea that has been around for 150 years and implemented in various forms around the world.
In recent times there has been somewhat of a renaissance, given the huge increase in land values. The Tax Working Group looked at it but in only in a very cursory way. I like the ease of collection, the fairness and efficiency of it. When people talk about house prices going up, what they actually mean is land values increasing. It's a policy area that seems to have appeal across the economics spectrum. Whatever the final result of the policy process, our outrageously over-priced housing system cannot continue on its perilous path. 
On an equally perilous path is our environment, with degraded waterways, lakes and rivers. Climate change continues to impact, through increased heat, drought and floods. One of the major challenges around managing the use of our environment is the lack of pricing for negatives impacting on the ecosystem.
Pricing externalities has long been a proposal from ecological economists, in order to more accurately inform consumers as to the true cost of production but also make sure that polluters pay and pay properly. This is part of TOP's Biodiversity policy framework and is something that consumers, investors and regulators will increasingly demand to see.
One example of this could be a methane tax on cows, which would be recycled into research and actions to offset the methane. Whilst farmers might initially resist this, it would be welcomed by all stakeholders, provide targeted funding for improvements and get ahead of the regulatory curve. 
Underpinning the three big issues is our monetary and financial system. The system has been directed at high-leveraged financial asset investment for far too long. One would have hoped that the carnage and wreckage of the GFC would have seen a change to lending practices but the monetary and fiscal response was predicated on boosting financial markets and housing, instead of a relentless focus on productive investment such as public services, infrastructure, research and innovation.
One proposal that came out of the GFC was coined as Overt Monetary Financing, an all-encompassing term calling for a shift in the monetary and fiscal framework from a focus on monetary policy, austerity and debt-to-GDP ratios towards outcomes in public spending. With inflation still the overriding indicator, governments could fund public services and investment as required without too much concern over debt levels. This is both a question of how governments fund themselves, as we have seen with QE, but also how a more flexible monetary and fiscal policy should operate: should it be for the interests of capital or for better outcomes for people?
And what of the people? What is their part in all this? One only has to look overseas to see levels of anger and frustration rising, as people sense something is broken, the feeling that the implied social contract is no longer working. Get a job, work hard, live a good life, participate in your community…how can you do that when you can barely afford to live, or when you feel the system is completely out of whack? New Zealand is not immune from the social challenges we've witnessed in the US, UK and France in recent years. I believe it's time to re-think our social contract and put in place some foundational support to enable that. 
As well as rebalancing our major policy frameworks to create a fairer playing field, I think it's worth discussing a new National Civic Service model. This would focus on four key areas: civil defence, civics, conservation, and community. These courses would be short in length (one to two weeks) and accessible at any time. They could also be offered to new arrivals. We already have the organisations who could deliver the courses and the funding would be an investment in our citizens and residents, and a way of building a stronger sense of belonging and social cohesion.  
When you put all these proposals together, I believe that a sense of direction and purpose emerges. There will be many challenges and pressures ahead. To address those, we need new ideas, fresh debates and a clearer vision for Aotearoa New Zealand. Because in the end, if you don't know where you are trying to go, any road will take you there. 
---
*Raf Manji is leader of The Opportunities Party.