Reserve Bank expected to take a 'steady as she goes' approach towards lifting interest rates, but a big 50-point rise is a possibility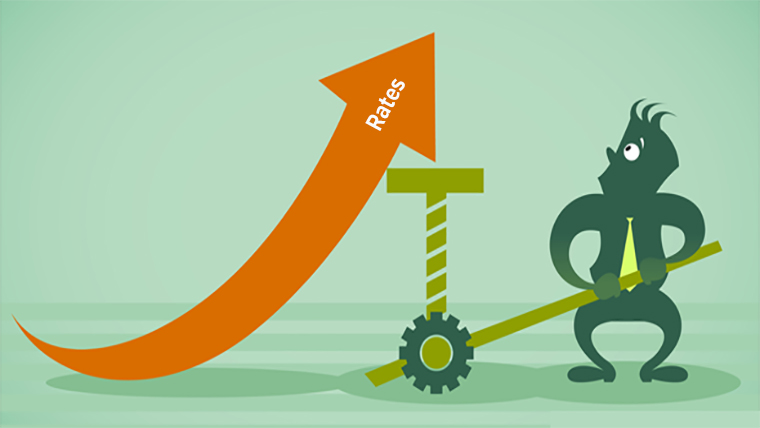 The Reserve Bank's (RBNZ) Monetary Policy Committee is widely expected to raise the Official Cash Rate (OCR) following its first meeting for the year on Wednesday.
Most bets are on it lifting the rate by 25 points from 0.75% to 1%, but a 50-point raise is a possibility.
Inflation is running well beyond the committee's 1% to 3% target range, with the Consumers Price Index up 5.9% in the year to the December quarter.
The labour market is tight, with the unemployment rate coming in at 3.2% in the December quarter.
However, uncertainty remains, with the omicron variant of Covid-19 only just taking off in New Zealand. Concerns around this could prevent the RBNZ from making a splash with a 50-point raise.
On the flipside, further supply chain disruptions caused by sickness locally (in addition to internationally) could actually be inflationary.
The Monetary Policy Committee is also expected to provide guidance on how it plans to reduce the size of its bond holdings.
The RBNZ bought $54 billion of New Zealand Government Bonds between March 2020 and July 2021 as a part of its Large-Scale Asset Purchase (LSAP) programme, designed to put downward pressure on interest rates.
The question is, will the RBNZ let the bonds drop off its balance sheet as they mature, or will it actively sell the bonds back to the Treasury.
BNZ senior strategist Nick Smyth sees it doing the latter. See this story for details.
The RBNZ is also expected to keep its Funding for Lending Programme (FLP) in place.
The programme, launched in response to the pandemic, sees it lend money to banks at the OCR. It's another mechanism the RBNZ has used to suppress interest rates.
Some RBNZ observers have been calling for the central bank to ditch the programme, as it seems counterintuitive for it to be adding liquidity to the financial system at a time it's tightening monetary policy.
However, the RBNZ has previously said it plans to stick to its word, and keep the programme in place until December 2022.
To date, banks have accessed $7.73 billion of term funding via the programme. The last time a drawdown was made was on January 26.
Coming back to the OCR, this will be the main focus of Wednesday's Monetary Policy Statement.
Observers will be interested in seeing how high the committee foresees the rate going. Bank economists see it peaking at around 2.75% or 3% mid-next year.
Zollner summarises the arguments for a 25-point vs a 50-point raise
As for the decision around whether to go for the 25 or 50-point hike, ANZ chief economist Sharon Zollner expects the committee to opt for a 25-point lift. She provided a good summary of the two schools of thought:
Argument for a 25-point rise:
- But you said. The RBNZ has made it clear they prefer to move in steady 25bp steps unless the risks are a landslide in one direction.

- Less risky alternatives. Beyond moving the OCR itself, the forecast track has a huge impact. A more aggressive OCR forecast delivers more tightening upfront – with less risk of a U-turn in actual policy.

- Omicron chaos is just kicking off. Relatively short-lived it may be, but it's going to be intense and enormously stressful for many firms, and a double hike might look a little tone-deaf in that context.

- Broader financial conditions have tightened materially. The CCCFA and LVR rules have tightened credit availability. Swap rates suggest mortgage rates will rise. Long yields are up. Our Financial Conditions Index has tightened rapidly.

- The housing market is already in retreat, with house sales falling and annual house price inflation rapidly losing steam. That's very unusual so early in a hiking cycle, when more typically the RBNZ is struggling to get traction. It's quite a game changer.
Argument for a 50-point rise:
- Q4 CPI inflation came out at 5.9% (RBNZ expectation: 5.7%), led by domestic inflation. Core measures are all outside the target band.

- The Nike argument. If you're confident you have a big job to do, why not get going? A slower start means higher rates for longer, all else equal.

- The Bank of England nearly kicked off their hiking cycle with 50bp. It was a close-run thing, with a 5-4 vote. The Fed's Bullard is in favour of a 50bp start in the US too.

- The RBNZ has shown it doesn't mind surprising the market. And the market is on the fence anyway.

- Omicron is going to be inflationary, if anything. The experience of the rest of the world means the RBNZ will be comfortable forecasting Omicron's negative impacts on demand to blow through fairly rapidly.

- The NZD is sharply lower. That will add to imported inflation pressures.

- Energy prices keep rising. Petrol prices have an outsized impact on household inflation expectations in particular, but also hit firms' costs.
'Foot in each camp' factors 
- Inflation expectations in the RBNZ's survey rose, with the 5-year measure lifting from 2.17% to 2.30%. A 0.3% deviation from the target midpoint is not insignificant at that time horizon, but it would be an exaggeration to suggest it's into the danger zone.

- The unemployment rate, at 3.2%, was in line with RBNZ expectations but with slightly disappointing employment and wage growth. Still, unemployment is at a fresh record low.
Curve control
Sean Keane, of Triple T Consulting, also made an interesting point in a note he wrote for Credit Suisse.
"Were the Monetary Policy Committee to deliver a 50bp hike, they would need to get the tone right so that 3-5-year mortgage rates didn't start falling on the expectation that the RBNZ will contain inflation more quickly and trigger a faster slowdown," Keane said.
"That would mean hiking by 50bp and being hawkish in tone. The rate market would need to price the terminal rate above 3% in that scenario.
"Recent history would suggest that the Committee's preference is for a slow and steady tightening of monetary conditions however, with the message remaining one of indicating at each meeting that more rate hikes are going to be needed over the months ahead.  
"The level of price pressure in New Zealand at present probably warrants a 50bp rate increase, but delivering one poses some challenges to curve control that the RBNZ may prefer to avoid at this stage."
Keane also said, "The RBNZ really should have hiked the OCR by 0.50% at the last meeting of 2021, and by not doing so they have allowed inflation expectations to build further and faster. 
"Inflation is quickly becoming a political as much as an economic issue in New Zealand with the opposition National Party now committed to removing the RBNZ's mandate on employment and focus on housing. This means that inflation outcomes will become increasingly important for both the RBNZ and Prime Minister Ardern."