Part three of our coverage of the ANZ report Greener Pastures: The Global Soft Commodity Opportunity for Australia and New Zealand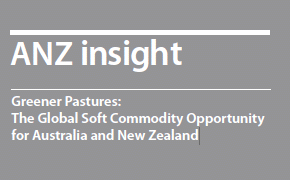 ANZ has released a major Report (.pdf 13MB) detailing the opportunities for Australia and New Zealand for agricultural commodities over the next 30 years.
Gareth Vaughan discussed the Report's finding with ANZ's Graham Turley last week.
Over the next few weeks, we will take a closer look at what the Report finds for New Zealand. This week we look at building competitive advantage in key markets.
ANZ's report finds that a global race is emerging to develop high potential agricultural opportunities.
Successful agricultural industries do not happen by accident but take many years of development to build complementary strengths across a number of areas.
The Asia Pacific region has fostered many successful agricultural industries in recent decades including Australian cotton, New Zealand dairy, and Malaysian and Indonesian palm oil.
The following is an extract of part three of the full Report.
The global race to build competitive advantage
Future success in agriculture requires a deliberate focus on fostering globally competitive industries with high potential for growth.
Countries around the world are racing to cement a competitive place in agriculture to maximise their ability to capture value over the coming decades.
In agriculture, competitive advantage is realised through:
 - Lower cost:
the ability to produce and deliver products from farms to markets at a lower cost than competitors.
- Greater differentiation:
the development of differentiated products or services through quality or reliability to win favour from markets and in some cases, to capture price premiums.
Successful industries comprise more than just a group of good farmers. They compete internationally from a domestic platform of highly capable and interconnected service providers, supply chain players, R&D and educational institutions, and financiers. Harvard Business School Professor, Michael Porter, refers to this model as an industry cluster.
He has argued that the interconnectedness and co-location of common and complementary players produce increased productivity resulting in "a whole greater than the sum of the parts". These clusters support growth by delivering innovation and competitiveness.
Applying the concept of a cluster in its own right however, does not guarantee strong growth. Industries need to continuously evolve in response to changing market conditions and have strategies that reflect an ongoing focus on competitive advantage.
Agricultural industries around the world broadly fall into one of three categories:
Horizon 1
– industries that are mature with critical mass but no longer delivering strong growth. These industries have either stalled due to poor performance or serve markets that no longer enjoy high growth potential.
New Zealand red meat and Australian wine are examples of industries that have experienced poor performance despite potential for growth.
Horizon 2
– industries that possess critical mass while continuing to deliver high growth. These industries serve markets with higher growth potential and have sufficient scale and sophistication.
Recent examples include Brazilian soy, New Zealand dairy, and Malaysian and Indonesian palm oil – all of which compete effectively internationally, although not without associated social and environmental concerns.
Horizon 3
– emerging industries which exhibit high growth potential. These industries are small scale or lack sophistication (or both) but serve opportunities with high growth potential. Pakistani beef is an example.
Global and national success in agriculture requires well-run industries across all three growth horizons: mature industries serving low growth markets (Horizon 1) provide a base level of scale and income stability; high growth industries with sufficient scale (Horizon 2) provide immediate engines of growth; while emerging industries (Horizon 3) secure future prosperity.
In light of the global soft commodity opportunity, there is growing global competition to foster and strengthen successful industries around high growth opportunities.
Key characteristics of successful agricultural industries
Successful agricultural industries are fostered and strengthened through many years of nurturing by policy makers and industry leaders.
These industries, and the broader clusters that support them, build competitive advantage through excelling across a number of areas:
1. Access to and management of resources
– this includes access to key agricultural inputs such as skilled labour as well as land and water.
2. Targeted R&D investment
– this consists of fundamental R&D, often publicly funded, supported by applied R&D where private involvement is more prevalent.
3. Effective adoption of tailored knowledge
– building and applying knowledge that is tailored to local operating environments to maximise adoption.
4. Exposure to high-value markets
– strong trading and marketing networks provide access to key global markets, supported by robust trade alliances.
5. Sufficient access to capital
– ability to attract sufficient funds to support industry consolidation, farm turn-over, and growth-oriented investment.
6. Robust and cost-effective supply chain
– highly competitive, well-capitalised, and coordinated with the ability to make long term investments.
Successful agricultural industries in the Asia/Pacific region
The global soft commodity opportunity presents substantial potential for the Asia Pacific region. Many countries in the region have significant natural resource advantages, strong agricultural expertise and are well positioned to serve high growth Asian markets.
Over recent decades, the Asia Pacific region has fostered many successful agricultural industries at various points in time. Like Brazil's success with soy, industry clusters were fostered around high growth opportunities, driving innovation and competitiveness.
New Zealand dairy, Australian cotton and wine, and Malaysian and Indonesian palm oil are examples of industries that have thrived in recent decades.
It is worth noting, however, that the economic success of some of these agricultural industries has been accompanied by undesirable side effects. Rapid growth in palm oil production in Malaysia and Indonesia has been accompanied by environmental concerns over the past few decades.
It is estimated that more than half of the production expansion in the two countries resulted from the loss of tropical forests between 1990 and 2005.
The expansion has also led to significant greenhouse gas emissions and reduced biodiversity, particularly in endangered species. Effective balancing of sustainability and production growth should be a key competency of agriculture – these goals should not be mutually exclusive.
Sustainability considerations have been much more widely adopted in Australian and New Zealand agriculture but environmental challenges still exist and need to be closely monitored. Adopting the framework defined in section 4.2, this section highlights the noteworthy characteristics and developments behind the success of two industries: Australian cotton and New Zealand dairy.
 3.3.1 Australian cotton
Despite facing significant challenges over the past decade, Australian cotton is a good example of an industry which was able to grow rapidly through foreign expertise, and strong investment in infrastructure and R&D (Exhibit 3.2).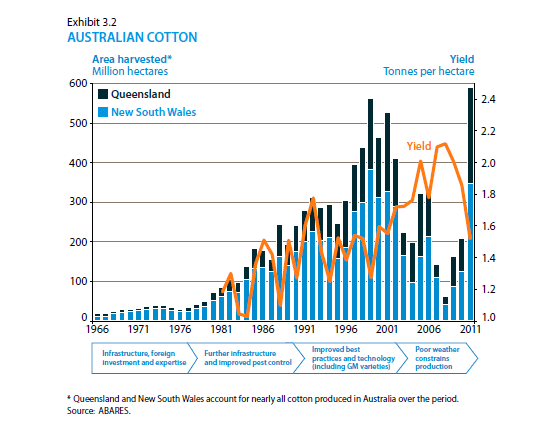 [The full case study of Australian cotton is set out in the Report » ]
3.3.2 New Zealand dairy
Initially founded on natural resource cost advantages, New Zealand's dairy industry has maintained its competitive advantage through continued innovation and sensitivity to changing markets.
The industry has delivered rapid growth over the past two decades with milk production more than doubling throughout that period.
Today, New Zealand dairy accounts for a more than a third of global dairy exports and in 2011 accounted for NZ$9.5 billion, or about 50% of the country's gross value of agricultural production.
The industry's willingness to adapt to evolving environments and its ability to support profitable revenue and volume growth has been pivotal to its sustained success.
In the mid-1980s, the Government removed agricultural subsidies as part of its response to systemic economic problems including an unsustainable fiscal deficit.
Exposure to clearer price signals gave impetus to the diversification of agricultural products and markets. In the decades since deregulation, there has been a wave of conversions from beef and sheep farming to dairy and other agricultural uses. Significant investment in irrigation infrastructure also allowed dairy production to extend to the South Island, which now accounts for about a third of New Zealand dairy cattle.
Complementing these reforms were ongoing improvements to market access and industry structure. New Zealand was among the main proponents of the Uruguay Round of the General Agreement on Tariffs and Trade in the mid-1990s and in recent years has fostered a close trading relationship with China. Significant industry consolidation at the farm and processor levels also enabled efficiencies of scale to be realised.
In response to changing world markets, the single-desk exporting arrangement was identified as no longer appropriate and was removed in 2001 through the Dairy Industry Restructuring Act (DIRA). This resulted in the formation of the vertically integrated farmer-owned cooperative Fonterra. While Fonterra remains the dominant player in the industry, thoughtful competition measures in DIRA fostered the emergence of a competitive fringe of processors.
In 2011, Fonterra not only accounted for more than 90% of the New Zealand dairy market but was the largest processor of raw milk in the world. It currently has around 11,000 farm shareholders and an impressive global supply chain.
Direct dairy participants are supported by a world-class cluster of supporting entities. New Zealand R&D providers, strong educational institutions and specialist dairy farm management consultants have contributed to increases in yield per cow, per hectare and per labour unit. This has been achieved through the adoption of innovations such as rotary dairy platforms, automatic cup removers, improved cleaning equipment as well as the improved and increased use of inputs such as feed, fertiliser and irrigation.
Industry associations such as Dairy NZ, provide an extensive platform for knowledge dissemination for farmers and have proactively initiated career campaigns to attract talent in recent years.
The supply chain is rounded out and reinforced by well-established specialist equipment suppliers, agricultural aviation companies and large local fertiliser cooperatives.
While the industry faces environmental challenges, higher debt levels and some public resentment typical of high growth sectors, it has met such challenges before and is well positioned to overcome them again.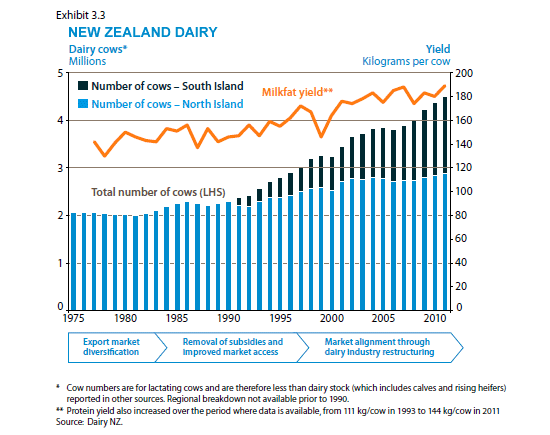 --------------------------------------------------------------------------
This story has been adapted from Part 2 of the ANZ report: Greener Pastures: The Global Soft Commodity Opportunity for Australia and New Zealand (.pdf 13MB)
Here is Gareth Vaughan's interview with ANZ's Graham Turley.
Part two deals with the global soft commodity opportunity and you can read that part here »
Part four will follow next week. It reviews the current tstate of agriculture in New Zealand and Australia.