New Zealanders need to get realistic about foreign investment if the country's agriculture sector is to maximise Asian export opportunities, ANZ says
By Gareth Vaughan
New Zealanders will have to become realistic about foreign investment and use it to their advantage if the country's agriculture sector is to maximise the burgeoning opportunity to feed Asia's growing middle class population, says the managing director of ANZ commercial & agri banking, Graham Turley.
Turley was speaking to interest.co.nz in a Double Shot interview on today's release by ANZ of a major report entitled Greener Pastures: The Global Soft Commodity Opportunity for Australia and New Zealand. The report says New Zealand could capture an additional NZ$500 billion to NZ$1.3 trillion worth of income from agriculture exports between now and 2050. However, if this is to be achieved a range of barriers including capital constraints - with an estimated NZ$210 billion needed to drive growth and profitability and NZ$130 billion for farm turnover - skill shortages, land-use conflicts and inefficient water markets, unfocused research and development, rising supply chain costs and market access limitations, need to be overcome.
"A lot of the things that have been talked about in this report are actually happening already," Turley said. "The question is do we need to speed it up? There is a bit of a race here. We're not the only country in the world that produces our products and we're actually quite small and everybody else is looking at the same market. So if we want to get to that high brand out there we need to get in quick."
The report, outlined by ANZ Banking Group CEO Mike Smith in a speech in Auckland last month, was commissioned by ANZ and done by Port Jackson Partners, a Sydney-based consulting firm founded in 1991 by two former McKinsey & Company directors. Under Smith, a former HSBC executive who took the reins at ANZ in October 2007, ANZ is pursuing what it calls a "super-regional strategy" targeting growth in Asia.
Turley argues that to achieve the sort of agricultural export growth suggested by the report, New Zealanders will need to change their attitudes about foreign investment.
"We've got to become realistic about foreign investment," he said.
"At the end of the day New Zealand has been built on foreign investment. There's a lot going on now, there's a lot that has been going on for a while. And it has been very constructive and beneficial and positive to New Zealand. I think foreign investment is a good thing. We're going to need some to catch this prize. The key issue about it is to actually understand foreign capital and to use it to our benefit," added Turley.
'Reverse it'
For New Zealanders a key thing was to use foreign investment the "reverse way around" and use it to help get access to markets and contracts for products.
"Part of what some of these offshore investors are looking for is supply rather than ownership. So for a contract or supply, they may put some sort of equity component in. It's hybrid type things . I think there's a lot of creativity out there that may come through," said Turley.
The report itself notes it'll be critical to align public sentiment with the investment required to boost growth and employment.
The opportunity outlined in the report, part of an ANZ insight series, comes from the world's changing demographics, and the changing economic power base in Asia, said Turley.
"And Asia is China, it's India, it's Indonesia. All those nations."
"What we're seeing there, and it has been well documented, is a lot of urbanisation, and a growing middle class. With that it has been proven and we've seen, as people move up the income scale, they consume more protein and they consume more fats and so forth which is what New Zealand produces a lot of," said Turley.
"What this report has done is look at the market place and look at the consumer needs and demands, particularly in Asia, and said if we multiply that back into how much product we need, and where that product is going to come from, that creates a huge opportunity for New Zealand because we produce a lot of protein and a lot of fats through dairy products, meat products, and other horticultural and agricultural products."
"So it's really working backwards from saying 'we think the demographic opportunity is in the markets close to us and that are growing fast.' And turning that into saying 'hey, this is what we could do, and also looking at what is productive capacity in New Zealand if we invest in more irrigation, new science and technology."
'We think the future's good for agriculture'
Although the New Zealand dairy sector features prominently in the report, Turley maintains opportunity exists for the whole agriculture sector, including red meat, wine and kiwifruit.
"The reason ANZ has commissioned this report is we actually think the agricultural sector in New Zealand and Australia is a great opportunity and we think the future's looking good for it. We're a big player in it, the biggest (bank) in New Zealand, a large player in it in Australia in the agricultural scene, so we're committed to it," Turley said.
"This is about us saying 'how can we facilitate and use ourselves to help New Zealand win this prize'."
The report suggests both New Zealand and Australia have the land, the water, the skills and proximity to benefit from huge middle class populations emerging in Asia with sophisticated tastes and rising incomes. It notes water and land are getting more scarce globally, whilst a shift to a supply constrained agricultural market will create enormous commercial opportunities for resource-rich, export-orientated countries in a world where the population is forecast to rise by about 2.3 billion to 9.3 billion by 2050.
Port Jackson Partners cites an Organisation for Economic Co-operation and Development report that suggests China could see 75% of its population reach middle class by 2030, with China and India contributing to nearly 40% of global middle class consumption by 2030, rising to almost 54% by 2050.
"Overall the Asian continent could account for as much as 70% of global middle class consumption by 2050. This is a staggering change as Asia currently only makes up about a quarter of global middle class consumption, of which less than a third comes from China and India," Port Jackson Partners say.
A 125% rise in the real value of annual agricultural exports
Adopting estimates by the Australian Bureau of Agricultural and Resource Economics and Sciences (ABARES), which is a research bureau within the Australian Department of Agriculture, Fisheries and Forestry, as a conservative guide for its base case scenario, the report says both Australia and New Zealand stand to more than double - increase by 125% - the real value of annual agricultural exports by 2050 from 2011. This equates to a 2050 export value of A$73 billion for Australia and NZ$57 billion for New Zealand, or a cumulative addition over 2011 levels of around A$710 billion and NZ$550 billion.
Under Port Jackson Partners' high case scenario, the production of high value products would see export revenues grow to meet its "rapid convergence scenario" driven by increased daily calorie intake in the likes of India, strong growth in biofuel demand and population growth of around 1% per annum. The report says this would lead to real 2050 export values 250% higher than in 2011, or NZ$88 billion for New Zealand in 2011 prices.
"The cumulative value of additional export revenue would be A$1.7 trillion for Australia and NZ$1.3 trillion for New Zealand."
In terms of developing high value products, Turley suggested this involved taking more time to understanding consumer preferences and tastes.
"How they want to eat and consume things, how they want it presented to them. Because each of these countries of opportunity - China, parts of China, Indonesia, India, do things differently," said Turley.
"Definitely there's a lot of opportunity for us to upscale the value of the products. Part of this report is about plonking it together and saying 'hey, what's the 25 year opportunity here? Hopefully this makes people think this is a big opportunity, we need to take it seriously, and look at the long game rather than just the little short games."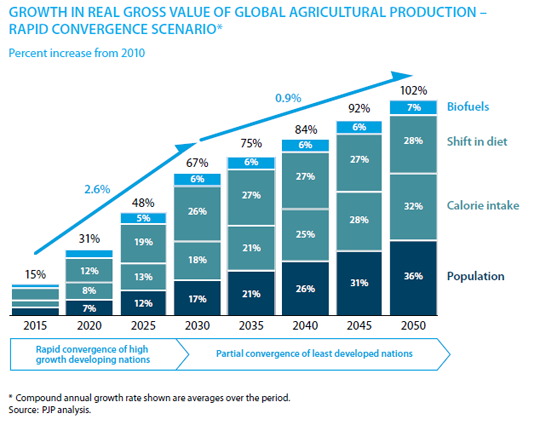 This article was first published in our email for paid subscribers this morning. See here for more details and to subscribe.