Rabobank NZ gets NZ$110 mln capital boost ahead of Basel III, September quarter profit up 30%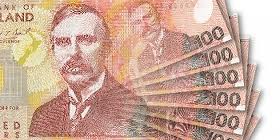 By Gareth Vaughan
Rural lender Rabobank New Zealand, whose ultimate parent is Dutch co-operative Rabobank Nederland, received a NZ$110 million capital injection in September as it prepares for the Reserve Bank's introduction of the new Basel III capital adequacy rules from next year.
Rabobank NZ's General Disclosure Statement (GDS) for the nine months to September 30, shows the bank issued 55 million ordinary shares on September 19 at NZ$2 each. This helped bolster Rabobank NZ's equity by NZ$127.4 million to NZ$866.2 million. Rabobank NZ's leverage ratio, or the number of times its assets exceed its shareholder funds, was cut to 10.4% at September 30 from 11.8% at June 30. See all bank leverage ratios here.
The equity injection also helped improve the bank's tier one capital ratio, representing shareholders' funds in the bank, to 9% at September 30 from 7.83% at June 30, and its total capital ratio to 12.50% from 11.18%. From 2013, as it starts introducing the global Basel III reforms, the Reserve Bank says banks must have a tier one capital ratio of at least 8.5% versus the current 4% minimum and a total capital ratio of at least 10.5% versus the current minimum of 8%.
Developed by international body the Basel Committee on Banking Supervision, Basel III is a set of reform measures designed to strengthen the regulation, supervision and risk management of the banking sector in the wake of the Global Financial Crisis. It aims to improve the banking sector's ability to absorb shocks arising from financial and economic stress, improve risk management and governance, and strengthen banks' transparency and disclosures. See more on Basel III here.
Rabobank NZ isn't the only bank to have bolstered its capital ahead of Basel III. BNZ issued NZ$400 million worth of ordinary shares to its parent National Australia Bank in May. And New Zealand Post is planning a NZ$100 million capital boost for Kiwibank.
Lending up NZ$204 mln in September quarter
Meanwhile, Rabobank NZ increased gross loans by NZ$204.2 million in the September quarter to NZ$8.263 billion, giving it about an 18% share of overall rural lending growth during the quarter. The bank's individually impaired assets rose NZ$9.4 million to NZ$418.6 million, but loans at least 90 days past due fell NZ$2.5 million to NZ$53.7 million.
According to Reserve Bank sector credit data, agriculture debt rose NZ$1.149 billion, or 2.4%, in the September quarter to NZ$49.829 billion. In a special section of its recent Financial Stability Report, the Reserve Bank warned the dairy sector appeared more vulnerable to a sharp decline in the payout than at the time of the peak in dairy prices, saying aggregate debt was higher now than in 2007/2008, with a slightly greater proportion of this debt now held by the most indebted portion of farmers.
Rabobank NZ's unaudited profit after tax rose NZ$4 million, or 30%, in the September quarter compared with the same quarter a year earlier, to NZ$17.5 million. The rise came as impairment losses on loans fell NZ$4.3 million, or 42%, to NZ$5.9 million and total operating income rose NZ$4.66 million, or 9%, to NZ$56 million. Net interest income increased NZ$5 million, or 10%, to NZ$55.8 million. Operating expenses were up NZ$2.3 million, or 10%, to NZ$24.5 million.
Rabobank NZ's deposits, including through online unit RaboDirect, rose NZ$3.6 million to NZ$3.057 billion. Total assets increased NZ$280.2 million to NZ$8.9 billion and total liabilities were up NZ$152.8 million to NZ$8.132 billion. As with the same period of last year, the bank paid no dividend in the nine months to September.
This article was first published in our email for paid subscribers this morning. See here for more details and to subscribe.