New Zealand announces NZ$1.4 mln funding for joint NZ-Chinese research projects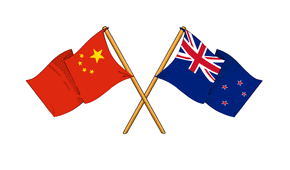 Content supplied by office of Steven Joyce
Four joint New Zealand-Chinese research projects will receive NZ$1.4 million in funding over the next three years, Science and Innovation Minister Steven Joyce announced today in Beijing, China.
The four projects are the first projects to be selected under the Strategic Research Alliance (SRA) Joint Research Programme, which helps facilitate science research collaboration and the commercialisation of science between China and New Zealand.
The SRA is jointly funded by the New Zealand Ministry for Business, Innovation and Employment (MBIE), and the Chinese Ministry of Science and Technology (MOST).
Minister Joyce jointly announced the results of the selection process with his Chinese counterpart, Professor Wan Gang, Chinese Minister of Science and Technology.
"Science and innovation are drivers of economic growth and international competitiveness. China is a key strategic partner for New Zealand in science and innovation and the SRA helps strengthen this partnership on both sides," Mr Joyce says.
The three areas that projects under the SRA will be focusing on are Water, Non-communicable Diseases, and Food Safety & Security. 
"These three research areas are of interest and importance to both New Zealand and China. By combining each other's strengths and expertise, our researchers can produce outcomes which will benefit our countries as well as the rest of the world," Mr Joyce says.
"Professor Gang and I have high expectations that the work from the projects selected will prove to be mutually beneficial for our countries. We both look forward to continued collaboration in the science and innovation areas."
The four projects selected to receive funding through the 2013/14 process are:
Water
New methods and technologies to enhance land use practices and restore ecological resilience of significant aquatic ecosystems - University of Waikato and NIWA with Nanjing Institute of Geography and Limnology and Jinan University.
Food Safety and Security
Early warning and sustainable management of rodent pests - Landcare with China Agricultural University, Ministry of Agriculture, Chinese Academy of Agricultural Science and Beijing Longhua Xinye Sanitary Pesticide Co. Ltd.
Non-communicable Diseases
Tumour-targeted FGFR therapeutics for smoking-related lung cancer - University of Auckland with Guangzhou institutes of Biomedicine and Health and the Chinese Academy of Sciences)
Developing new anti-cancer drugs against genetically defined targets - University of Auckland with the National Center for Drug Screening / Shanghai Institute of Materia Medica, Chinese Academy of Sciences)