Westpac NZ CEO David McLean doubts further OCR cuts would stimulate the economy, doesn't offer an alternative suggestion but argues this is something we should be debating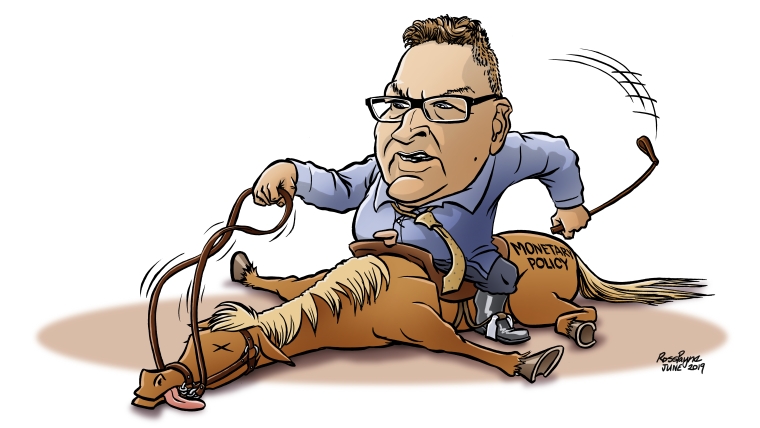 By Gareth Vaughan
Some economists may be picking further cuts to the Official Cash Rate (OCR) from its record 1% low, but Westpac New Zealand CEO David McLean is sceptical that further cuts would stimulate the economy.
Speaking to interest.co.nz after Westpac NZ posted its annual financial results this week, McLean questioned whether monetary policy works to boost the economy when the OCR is so low.
"I know economists views differ, but I'm personally sceptical of the effect of further rate cuts to stimulate the economy. You hear people in Europe saying these negative rates or very low rates almost have a counterproductive effect in that people think; 'I'll keep my money under the mattress and if the rates are so low this must mean the world's in a terrible state and therefore I won't spend money, and I won't stimulate things. I'll have to save even more for my retirement now so therefore I'll have to spend less, tighten my belt.' And therefore it has a contractionary effect," McLean said.
"It just feels to me that the whole world hasn't really worked out what the role of monetary policy is in this environment."
Asked what would stimulate the economy McLean didn't give any personal view, or preference, but said this was a big international debate.
"Do you use unconventional monetary policy with QE [quantitative easing] type tools? And if so what's the role of the central bank? Or do you use fiscal policy, should the government spend more? And if so what should it spend on because on the one hand what you call high quality spending on things like education, infrastructure and things like that tend to have a very slow impact. [it's] quite hard to get it spent. On the other hand just handing out money, helicopter money like John Howard did in Australia during the GFC [Global Financial Crisis], disappears quite quickly and the economy gets quite a sugar rush but it doesn't have a lasting effect," said McLean.
"It's something that we should all be talking about."
For its part the Reserve Bank argues it's still getting bang for its buck by cutting the OCR even at such low levels. It has also detailed unconventional monetary policy options that could be used if required.
Economists from ANZ and ASB expect the Reserve Bank to cut the OCR by 25 basis points at its review next Wednesday, November 13, and continue cutting after that. And Kiwibank economists argue "the path of least regret" for the Reserve Bank is to stimulate now. However, Westpac's chief economist Dominick Stephens changed his call last week. Previously Westpac's economists had been picking a 25 basis points cut next week. But Stephens now suggests with the US and Australian central banks not likely to cut rates again this year, and recent local economic data not bad enough to justify a cut, the Reserve Bank will hold fire on November 13.
Two worrisome issues for Westpac
In terms of the impact of low interest rates on Westpac NZ, McLean said there are two issues for the bank to manage that are worrisome.
"One is impact on margins because as rates get squeezed towards zero the margin gets squeezed as well. We've seen that we had a margin compression in our reported result, and if this continues that means the margin's going to be under more and more pressure," McLean said.
Westpac NZ reported an eight basis points year-on-year drop in its net interest margin to 2.16% in its annual results on Monday. 
"And the second thing that I worry a bit about is the deposit funding of the balance sheet," McLean said.
"After the GFC we all became aware that wholesale markets, which banks like us have traditionally relied on heavily for wholesale funding, can close in a crisis like that and therefore that can be quite threatening for a bank. So we've improved our liquidity coverage massively and we've also increased our dependence on local funding from depositors. So we've really got a much stronger deposit-to-loan-ratio."
The bank's deposit-to-loan ratio was 76.60% at September 30.
"However depositors, particularly consumer depositors as rates get lower and lower, may find that they are forced to try and preserve their income, forced to look at other potentially more risky sources of fixed interest or other investment and that would then mean that we might start to see our deposit base erode and we'd have to become more reliant on wholesale funding. I don't think it would ever put us back to GFC-type levels [of wholesale funding], we've got so many other layers of protection, but it would still be an unhealthy trend and that is one thing I do worry about," said McLean.
A key factor in the reduction of NZ's banks' use of short-term overseas dominated wholesale funding was the Reserve Bank's introduction of the core funding ratio (CFR) in 2010. The CFR requires banks to meet a minimum share of their funding from retail deposits, long-term wholesale funding and/or capital. The minimum CFR for each bank - on a daily basis - is currently 75%. 
McLean said Westpac NZ is not necessarily seeing depositors take their money elsewhere, but anecdotally they are looking.
"There are some features of bank deposits which depositors like - safety. If you look at the [credit] rating it's a lot safer than most other places they can put their money. And secondly the certainty of the income compared to investments like the stock market, which don't pay you so much a certain return. [Or] managed funds - the return is dependent on performance. So people quite like being able to budget and plan how much they're going to get. So there are some features like that that still make deposits attractive to a large sector of the customer base. But if rates do go lower then that is something that could be concerning for us," McLean said.
All carded, or advertised, term deposit rates for all financial institutions for terms of less than one year are here, and for terms of one-to-five years are here. And term PIE rates are here.
*This article was first published in our email for paying subscribers. See here for more details and how to subscribe.