Latest Reserve Bank Financial Stability Report says house prices have been declining since November but still remain above sustainable levels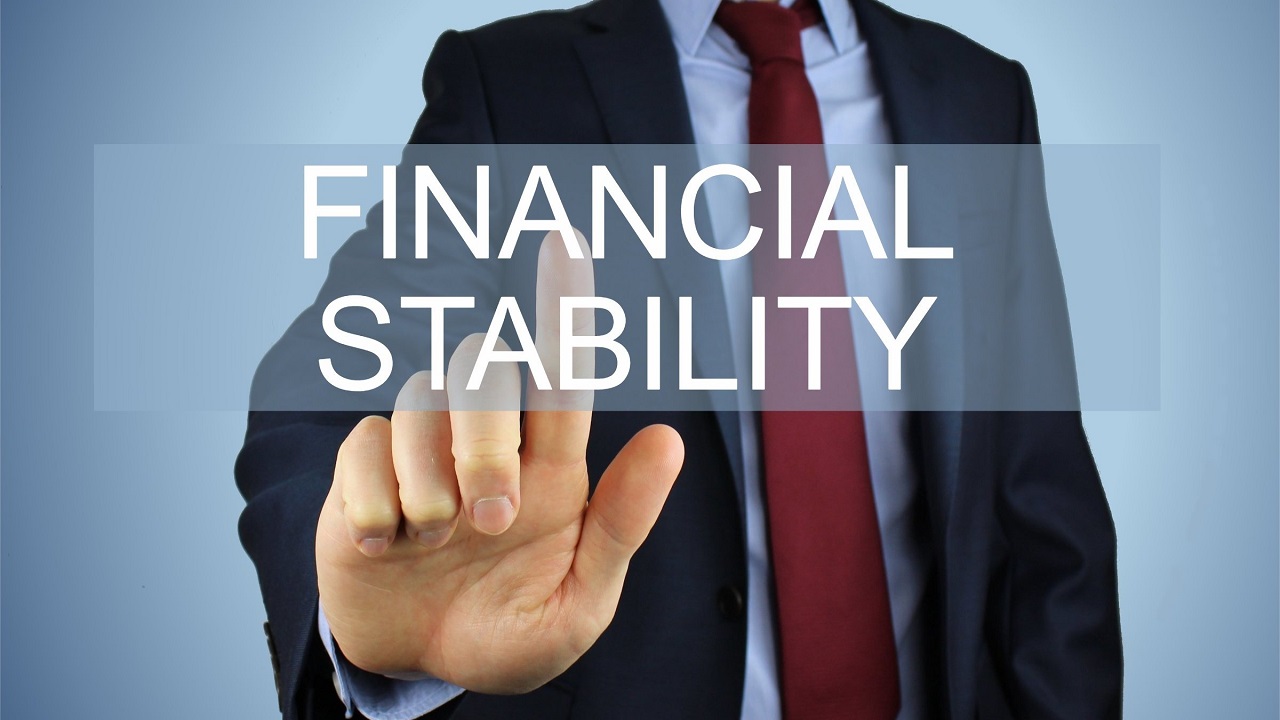 A sharp correction in house prices remains a "plausible outcome" that would have broad economic implications, the Reserve Bank says.
The comment comes in the RBNZ's latest six-monthly Financial Stability Report released on Wednesday.
The bank says in NZ house prices have been declining since November, "but still remain elevated above their sustainable level". It says a "steady adjustment of prices towards more sustainable levels based on fundamental demand and supply factors remains desirable for the stability of the financial system".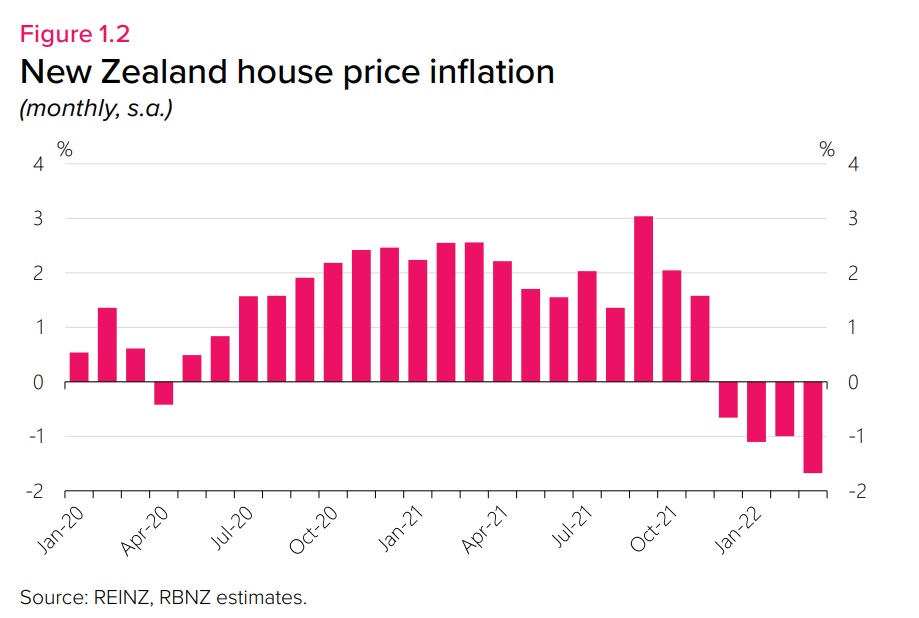 "...While a gradual decline in house prices to more sustainable levels is desirable from a financial stability perspective, a sharp correction remains a plausible outcome that would have broad economic implications," the RBNZ says.
"Recent buyers with limited equity are particularly vulnerable to house price declines."
(Data released with the latest FSR estimates that between the end of September last year and the end of April 2022 the percentage of disposable income taken up by debt servicing for new buyers has risen from 42% to just over 54%.)
During the press conference after release of the FSR, the RBNZ indicated that about 25% of new buyers in the past year would have to pull back on spending with mortgage rates at 5%, while for rates at 6% this would rise to about a third of buyers needing to reign in spending, while with mortgage rates at 7% this would become about half of the buyers needing to tighten their belts.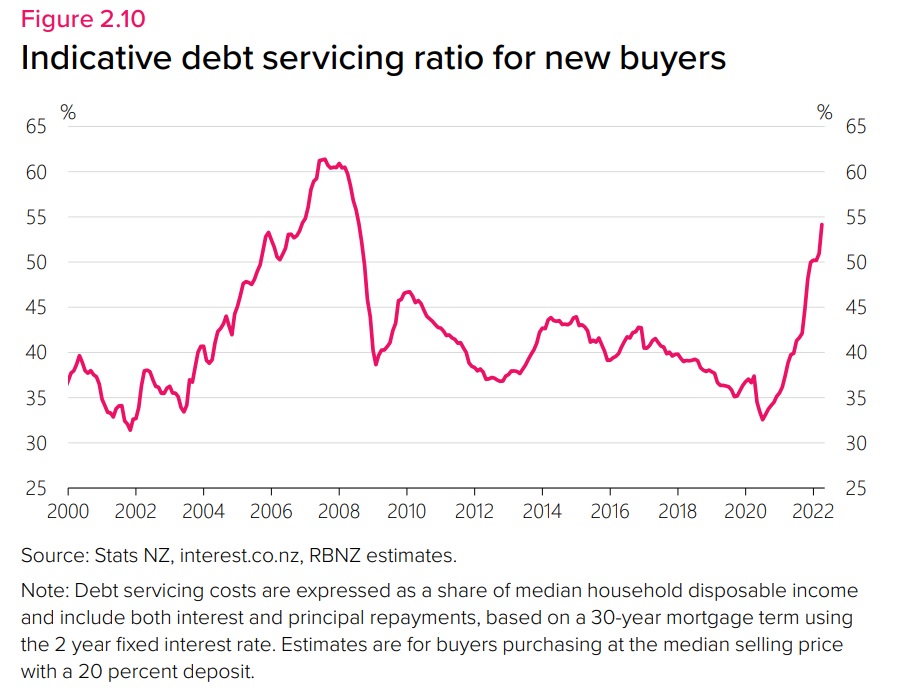 "Furthermore, a large fall in house prices would significantly reduce housing wealth and could lead to a contraction in consumer spending, especially when combined with borrowers cutting back discretionary spending due to rising interest rates and higher living costs.
"Debt-servicing costs will increase significantly as current fixed-rate mortgages reprice over the coming year.
"Some recent mortgage borrowers are vulnerable and could face difficulty servicing their debts, but overall the threat to the financial system is limited.
"Banks kept test interest rates in their serviceability assessments around 6% during the pandemic, which remains above current mortgage rates. This provides some reassurance that buffers are in place to ensure debt serviceability continues."
The RBNZ says the risk of debt servicing stress or negative equity is low for most mortgage borrowers as  Banks have generally kept the test rates at which they assess loan serviceability well above the actual rates that borrowers have contracted at.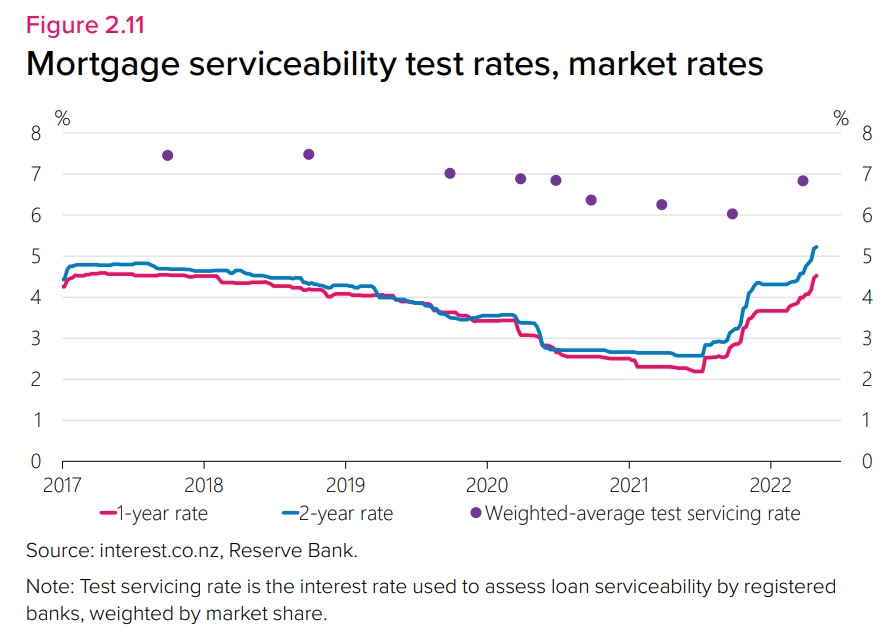 "This provides reassurance that sufficient buffers are in place as the stock of lending is repriced towards the mortgage rates now on offer in the market.
"However, recent borrowers with elevated debt levels relative to income would incur significant debt servicing costs if mortgage rates were to rise above these test rates.
"While we do not anticipate acute servicing stresses to emerge among a material proportion of mortgage borrowers, rising debt servicing costs as monetary policy tightens are expected to cause discretionary household consumption to soften."
(Separate statistics released with the FSR show that bank test rates bottomed at 6% on average as of September last year, but had risen to 6.8% by the end of March. However, they are likely higher now. The country's largest mortgage lender ANZ increased its rate to 7.15% this week, and ASB confirmed its one increased to 7.35% from 6.85% this week).
The RBNZ says that as house prices have begun to fall in recent months, it has continued to monitor the extent of mortgage lending in negative equity.
"Relative to December 2021 prices, we estimate that a 30% fall in house prices could lead to around 10% of all outstanding mortgage debt to fall into negative equity (that is, the value of the borrower's property is less than the outstanding mortgage amount).
"LVR [loan to value] settings have acted to limit the risks of future negative equity for recent borrowers, while earlier borrowers have seen large gains in equity as prices have risen in recent years. Given the large increase in prices over the past two years, it would take a substantial decline in prices to see widespread negative equity."
The RBNZ has been working on the question of debt to income ratios and has recently released its response to a period of public submissions. 
"We believe that DTI limits are an important additional tool for reducing financial stability risks and supporting house price sustainability, and would fill a gap that is not covered by existing regulations. We plan to have the framework finalised by late 2022, so that restrictions could be introduced by mid-2023 if required," RBNZ Deputy Governor Christian Hawkesby said recently.
In the FSR release on Wednesday the RBNZ said banks' test interest rates have begun to rise in line with mortgage rates, "and we expect to see a slowdown in high-DTI lending over the coming months".
"The new CCCFA regulations, changes to the tax treatment of investment property, and tighter LVR restrictions on owner-occupiers are also having an impact on the availability of mortgage credit. We therefore do not see an urgent need to impose an interim test rate floor at this stage, but we are monitoring the situation closely and do not rule out this option if there is a resurgence of risky lending in the housing market."
This is the statement the RBNZ released with the report:
New Zealand's financial system remains robust in the context of significant global economic challenges, Governor Adrian Orr says in releasing the May 2022 Financial Stability Report.

Globally the COVID-19 pandemic continues to pose complex economic and financial challenges. Ongoing disruptions to production and supply chains, such as those currently evident in China, are wearing on business confidence and adding to input costs. At the same time, international travel restrictions and related uncertainty are contributing to labour shortages and constraining production.

"Russia's invasion of Ukraine has heightened these challenges, including the significant human impact. Trade flows are being severely disrupted by economic sanctions and logistical issues. With Russia and Ukraine being significant global producers of energy and food commodities, this conflict has lifted global commodity prices," Mr Orr says.

Rising commodity prices and supply disruptions have driven global inflation above central banks' target ranges, prompting a global tightening in monetary conditions and higher longer-term interest rates. 

"The combination of a global pandemic and war is a significant challenge, but we are confident that the New Zealand financial system is resilient to a range of potential outcomes," Mr Orr says.

In New Zealand, the reopening of borders and easing of COVID-19 restrictions will positively impact the tourism and hospitality sectors. However, many businesses will be tested as the broad COVID-19 fiscal support ends. Targeted fiscal support remains for the most affected households and businesses.

Globally, and here in New Zealand, asset prices are coming off their highs as investors have revised up their outlook for longer-term interest rates. In New Zealand, house prices have been declining since November, but still remain elevated above their sustainable level.

Banks and insurers are in a strong position to support the economy and provide the financial services we all rely on. Banks remain profitable and well capitalised – the latter in line with our requirements. The banking system is well funded and positioned to maintain lending in the event of a downturn, Deputy Governor Christian Hawkesby says.

"Our actions are safeguarding ongoing economic and financial stability. By raising the Official Cash Rate and signalling further tightening to come, the Monetary Policy Committee has acted to head off rising inflation expectations and minimise any unnecessary volatility in output, interest rates, and the exchange rate in the future. Our loan-to-value ratio requirements for mortgage lending have also limited the accumulation of highly leveraged loans, building economic and financial resilience," Mr Hawkesby says.

"We are working collaboratively with the industry and Council of Financial Regulators on governance, risk management, capital and liquidity. By strengthening our supervisory and legislative frameworks, we are investing in our own capability and capacity. We are adding to our macro-prudential toolkit through the design of a debt-to-income restrictions framework for future use if necessary. In addition, we are continuing to work with the government and industry on longer-term challenges like financial inclusion, climate change and understanding housing supply constraints," Mr Hawkesby says.