RBNZ proposes significant increase in bank capital requirements that will eat up 70% of the sector's profits over 5 years but only have a 'minor impact' on borrowers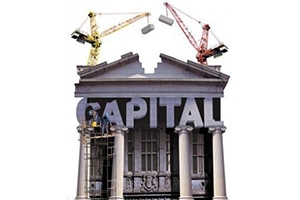 The Reserve Bank is proposing that banks will have to hold between 20% and 60% more "high quality" capital, noting this represents about 70% of the banking sector's expected profits over a five-year transition period. Nonetheless the regulator expects only a "minor impact" on customers' borrowing interest rates.
The Reserve Bank has issued a consultation paper as part of the broadest review of bank capital adequacy requirements it has undertaken, which has been running since early last year.
It says it wants bank owners to increase the level of capital they contribute to their business.
"Insisting that bank shareholders have a meaningful stake in their bank provides a greater incentive to ensure it is well managed. Having shareholders able to absorb a greater share of losses if the company fails also provides stronger protection for depositors," says Reserve Bank Deputy Governor and General Manager of Financial Stability Geoff Bascand.
"Bank crises happen more often than many people care to remember, and the economic and social costs of bank failures can be very high and persistent. These proposals are designed to make bank failures less frequent. With these changes we estimate the banking system will be resilient to shocks that might occur only once every two hundred years," Bascand says.
The Reserve Bank says its proposal would see banks' capital levels increase materially.
"We are proposing to almost double the required amount of high quality capital that banks will have to hold. In practice, actual changes to the amount that they hold will be less than double and will vary. The increase will depend on their current levels of capital, how much extra they choose to hold above the required minimum, and whether they are a large or small bank. Generally, it will be an increase of between 20% and 60%. This represents about 70% of the banking sector's expected profits over the transition period. We expect only a minor impact on borrowing rates for customers, " Bascand says.
Controlling 88% of banking system assets, the big four banks - ANZ NZ, ASB, BNZ and Westpac NZ - this year made combined net profit after tax of $5.128 billion. That was an increase of $433 million, or 9% year-on-year. They paid annual dividends of $3.39 billion. The Reserve Bank is proposing that the four will be treated as domestically systemically important banks (D-SIB) and be required to hold a capital buffer above what other banks hold. (See figure 1 below). A final definition of systemically important banks is yet to be settled on, meaning potentially Kiwibank could be added.
Systemically important, or too big to fail, criteria to be introduced 
The Reserve Bank proposes systemically important banks have a Tier 1 capital requirement equivalent to 16% of their risk weighted assets (RWA), with other banks requiring 15%. Currently all banks require a minimum Tier 1 capital ratio of 6% plus a common equity buffer ratio of 2.5%.
"While borrowing costs may increase a little, and bank shareholders may earn a lower return on their investment, we believe these impacts will be more than offset by having a safer banking system for all New Zealanders," says Bascand.
The Reserve Bank is consulting on a five year transition period for banks to meet the new requirements. The deadline for submissions is March 29 next year, with the Reserve Bank aiming to make final decisions by June 2019.
Meanwhile in terms of the potential impact on borrowers, the Reserve Bank says; "We consider a reasonable point estimate is that a one percentage point increase in a banking system's Tier 1 capital ratio from current levels may lead to a six basis point increase in the price of bank credit."
"A Tier 1 capital ratio of 16% of RWA is needed to ensure our banking sector retains creditor confidence after enduring an extreme shock."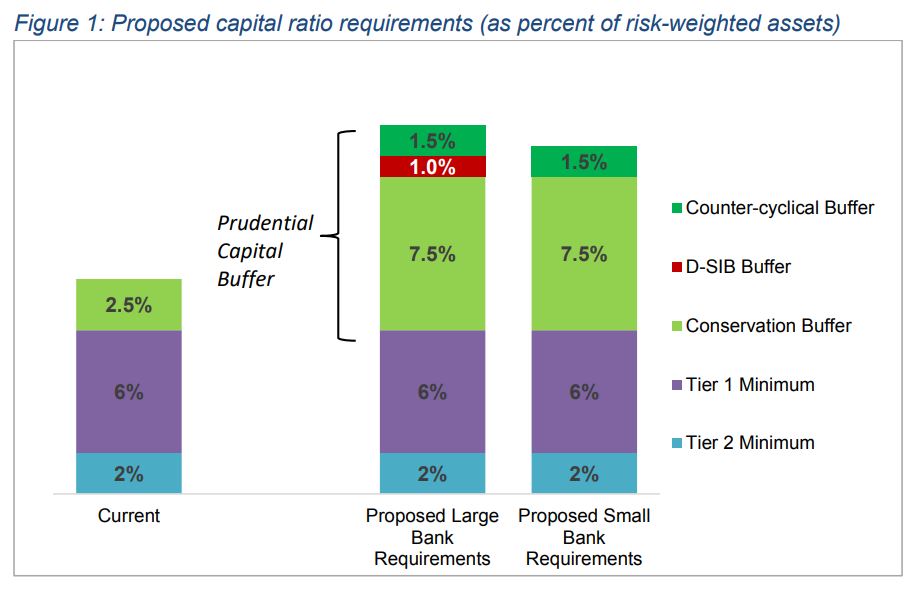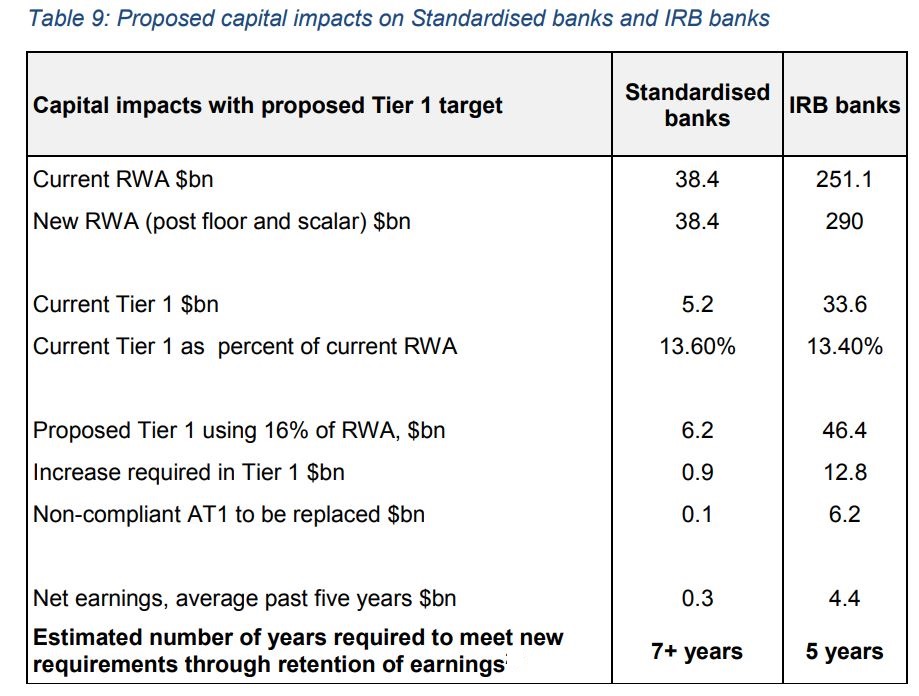 (Note, the Reserve Bank analysis in table 9 above assumes 6% annual credit growth and a stable return on interest-earning assets. IRB banks are the big four and standardised banks all others).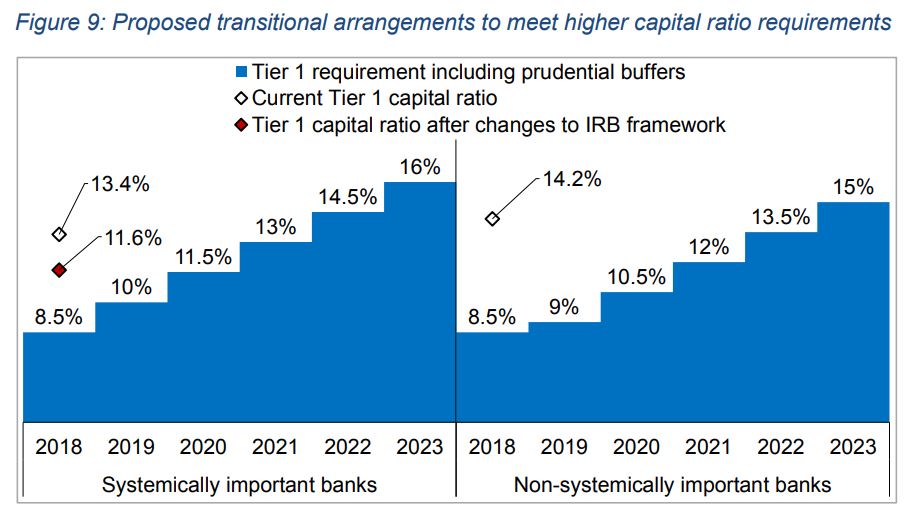 Bank lobby group's initial response
Asked by interest.co.nz for comment, the New Zealand Bankers' Association acting chief executive Antony Buick-Constable says;
"Capital buffers are essential to the strength of the banking system. New Zealand's banks are currently very well capitalised and among the most stable and secure in the world. Reserve Bank stress tests show banks can withstand a 40% fall in house prices."
"Buffers ensure banks have sufficient capital to get through a serious economic downturn. However, too large a buffer limits banks' ability to innovate and enhance customer outcomes."
"The industry will work closely with the Reserve Bank and stakeholders during this consultation period to achieve the best outcome for customers," says Buick-Constable.
Meanwhile the ANZ Banking Group, parent of ANZ NZ and thus the major Aussie bank with the largest exposure to New Zealand, issued a brief sharemarket release on the Reserve Bank capital paper.
"RBNZ today released a 58 page consultation paper titled 'Capital Review Paper 4'. Responses are due in March 2019. ANZ is currently reviewing the consultation paper and will update the market once it has done so," ANZ said.
There's more detail from the Reserve Bank available through the links below; 
·Consultation paper: How much capital is enough?
·Speech: Higher capital better for banking system and New Zealand
·Video: What is capital adequacy?
·Video: Governor Adrian Orr describes importance of bank capital
·Earlier consultations: Review of capital adequacy framework for registered banks