RBNZ says it 'actively and continuously' monitors areas such as bank capital after IMF paper suggests higher capital requirements for NZ's 'too big to fail' banks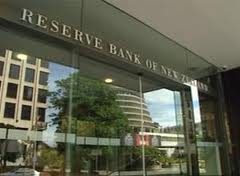 By Gareth Vaughan
The Reserve Bank is playing down a paper from the International Monetary Fund (IMF) that suggests New Zealand's big four banks ought to have higher minimum capital requirements.
As reported by interest.co.nz yesterday, the IMF working paper suggests that given the massive scale of the four major banks - ANZ, ASB, BNZ and Westpac in a New Zealand context, and the fact they all have basically the same business model, careful attention must be paid to their vulnerabilities and resilience to shocks. Combined shocks to their residential mortgage and corporate lending portfolios would put pressure on their capital meaning there's merit in them holding more capital, the paper says. See full story here.
Asked about the IMF paper a Reserve Bank spokeswoman told interest.co.nz the Reserve Bank "actively and continuously" monitors areas such as bank capital requirements, the composition of bank funding and stress-testing in the context of local and global developments.
"The Bank has moved quickly to implement Basel III capital requirements and its liquidity regime is well embedded with the core funding ratio requirement reaching 75% earlier this month. In addition, the Bank is actively considering ways to improve the usefulness of its stress tests, in conjunction with the Australian Prudential Regulation Authority (APRA)," the spokeswoman said.
In its Financial Stability Report released last November the Reserve Bank detailed stress testing of the big four banks it and APRA had undertaken. In this summary it said in the event of a major global downturn hitting the New Zealand economy the big four banks would be expected to bolster their capital positions.
However, the IMF paper suggests future Reserve Bank stress test scenarios could consider a longer time horizon than the three year one assessed by the New Zealand central bank and APRA to take into account the impact of sustained high unemployment. The report notes risk horizons in recent British, German and Dutch stress tests were five years. And it says given New Zealand banks' dependence on offshore funding, future stress tests could also consider a jump in global longer-term interest rates, which could come from a rise in global rates and an increase in New Zealand banks' risk premium. Furthermore the paper says the Reserve Bank could increase the core funding ratio higher than 75%.
The IMF paper entitled New Zealand Banks' Vulnerabilities and Capital Adequacy by Byung Kyoon Jang and Masahiko Kataoka, describes itself as a working paper representing the authors' views, and not necessarily those of the IMF or IMF policy.
This article was first published in our email for paid subscribers. See here for more details and to subscribe.