David Hargreaves frets about the rising indebtedness of households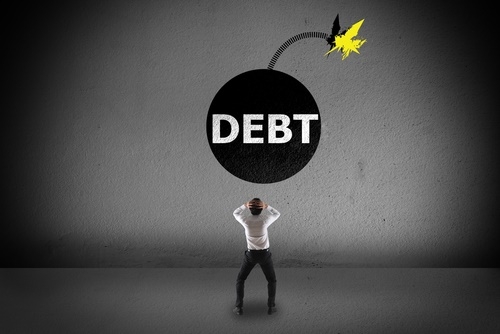 By David Hargreaves
News that the indebtedness of New Zealand households has reached new highs provides food for thought and prompts a certain amount of head scratching.
Is this bad? A portent of disaster? Or is it 'move on, nothing to see here'?
There's a kind of interesting sub-story here. ANZ economists in a recent newsletter drew attention to the new figures, and said they were "not sure we like the end game". They were commenting on the basis of Reserve Bank household figures that showed the household debt to income ratio hitting a new high of 167%.
These comments from the ANZ economists seemingly attracted the attention of the RBNZ itself, whose figures were the centre of attention. Curiously, in having another look at their own figures, the RBNZ have now discovered an error "that occurred when incorporating the annual disposable income benchmarks to the quarterly household income series. We inadvertently did not apply the correct annual benchmarks, which are sourced from Statistics NZ".
The new figures (which can be seen in the first graph below and a comparison with the earlier incorrect figures) show that the debt to income ratio was in fact 162% in December - but the sharply upward trend portrayed in the earlier version of the figures is still very much in evidence in the new corrected data.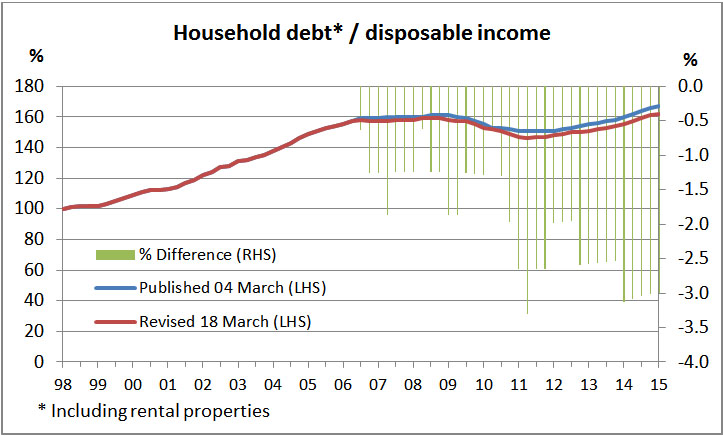 In the interests of allowing the ANZ economists a say on the new figures, in their latest weekly market focus, they commented that the 162% figure was "not quite as bad, but still in excess of the GFC peak [in 2009] (of 159%").
"So it doesn't really change our view that there has been deterioration in some important structural metrics within the economy. Household saving has fallen, and while not as extreme, the ratio of household debt to income has still risen considerably. Households are re-leveraging. It needs to be watched," the ANZ economists said.
Indeed. At which point I come back to the question in the headline on this article: "How much is too much?" It is not a rhetorical question, but it's one that appears impossible to answer.
The fear is that we find out the answer when it's too late and there's a very nasty accident already happening.
I suppose the first thing that should be stated is that we as a country are not 'out there' with our debt levels. On the contrary.
OECD figures as of 2014 had the ratio in Australia at over 200% in 2014, although Reserve Bank of Australia figures - as shown in the second graph below from just last month - paint a slightly, though not much more, conservative picture.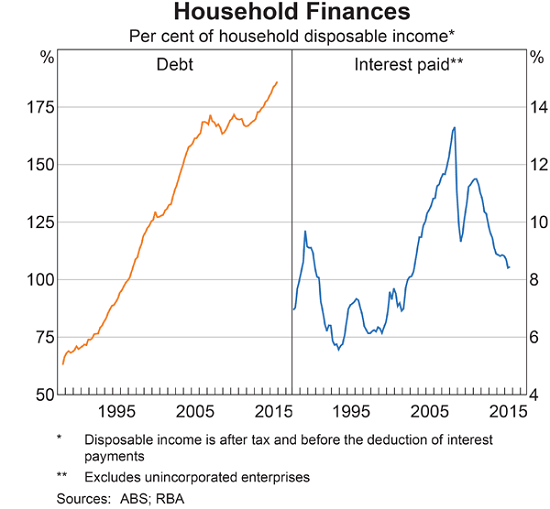 The same 2014 OECD figures showed Denmark's ratio of debt to disposable income was over 300%, while fellow Scandinavian countries were over 200%.
The attached Bank of England graph from last year (below) shows that the UK, German, US and Spain are somewhat more restrained than us and haven't been rising quite like ours have recently.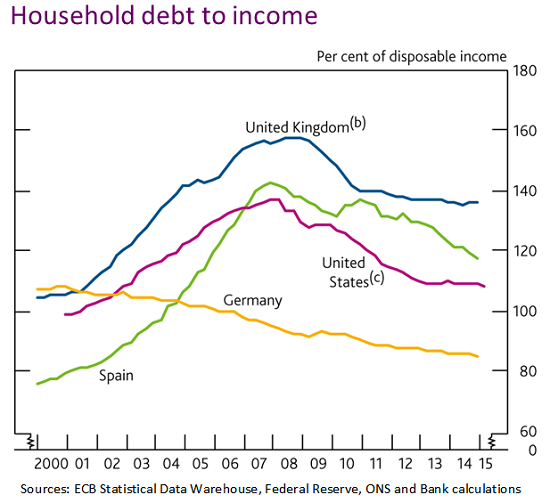 To switch back to New Zealand, if we go back a while, the RBNZ figures show that as of December 1998 household debt to household disposable income stood at 100%. Presumably that was considered a lot then - given that it was a lot higher than had been seen historically.
But with the onset of the early 2000s housing boom the ratio blew out rapidly, going past 150% by early 2006, before peaking at 159% in 2009. 
After that there was a pullback as far as 146% by early 2012, but since then its been onward and upward again and the 'go' button seems to have been really pushed in the past calendar year, which saw the figure blow out from 155% to the new record high of 162% in December.
So, what does this all mean, really? Well, the key thing really is not so much the quantum of debt - but the serviceability.
Back in 2009 when the debt to disposable income ratio hit the previous high of 159%, the portion of disposable income going toward servicing that debt was just a tick under 14%. Now, however, the figure (as of December) has actually been dropping and sits just above 9%. As some form of comparison the debt servicing ratio figure is now lower than it was in 2000 when household debt to disposable income stood at 'just' 107%.
What this tells me is that there is plenty of room for that 162% figure in December 2015 to be blown out much further this year as we look at the RBNZ likely driving interest rates down even lower. Next stop 200%. Anybody for 250%?
But are interest rates going to stay at this level forever? They are at historic lows now, surely that is every reason to believe at some point they will go up again - by how much, we can only speculate.
The point is the higher and higher that debt to income ratio gets, the more there's a real risk of something really nasty happening if and when interest rates revert to levels more like those seen in the past.
I don't think we can be complacent now. I think this is one instance in which people may need saving from themselves.
To me the logical answer here is for the RBNZ to be looking very soon to increase the amount of capital that banks must hold against mortgages. Probably the best way of doing that would be to simply increase the 'risk weightings' the banks have to give their mortgage portfolios when calculating their capital adequacy ratios.
I know it's the international rules, but it seems very strange to me that banks can effectively get away with including less than a third (in the case of the big banks) of the value of their mortgage portfolios when working out their capital ratios - this for assets that in fact make up more than half of all banks' exposures. 
By forcing the banks to hold more capital against their mortgages the RBNZ will rein in the mortgage lending - helping to, as said, save people from themselves when it comes to over-committing.
If there's no action now, you just wait and see what that debt to income figure will look like in 12 months time.
If a figure starts to look scary, do something about it. Before there's a big mess.