Reserve Bank leaves Official Cash Rate unchanged at 1.75%; notes rise in house price inflation but sees this moderating over time; revised down economic impact of new Government's measures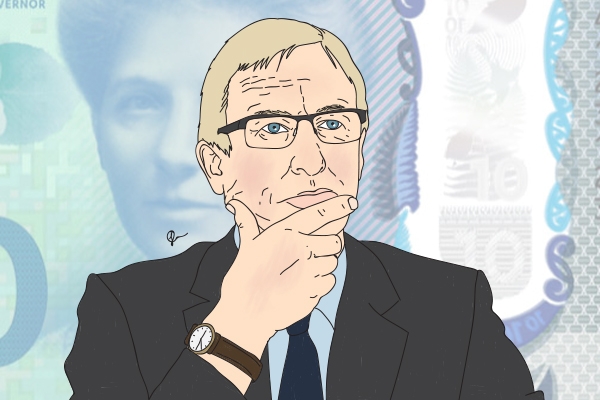 By David Hargreaves
The Reserve Bank has, as expected left the Official Cash Rate unchanged at 1.75%, but has noted something of a rise in house price inflation, while it has also revised down the economic impact of the new Government's measures.
In terms of the things the market will be watching closely from Thursday's release, the RBNZ has trimmed back short-term forecasts for GDP growth (it had forecast as much as 1.2% growth for the March quarter) but then sees stronger GDP growth later in this year and into next. For example it now forecasts 1% growth in the March 2019 quarter versus an earlier forecast fo 0.7% made in its last Monetary Policy Statement in November.
In terms of inflation, it has responded to weaker than expected recent figures by trimming where it sees annual inflation ending this year at. Earlier it saw annual inflation of 2.1% by the end of this year, but now it's forecasting 1.8%.
The predicted interest rate path is unchanged from November's MPS. The RBNZ is still forecasting that there will be no move to the OCR till mid-2019. The OCR has now been unchanged since November 2016. The New Zealand dollar pulled back slightly from just under US72.6c before the announcement to US72.2c.
In the MPS document, the RBNZ notes that annual house price inflation slowed to 4% in December 2017, from a peak of 16% in May 2016.
"Changes to loan-to-value ratio (LVR) requirements, a tightening in lending standards, and higher mortgage rates through the end of 2016 have moderated demand for housing. Weaker investor and overseas demand, pressure on affordability, and reduced expectations of future capital gains may have also contributed to the slowdown.
"While monthly house price inflation has increased since July, we expect this to moderate over the projection. Population growth is expected to slow and government policies are expected to dampen demand," the RBNZ says.
It says that annual house price inflation is forecast to stabilise at around 2% in the medium term. The observed increase in monthly house price inflation over the second half of 2017 "is assumed to be short-lived".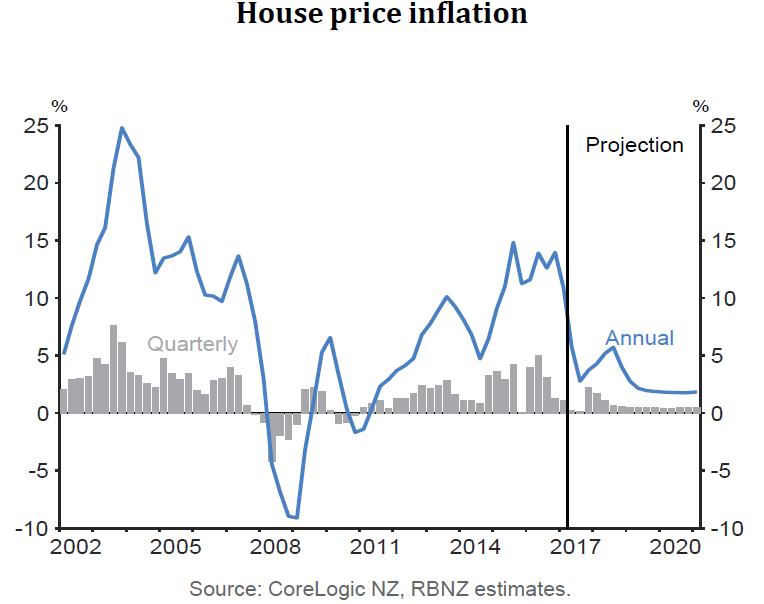 However, in what possibly is a less confident view on house prices remaining subdued than was given in November, the RBNZ then qualifies this by saying: "Given low interest rates and excess demand for housing, house prices could rise by more than we have assumed."
The RBNZ says the KiwiBuild housing programme is expected to generate faster growth in residential investment from 2019.
"With significant capacity constraints affecting the construction sector, there is a risk that KiwiBuild has a smaller effect on residential investment if private sector developments are delayed," the RBNZ says. 
It says Annual consumption growth slowed to 3.4% in the September 2017 quarter. An increase in government transfers and allowances is expected to raise household incomes and contribute to consumption growth over the projection. Consumption is also expected to be supported by low interest rates, elevated terms of trade, and population growth. Low house price inflation is expected to have some dampening effect on consumption over the medium term.
"In addition to KiwiBuild and an increase in transfers and allowances, higher government consumption is expected to support GDP growth over the projection.
"However, the degree of fiscal stimulus is smaller than assumed in the November Statement. The impact of transfers and allowances on aggregate demand is assumed to be more short-lived and KiwiBuild is assumed to start adding to residential investment later in the projection. These updated assumptions reflect new information from the Treasury's Half Year Economic and Fiscal Update (HYEFU 2017) and the Bank's analysis of how fiscal policies affect the economy."
The RBNZ said that as domestic inflationary pressure remains subdued, it is appropriate for monetary policy to remain accommodative.
"Mortgage rates remain at low levels relative to history. Annual GDP growth is projected to average 3.2% over the projection. This above-trend pace of growth is expected to generate an increase in capacity pressure and lift inflation to around the midpoint of the Bank's target range in the medium term. Survey measures of inflation expectations remain anchored around the 2% target midpoint across all horizons.
This is the statement from Acting Governor Grant Spencer:
Global economic growth continues to improve. While global inflation remains subdued, there are some signs of emerging pressures. Commodity prices have increased, although agricultural prices are relatively soft. International bond yields have increased since November but remain relatively low. Equity markets have been strong, although volatility has increased recently. Monetary policy remains easy in the advanced economies but is gradually becoming less stimulatory.

The exchange rate has firmed since the November Statement, due in large part to a weak US dollar. We assume the trade weighted exchange rate will ease over the projection period.

GDP growth eased over the second half of 2017 but is expected to strengthen, driven by accommodative monetary policy, a high terms of trade, government spending and population growth. Labour market conditions continue to tighten. Compared to the November Statement, the growth profile is weaker in the near term but stronger in the medium term.

The Bank has revised its November estimates of the impact of government policies on economic activity based on Treasury's HYEFU. The net impact of these policies has been revised down in the near term. The Kiwibuild programme contributes to residential investment growth from 2019.

House price inflation has increased somewhat over the past few months but housing credit growth continues to moderate.

Annual CPI inflation in December was lower than expected at 1.6 percent, due to weakness in manufactured goods prices. While oil and food prices have recently increased, traded goods inflation is projected to remain subdued through the forecast period. Non-tradable inflation is moderate but expected to increase in line with increasing capacity pressures. Overall, CPI inflation is forecast to trend upwards towards the midpoint of the target range. Longer-term inflation expectations are well anchored at 2 percent.

Monetary policy will remain accommodative for a considerable period. Numerous uncertainties remain and policy may need to adjust accordingly.