David Hargreaves examines two key speeches made this week that signal how bad inflation is getting - and why it will not be a short run thing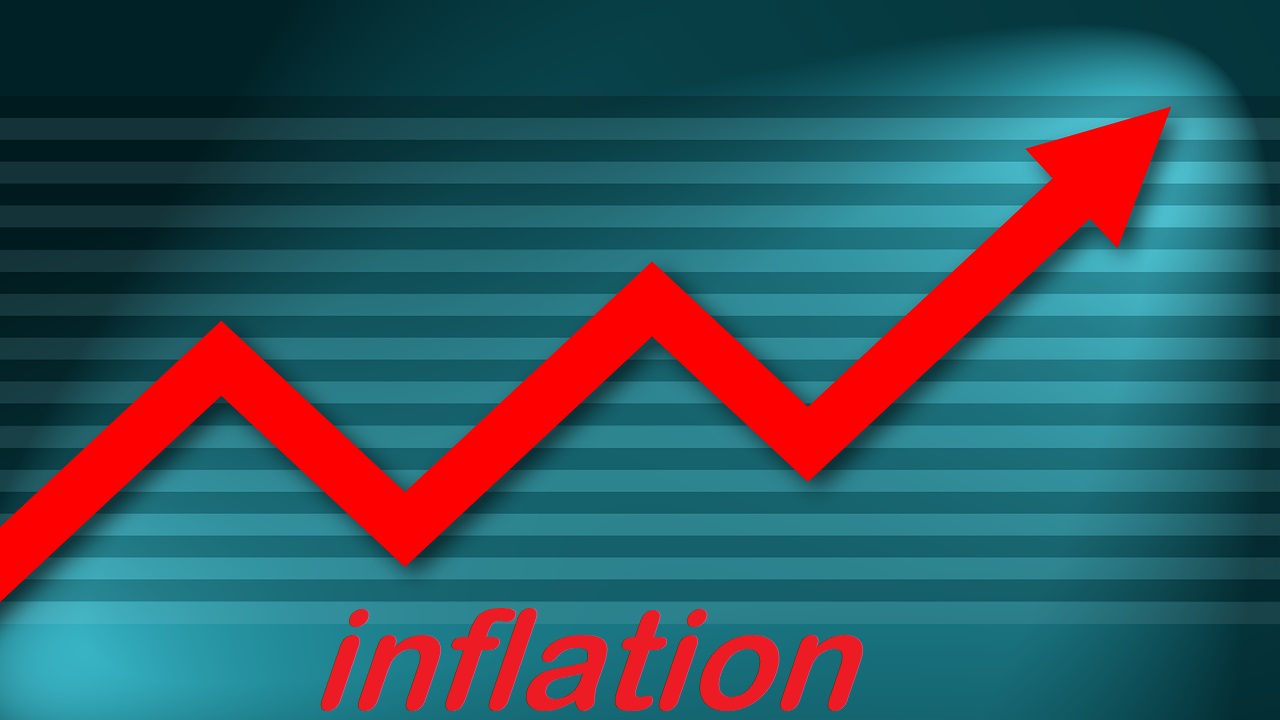 It took a while, but now the penny has finally dropped with a very loud clang.
Central banks that spent much of last year explaining why the inflation we were seeing emerging in the world was just a spectre that would disappear like a puff of smoke, are now just about admitting they got it horribly wrong.
The speech in the early hours of Wednesday by Federal Reserve Governor Lael Brainard quite simply put the 'Hawk' in 'hawkish' as she threw around words like "it is of paramount importance to get inflation down" and "inflation is much too high and is subject to upside risks" and also "the Committee is prepared to take stronger action if indicators of inflation and inflation expectations indicate that such action is warranted".
The message and sense of urgency could not have been more explicit if Brainard had given the speech while also brandishing a fire extinguisher.
But while that speech has rightly got a lot of attention, I think even more ominous was the one also given in the early hours of Wednesday by Agustín Carstens general manager of 'the bankers' bank', the Bank for International Settlements (BIS).
His speech is ominous because he's conceding that we could be "on the cusp of a new inflationary era". No. He's not talking short term.
And he also suggests it's the end of the era of counting on central banks to produce sustainable growth, saying that "the productive capacity" of the economy has to be strengthened.
Doubtless our central bank, the Reserve Bank, will have had keen ears on these two speeches ahead of making its own decision next week (Wednesday, April 13) on whether to raise the Official Cash Rate here from the current 1.0%. I think it's fair to say with comments such as those in these two speeches, the lights are flashing bright green for the RBNZ to act.
But to get back to the BIS/Carstens speech, which I think is hugely significant, the following is my summary of some of the main points.
And the big one is: "The forces behind high inflation could persist for some time," he said.
"New pressures are emerging, not least from labour markets, as workers look to make up for inflation-induced reductions in real income.
"And the structural factors that have kept inflation low in recent decades may wane as globalisation retreats."
He said that if his "thesis" is correct, central banks will need to adjust, "as some are already doing".
"For many years now, having conquered inflation, they [central banks] have had unprecedented leeway to focus on growth and employment.
"Indeed, with inflation stubbornly below target, stimulating activity hit two birds with one stone.
"But this is now no longer possible, since low and stable inflation must remain the priority.
"If circumstances have fundamentally changed, a change in paradigm may be called for. That change requires a broader recognition in policymaking that boosting resilient long-term growth cannot rely on repeated macroeconomic stimulus, be it monetary or fiscal.
"It can only be achieved through structural policies that strengthen the productive capacity of the economy."
His speech featured the below graph that paints a colourful picture of how rampant inflation is becoming now in both advanced economies (AEs) and emerging economies (EMEs). Indeed, Carstens said almost 60% of AEs currently have year-on-year inflation above 5% – more than 3 percentage points above typical inflation targets. This is the largest share since the late 1980s.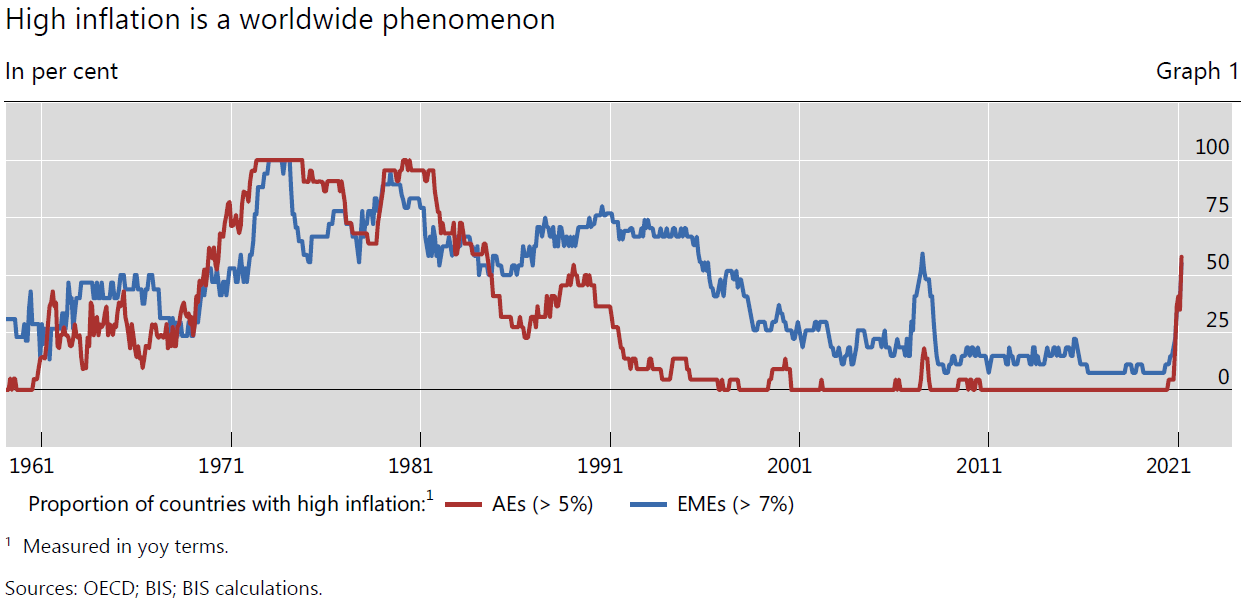 "We should not expect inflationary pressures to ease soon," Carstens said.
He said there are three developments that lead him to think that the inflationary environment may have shifted in a more persistent way.
► The first is that there are signs of inflation expectations becoming unmoored.
► The second comes from signs that the muted link between relative price changes and inflation which characterised the low-inflation era may be shifting. One way of seeing this is by considering the behaviour of price spillovers across sectors. These may now be increasing.
► The third concern relates to the labour market. When inflation starts affecting the "cost of living" in a broad sense, it is more likely to take centre stage in price- and wage-setting decisions. This could trigger a dangerous wage-price spiral. There are early signs that wage growth has "become more sensitive" to inflation.
"So, we need to be open to the possibility that the inflationary environment is changing fundamentally. Mindsets may already be shifting," Carstens said.
"...Looking even further ahead, some of the structural disinflationary winds that have blown so intensely in recent decades may also be waning. In particular, there are signs that globalisation may be retreating."
An immediate implication is that policymakers may need to shift their mindsets.
Central banks may also need to reassess how they respond to inflation resulting from supply side developments.
"The good news is that central banks are awake to the risks. No one wants to repeat the 1970s. It seems clear that policy rates need to rise to levels that are more appropriate for the higherinflation environment. Most likely, this will require real interest rates to rise above neutral levels for a time in order to moderate demand."
Carstens admitted that the adjustment to higher interest rates "will not be easy".
He said central banks "cannot single-handedly ensure global growth by keeping an accommodative stance in all conditions".
"Amid low inflation, this perception became commonplace. It is one central banks must continue to fight against, even more so in an inflationary environment.
"The key to higher sustainable growth cannot be expansionary monetary or fiscal policy. We must strengthen the productive capacity of the economy. Indeed, this is well overdue. Many of the economic challenges we face today stem from the neglect of supply side policies over the past decade or more.
"Over the medium term, higher potential growth would make it easier for indebted economies to withstand the higher nominal and real interest rates that are likely to prevail in the years ahead.
"Central banks have done more than their part over the past decade. Now is the time for other policies to take the baton."