ANZ's Shayne Elliott, CBA's Ian Narev and NAB's Andrew Thorburn on fintech disruption, Auckland house prices, global uncertainty & unwinding monetary policy stimulus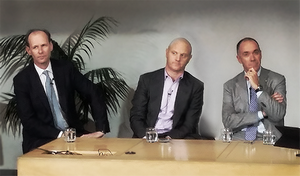 By Gareth Vaughan
What happens when you get three Australian big bank CEOs together in one room?
It turns out there are two-and-a-half New Zealanders* among them, and they're meeting at a university that counts all three as alumni.
ANZ's Shayne Elliott, Commonwealth Bank of Australia's Ian Narev and National Australia Bank's Andrew Thorburn took part in the Straight Talk Speaker Series at the University of Auckland Business School this week, which was chaired by ex-pat Kiwi Mark Wilson, the CEO of British insurer Aviva.
Covering a wide range of serious and light hearted issues over an hour-and-a-half that included questions from the audience, the three spoke in a more relaxed setting than they tend to enjoy when under the bright spotlight back in Australia.
On disruption
On the topic of the threat of "disruption" from so-called fintechs, Narev suggested banks have an "extremely good hand" of cards with which to play.
"The thing I think gets lost in a lot of debate is [that] the social utility of banks is about maturity transformation. IE, Shayne wants to deposit a dollar and have that on call and Andrew wants to borrow over 30 years. We make that happen. We also know how to price risk. And these are reasons why we exist," Narev said.
"In 2000 people said retail banks aren't banks anymore, they're retailers. Well guess what everyone found out in 2008? Banks are banks. Now we're hearing banks aren't banks they're technology companies. Well guess what? We're still banks. But we have to be exceptional at technology."
"But the reality is like [what] I said to somebody in the US who told me that they can do better credit scoring from a Facebook profile than our risk managers could do. And I remember saying to him 'well, let's see how people's Facebook friends change the next time there's a financial crisis. And let's see whether your analytics are still with us.' Because our risk people remember what happened with property values in 1990 in Australia," said Narev.
"So we've also got to remember we've got very strong cards in the game. And if we build the technology around those and keep those strengths, we should be able to do pretty well. And we've got a customer base," Narev said.
On NZ house prices
Asked by Wilson about their views on New Zealand house prices, Elliott noted that from a risk perspective there's more risk of prices going down than there has been in the past given high household debt levels.
"So you kind of look forward and think well, household incomes haven't been growing that fast, households can't continue to lever up a whole lot more, [and] the issue that you've got in both countries though is there's no silver bullet to this," Elliott said.
"I think it needs quite a comprehensive policy approach in terms of both supply and demand. And what we're running the risk of at the moment is trying to look for magic one solutions. If anything that's making the problem more complicated and more difficult to deal with."
Thorburn noted Auckland house prices had risen 100% in 10 years.
"When you don't have long range planning for your big cities it's a big issue," Thorburn said. 
He suggested a long-term plan, over 10 years is needed, involving banks, business and government. Aside from housing, the plan needs to cover infrastructure such as schools, hospitals and transport.
"Some of these things require more discipline, patience and teamwork to solve," Thorburn said.
Meanwhile, in Australia Thorburn said 25 years without recession had "bred a degree of entitlement and complacency which is dangerous."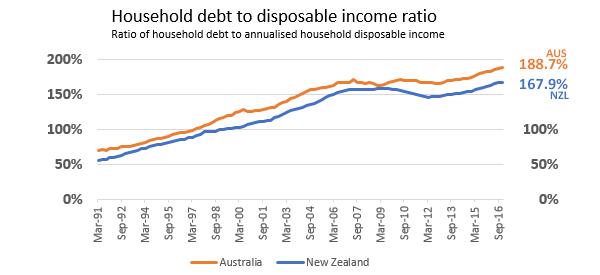 'The best thing is if we get growth in the US and growth in China'
In terms of uncertainty in the wider world and tension between economic super powers the US and China, Thorburn noted at a recent appearance before an Australian parliamentary committee he told MPs NAB alone had imported A$10 billion of funds from overseas since his last appearance before them.
 "And we are now using that to support growth in the Australian economy. Now they didn't want to talk about it. But we [Australia & New Zealand] are importers of capital. So if the world is uncertain, rates go up, markets are more difficult, and that's going to have an impact on our economy and on our welfare. There's no doubt about that in my mind," said Thorburn.
"The best thing is if we get growth in the US and growth in China. That's the best thing for our countries and that looks actually pretty good. But the [US President Donald] Trump factor I do not know where it's going to go. I think certainly the checks and balances in the US political system are working. But how he plays this when his five big initiatives, he's about to go off on the third one, get knocked back, how he handles that as a character I don't know."
"I think we just have to have our organisations ready and strong and resilient to be able to move in different directions... because the uncertainty in the world has gone up, in my opinion."
'No economist based on past history can tell you how that unwinds'
Wilson also quizzed the three CEOs on the prospect of rising interest rates. On this topic Narev said the three banks and their NZ subsidiaries, ANZ NZ, ASB and BNZ, are lending money based on interest rates going up "pretty significantly."
"So every Australian and New Zealander who is being assessed for serviceability of mortgage is being assessed at a rate 2.5% higher again. That doesn't mean they'd be no problems, but what people can assume is that banks don't lend as if rates aren't going to go up," Narev said.
He argued the bigger question, and a macro-economic one we don't know the answer to, is what happens when central banks' monetary policy is reversed.
"I think we've all got to be very careful about the fact that everything from the tapering in the US to the enormous stimulus put in place by the European Central Bank, no economist based on past history can tell you how that unwinds. And therefore there's a range of outcomes. We just need to be very careful. In fact in many ways that worries me more than what's the impact of a 1% or 2% increase in interest rates, which I think can make a family struggle and we're all attuned to that but we think is manageable," said Narev.
---
*Whilst Elliott and Narev are born and bred kiwis, Thorburn was born in Australia but has a NZ passport and lived for many years in NZ culminating with his stint as CEO of BNZ.
*This article was first published in our email for paying subscribers early on Friday morning. See here for more details and how to subscribe.