Nearly 9 months after the sale was announced, the seller ANZ and would-be buyer HNA say there are still 'steps and processes' to work through in completing UDC Finance acquisition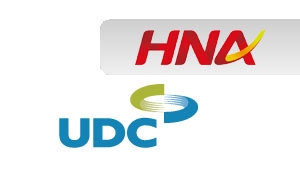 By David Hargreaves
Nearly nine months after ANZ announced a $660 million sale of its UDC Finance subsidiary to China's HNA Group, the parties involved say there's no current "timeframe" for completion of the deal.
There's been no news on regulatory approvals that HNA has sought for the deal from the Overseas Investment Office (OIO) and the Reserve Bank of New Zealand (RBNZ).
An OIO spokesperson said the application was currently being considered "and we can't provide further information on it until a decision has been made", nor could the OIO provide an indication for when a decision will be made "as there are a number of factors that influence the time an application takes to be considered, such as the complexity of the application". The RBNZ would not comment.
Both the ANZ and representatives of the buyer HNA in response this week to queries from interest.co.nz talked of the complex processes that needed to be gone through and would not be drawn on when the deal might happen.
Earlier this year the parties were more forthcoming, with comments from HNA's representatives that the separation of UDC from ANZ was expected to be carried out by the end of September or this month.
When the deal was announced on January 11 for the acquisitive conglomerate HNA to buy UDC, the parties involved said completion was "expected late in the second half of the 2017 calendar year".
Then in May it was announced that HNA Group intended to put New Zealand's UDC Finance under the wing of its European and Canadian equipment service subsidiary TIP Trailer Services.
In an interview with interest.co.nz's Gareth Vaughan later in May, the President and CEO of TIP Trailer Services Bob Fast said an application for OIO approval for the deal had been made in March.
'OIA approval in June, separation from ANZ in September-October'
"...Typically they talked about three months to four months - so, we can expect to hear something coming back maybe in June," he said then.
In the same interview he said of UDC: "...Separation is likely to happen from ANZ some time end of September - October."
Neither of these things have to date materialised.
Responding to interest.co.nz's inquiries through an NZ public relations consultancy, Fast said this week that TIP Trailer services was "in regular contact with the regulatory bodies including the OIO and RBNZ regarding the application to purchase UDC Finance Ltd (UDC) from ANZ Bank New Zealand Ltd (ANZ)".
"There are a number of steps to work through, as well as regulatory approvals, to complete the sale and separation process and as such we don't have a timeframe," he said.
The response from the ANZ was similar, with a spokesperson saying: "ANZ and HNA are continuing to work through the processes associated with the agreed sale of UDC, including both the complex regulatory approval and separation process.
'We remain committed to implementing the agreed transaction'
"While these processes are never simple we remain committed to implementing the agreed transaction," the spokesperson said. 
Asked further and specifically whether ANZ/UDC remained confident the deal could be consummated as per the original timeframe - IE this year - the spokesperson said: "It's a complex process and at this stage it's difficult to predict the time frame."
The deal raised eyebrows when it was announced, with the privately-owned HNA, evolving from a regional airline founded in only 1993, having grown spectacularly in recent years, and questions raised about exactly how it has been bank-rolling its acquisitions.
In New Zealand the HNA/UDC deal has attracted political attention, with earlier this year Winston Peters saying he would block it if he is in Government after this year's election. Gareth Vaughan questioned whether HNA would be good for UDC, its staff, borrowers, depositors, and the NZ financial services sector as a whole.
HNA has seldom been far from the international business news this year. Most recently The Wall Street Journal reported late last month that HNA is rethinking whether to seek tax-exempt status for a New York foundation, Hainan Cihang Charity Foundation Inc, that the company said would become its biggest shareholder, raising questions about HNA's plans for the charity. And subsequent to that Reuters reported Bharat Bhise, an Indian-American dealmaker who held a 30% HNA stake for a decade prior to transferring it into the charity, said he kept the shares as an "accommodation" to the company and received no compensation for doing so.
Uncertainty around UDC
UDC, which was established in 1937 (originally as Financial Services Limited), has now had an air of uncertainty over it for at least a year-and-a-half, with ANZ having effectively placed 'for sale' signs on the business early last year.
Credit ratings agency S&P Global Ratings downgraded UDC's ratings last October simply on the prospect of a sale, and again in January after the sale announcement. It has said that the UDC long-term rating may drop as much as four notches to B+ from BBB after the deal goes through. UDC's credit rating has already been cut five notches since last October when it was AA-, equalised with its parent. See credit ratings explained here.
In anticipation of the sale to HNA going through, about 13,500 UDC debenture holders agreed in June to allow repayment of secured investments once the deal occurred.
Earlier the same month UDC reported an 11% rise in half-year net profit to $30.2 million.
According to ANZ NZ's most recent disclosure statement, UDC had $1.121 billion held in secured investments as at June this year, down from $1.677 billion in June 2016.
*This article was first published in our email for paying subscribers early on Thursday morning. See here for more details and how to subscribe.